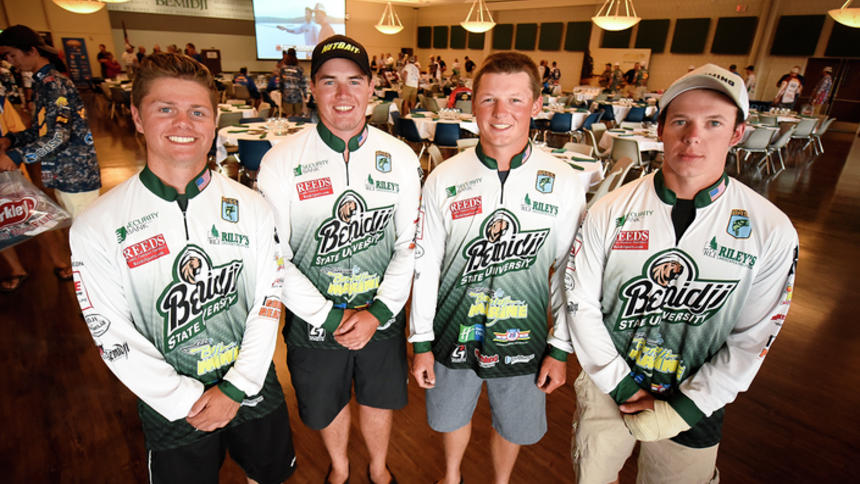 BEMIDJI — There's a pretty consistent trend among the four anglers representing Bemidji State in this weekend's Bassmaster College Series National Championship.
"I've been fishing since I was just a little kid," Thor Swanson said.
"I probably started fishing when I was five or six," added Thor's older brother and fishing partner, Mitch.
BSU's other team is the same.
"I've been fishing all my life," said Luke Gillund.
"I can't even remember the first time I picked up a rod. I was really young," Robbie Troje agreed.
The common — if not expected — theme among the four fishermen were the beginnings of what landed them on the waters of Lake Bemidji for the tournament, which takes off at 6 a.m. today and runs until the final weigh-ins at 2:30 p.m. on Saturday.
"I'm hoping to do well. And if it doesn't happen, that's OK. There's always another tournament to go to. But this is just a great opportunity," said Thor Swanson. "Not everybody gets to fish in a national championship, and I want to take full advantage of it."
Thor and Mitch, both Blaine natives, ultimately wound up at Bemidji State because of its fishing team. And if BSU didn't have it, the Swansons' lives may look a lot different.
"At first, when I came to school up here… I just didn't feel like I fit in anywhere," Mitch said. "I left after my first semester, went back home. Then when my brother was in his senior year (of high school), we found out Bemidji State had a fishing team. I looked back at going back to school. Honestly, and it probably sounds a little cliche, but if Bemidji State didn't have a fishing team, I probably wouldn't be in school right now."
The fishing opportunities also reeled in Troje and Gillund.
"I'm huge into the outdoors, and that's kinda their big pull here," Gillund, a Ham Lake product, said. "I've always been involved in sports and the competition aspect of it, and when I can put fishing and competitive aspects of things together, that's when I really fell in love with it."
"Once I could go to school with lakes all around here, be on the team and fish almost every day, I just love it," added Troje, a Hastings native. "I would've never guessed, my freshman year, that I'd be fishing for a national championship in two years… The cards just fell into place for me, and that's why I'm here."
Beginning with this morning's take off, the two tandems are each competing against 88 other collegiate teams from across the country. The one aspect in which the respective BSU teams differ, however, is their familiarity with their partners.
The Swanson brothers have been fishing together for years, for as long as Thor can remember. Mitch was even the one to teach him how to cast a line. Troje and Gillund, meanwhile, are still in their first year as a team.
Nevertheless, each team is one good weekend away from truly making a name for themselves.
"If I could be the one who wins it, that would change my life," Gillund said. "Professional fishing is what I would love to, ultimately, and this would be an awesome way to get there."