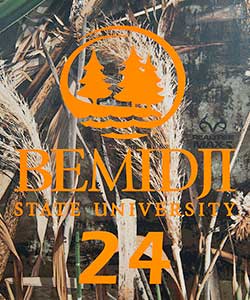 Bemidji State University is significantly expanding its on-campus weapon storage facilities to better serve its resident students who take advantage of the outdoor activities available in Minnesota's north woods.
A total of 123 lockers are being constructed in the lower level of Walnut Hall, near the offices of Housing and Residential Life and Campus Security and Safety. The new facility will more than double the university's previous capacity for secure on-campus weapon storage, and includes special air ventilation systems to reduce the risk of rust. Each locker is being custom built by university facilities personnel.
"We needed more space for as many students to store their weapons as we can," said Dr. Randy Ludeman, the university's director of housing and residential life. "We do not allow weapons in our residence halls, and what we had in place was old and outdated. So to encourage use, we decided to double the size of the room and make the lockers bigger."
The lockers are large enough to accommodate rifles in soft cases and deep enough to hold a bow in a hard-shell case. They also include a storage shelf for handguns, knives, other small weapons or ammunition. Students can have individual lockers or share with a roommate or friend depending on their individual storage requirements.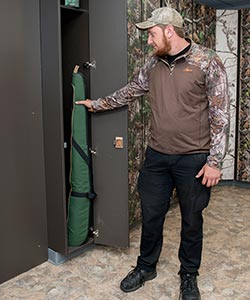 Resident students who make use of the room will have keys for individual lockers, but access to the room will be controlled by the university's Office of Campus Security and Safety. The room will be monitored 24 hours a day by surveillance equipment.
In addition to weapon storage, the facility will also include two custom gun-cleaning tables that have been specially constructed for the room.
"It was all about safety and getting a facility that students are excited about and want to use," Ludeman said. "Our message to our students is, 'we need your weapons in here.' They will be stored here with a lock, a key and a camera, and they will be safe."
The weapon storage facility complements the university's nearby wild game cleaning room, which includes all facilities a hunter or angler would need to clean his or her game. Together, the facilities provide a complete resource to support students who participate in hunting and fishing activities.
Contact: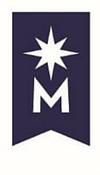 Bemidji State University, located amid the lakes and forests of northern Minnesota, occupies a wooded campus along the shore of Lake Bemidji. Enrolling more than 5,100 students, Bemidji State offers more than 80 undergraduate majors and eight graduate degrees encompassing arts, sciences and select professional programs. BSU is a member of the Minnesota State system of colleges and universities and has a faculty and staff of more than 550. The university's Shared Fundamental Values include environmental stewardship, civic engagement and international andmulticultural understanding.
---
2017-B-L-012