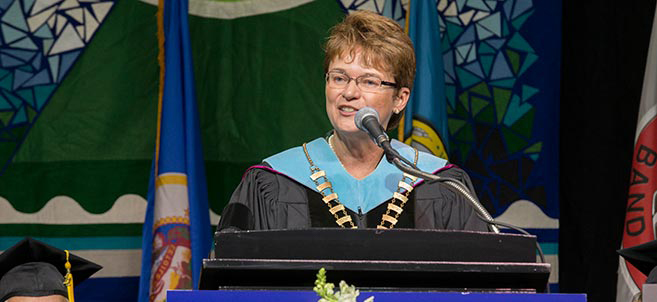 Commentary originally published in the Bemidji Pioneer, Aug. 21, 2017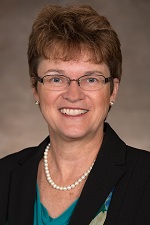 On Friday evening, after moving into their residence halls and absorbing a stream of advice about life at Bemidji State University, our new students paused for a candle lighting ceremony known as convocation.
As we explained to these incoming freshmen, a candle flame passed from faculty to students symbolizes the light of knowledge being shared from one generation to the next. It also marks the beginning of an academic journey into the future.
Much like new parents who take on responsibility for their children, we at Bemidji State promise to guide, support and challenge these new students throughout their years on campus. Their success is our highest calling.
So, it was significant that the 2017 convocation came just two days after a group of Minnesota legislators visited BSU. They wanted to see for themselves why we seek to replace our busiest classroom building, Hagg-Sauer Hall, with a state-of-the art learning center.
If all goes as we hope, these 800 new freshmen, who start classes tomorrow, will be able to enjoy the new building as seniors.
The current structure is so flawed, and the advantages of a new building so abundant, that Hagg-Sauer is the Minnesota State system's highest-ranked construction project among all 37 of its colleges and universities.
We are optimistic that our plan to demolish the existing building, construct a much smaller replacement and move faculty into other newly renovated buildings can proceed with $22.5 million in bond funding. If the legislature adopts a bonding bill next spring, and if that bill includes our project, and if the governor signs the bill into law, then our project should be finished by fall of 2020.
The rewards, for the Class of 2021 and beyond, will be tremendous: a new Hagg-Sauer suited to the needs of today's learners, with interactive technology, flexible classroom spaces and much better access for students with disabilities.
The project will wipe out $9.3 million of deferred maintenance in the 47-year-old building, which has water seepage in its basement, as well as cut energy costs and dramatically improve the university's overall space utilization.
Despite its high-priority ranking, approval of the Hagg-Sauer project is not guaranteed. We will ask for your support of this transformative improvement when the legislature goes back to work in February.
Of equal importance, we also will ask for your help—and the backing of our region's legislators—to seek an increase in our operational funding, which continues to fall behind what we need.
Despite Minnesota's $1.65 billion budget surplus, higher education funding approved by legislators and signed by Gov. Mark Dayton left Bemidji State with a $2.5 million hole in this year's budget.
We are plugging that hole with a $270 hike in annual tuition, which we expect to raise an additional $1.1 million, and another $1.4 million in net spending reductions.
Thanks to the tuition increase, and because we have carefully trimmed expenses, our students will continue to receive the outstanding education they depend on—and deserve.
But we also had to cut costs last year, and several years before that, at both BSU and its sister school, Northwest Technical College. We simply must have additional resources in order to prepare students to meet state workforce needs and contribute to a complex global society.
We will work hard to obtain bond funding for the long-awaited replacement of Hagg-Sauer Hall. And, along with colleagues from throughout the Minnesota State system, we will ask the state to restore funding of colleges and universities to a sustainable level.
Failure to do so will harm all of our students, including BSU's eager, curious and hopeful new Class of 2021.
Thank you in advance for your support—and for welcoming all our students as members of the Bemidji community.
Faith C. Hensrud is president of Bemidji State University and Northwest Technical College.