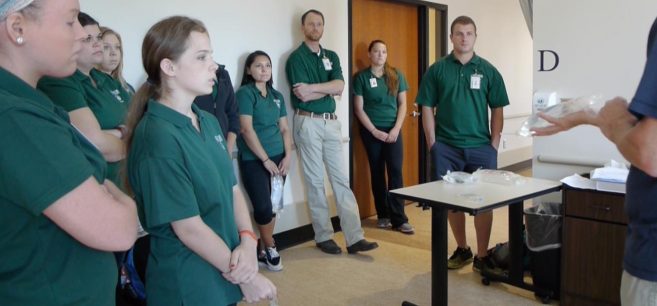 Bemidji State University's Department of Nursing is seeking applicants for the Niganawenimaanaanig Program, a grant-funded opportunity for American Indian students who major in nursing to receive academic, social, cultural and financial support.
To Apply:
Be accepted into BSU
Complete FAFSA form; see Office of Financial Aid for assistance
Write one-page essay
Complete online application form and upload essay
American Indians who have been accepted into Bemidji State and who have a current, completed Free Application for Federal Student Aid (FAFSA) on file with the Office of Financial Aid are eligible to apply for the program. Interested students can apply online; the application requires a one-page essay explaining why the applicant wishes to be part of the program and how he or she plans to use their nursing degree to serve the American Indian community.
All students accepted into Niganawenimaanaanig will benefit from its academic, social and cultural support programs, but students must be admitted to BSU's four-year nursing program or registered nurse to bachelor's degree in nursing completion program to be eligible for financial support.
The program is open to all American Indian nursing students at BSU, including students in registered nurse to bachelor of science in nursing degree completion programs. Beginning in November, Niganawenimaanaanig students in degree-completion programs will visit campus to participate in program-related activities twice per semester.
Gathering Space and Support Staff
Work to create a gathering space in Bensen Hall specifically for students participating in the program began this month. This area, a block of three former faculty offices, will create a social space for students in the program and permanent office space for a student mentor, who will be hired as part of the grant program.
"In President Hensrud's first speech, her number one priority was a renewed focus on BSU's American Indian students," said Dr. Misty Wilkie, associate professor of nursing at Bemidji State. "She has held true to that priority. This renovation shows the dedication that our administration has to recruiting and retaining American Indian students."
Bemidji State will soon begin hiring processes to seek both the student mentor and a program assistant/grant coordinator who will help plan and prepare activities for the program's students and provide clerical support. Students participating in the program will be required to meet with the student mentor each week.
"We want to ensure that a student is fully prepared for his or her week, whether it's how to manage their time studying with family or other obligations, or to give them a chance to talk about personal or academic concerns," Wilkie said. "This not only helps them be accountable for their academics, but also gives our students a person they can talk to about any other issues that might interfere with their success in the program."
About the Niganawenimaanaanig Program
Eligible students participating in Niganawenimaanaanig—an Ojibwe word meaning "we take care of them"— will receive scholarships up to $4,000 — approximately one-half of BSU's annual tuition cost — and monthly stipends of up to $500 for meeting specific program requirements such as weekly meetings and goal-setting sessions with a faculty mentor, participation in scheduled activities and attending tutoring or study sessions for courses in which they have a grade of C or lower. Students will also be provided with supplies required by the nursing program. Scholarship and stipend amounts are awarded based on an individual student's financial need.
All program participants will travel to partner tribal nations in the Bemidji region to participate in cultural activities such as harvesting wild rice or maple sugar or gathering birch bark. In addition, six upper-class grant students will be selected to attend a national conference with the program's faculty leaders.
Students also will have opportunities to meet members of the National Alaska Native American Nurses Association's Board of Directors and other indigenous leaders, traditional and Western medicine consultants, and elder consultants who will provide students with cultural mentors.
CONTACT
Dr. Misty Wilkie, associate professor of nursing, Bemidji State University; (218) 755-2715, mwilkie@bemidjistate.edu.
LINKS