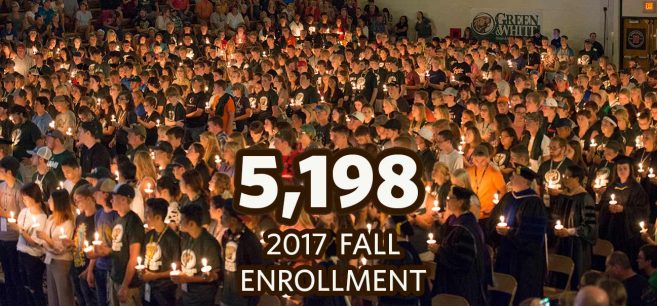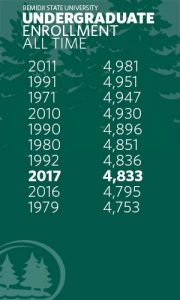 Enrollment has increased at Bemidji State University for the third consecutive year, with the university enjoying its highest number of enrolled students since 2011.
Head count enrollment at BSU on the 30th day of fall classes — the date used for official fall enrollment counts at Minnesota State colleges and universities — is 5,198, an increase of 78 students, or 1.5 percent. It is the university's highest fall enrollment total since 2011 and its third highest in the last 25 years.
Both undergraduate and graduate enrollment have increased over 2016 totals. BSU's total headcount enrollment of 5,198 includes 4,833 undergraduates — an increase of 38 students from a year ago and the seventh-highest fall total ever recorded at BSU — and 365 graduate students, up 40 from a year ago.
Eighth Consecutive Year of Online Enrollment Growth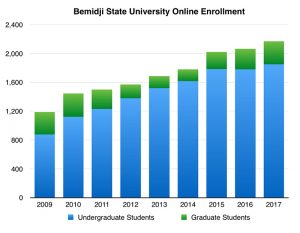 Online enrollment remains an increasingly important component of BSU's overall enrollment. Since data is available beginning in 2009, the university's total number of students taking online courses has grown every year.
This year, nearly 40 percent of BSU's 4,833 undergraduate students are taking online courses. BSU's total online enrollment tops 2,000 for the third year in a row, with 1,850 undergraduates and 319 graduate students taking online courses for a record total of 2,169. It is the third consecutive year BSU has had more than 2,000 students taking online courses.
Enrollment by College
BSU's College of Arts and Sciences remains the largest college at the university with 1,891 students. The College of Health Sciences and Human Ecology is next with 1,538 enrolled students, followed by the College of Business with 1,303. BSU has 10 students enrolled in integrated programs and 456 who are not currently attached to a particular college.
30th day enrollment
Bemidji State University produces official fall enrollment figures on the 30th day of classes to coincide with official Minnesota State system-level enrollment data. Reporting on the 30th day allows sufficient time for students to drop or add courses and to pay tuition, offering a suitably stable picture of the institution's enrollment.
Head count reflects an unduplicated number of students enrolled in credit-generating courses on campus and through external study areas such as distance learning.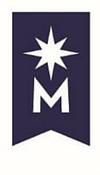 Bemidji State University, located amid the lakes and forests of northern Minnesota, occupies a wooded campus along the shore of Lake Bemidji. Enrolling more than 5,100 students, Bemidji State offers more than 80 undergraduate majors and eight graduate degrees encompassing arts, sciences and select professional programs. BSU is a member of the Minnesota State system of colleges and universities and has a faculty and staff of more than 550. The university's Shared Fundamental Values include environmental stewardship, civic engagement and international and multicultural understanding.
---
2017-B-L-029