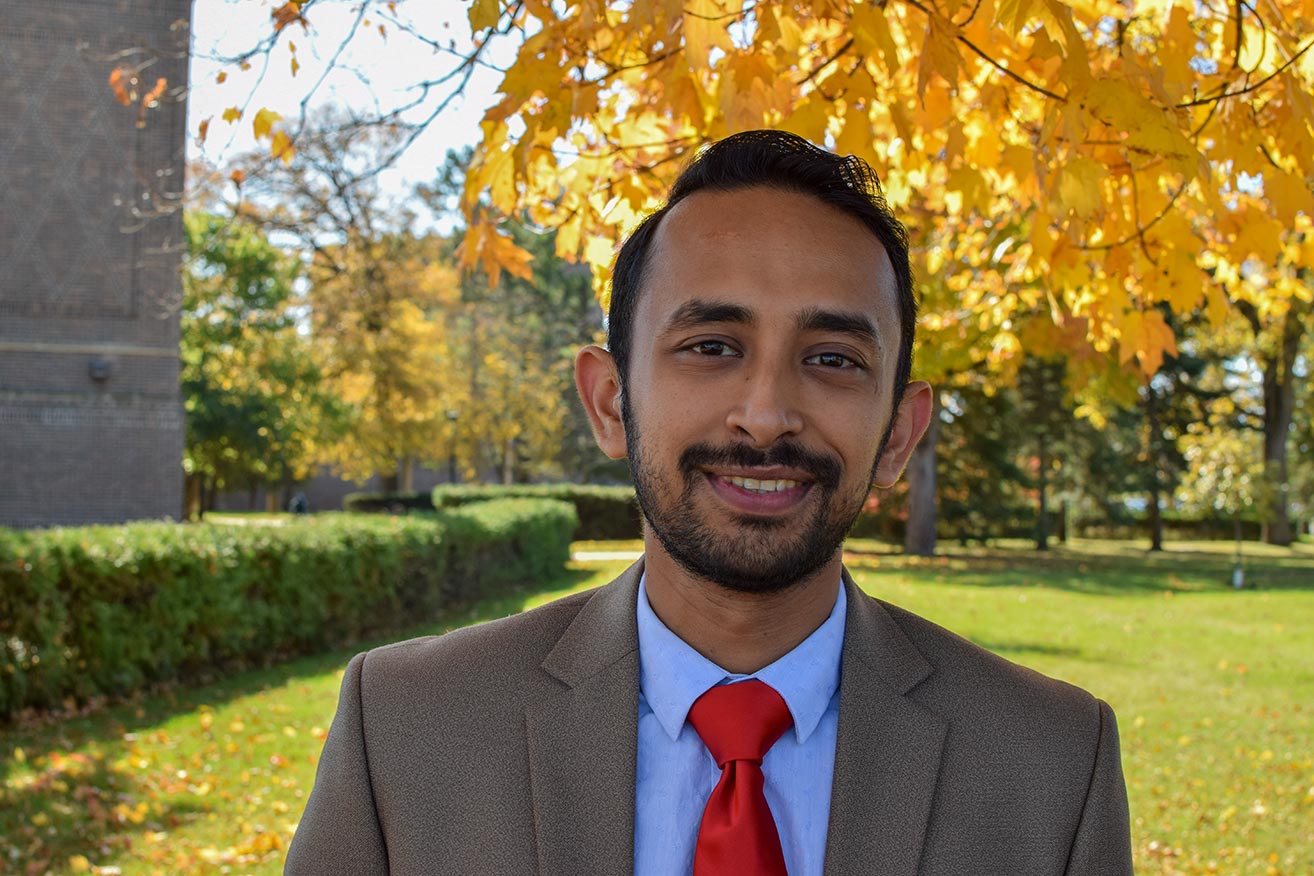 Eshfaq Ullah — known as "Ash" on campus — has big plans for this year as Bemidji State University's student body president.
Ullah, a junior majoring in accounting and entrepreneurship, moved to the United States from his home in Chittagong, Bangladesh, four years ago. After arriving in the U.S., his path to Bemidji State first took him to the University of South Dakota and American College of Commerce and Technology in Falls Church, Va.
While in Virginia, Ullah decided he was looking for something new.
"I was looking for affordable business programs and BSU popped up," he said. "It was actually one of the top programs that showed up and also very affordable. With all of the other options and the things other universities had to offer, Bemidji Sate seemed like a better choice."
He arrived in Bemidji in the spring of 2016, and northern Minnesota's winters had him immediately questioning his decision until he made an important discovery about the BSU campus.
"I was like, 'how am I going to survive here?'" he said. "I missed my Orientation so I didn't know we had tunnels. The first two days I just walked outside to class; it was negative 35 degrees."
Once he overcame that initial hurdle, he immediately began to find ways to get involved on campus.
"I started meeting people, meeting my professors and all the other administration and staff," he said. "I started joining student organizations and sooner rather than later it all started feeling like home. It all grew on me and now I would not go to school anywhere else but here."
The long list of organizations Ullah has been involved with on campus includes the Business Club and Accounting Club and the university's Diversity and Inclusion Committee in addition to his work with Student Senate. He says his extensive involvement has better prepared him for his role as Student Senate president.
"Throughout the process, I've learned a lot about student behavior and what they want and what they need," he said. "That helps me a lot in my present job as student body president.
"As a student leader, I've found the most important thing is you get what you put in," he said. "So you put in the effort as a student leader in order to get the most out of it, or in order to get any output of your actions as a leader. And when I say 'put in the effort,' first of all, use the wonderful resources that BSU provides."
As Student Senate president, Ullah is looking for ways to reform some of the organization's internal practices. He is also leading the senate's current strategic planning efforts.
"I want to create orientation programs for our new senators and give them a sense of direction," he said. "And we want to have a strategic plan not only for my term, but for the next three to five years so that other student leaders have a document to follow and a sense of direction. This sustainable development of Student Senate is important, because the senate shapes the way the student body moves forward. A lot of the things we do are not only pertinent to the Student Senate, but to other organizations and the student body itself."
These planning initiatives are serving to support Ullah's top priority as Student Senate president — to improve the college experience for BSU's students.
"We plan to do this by starting at the root — which is obviously student involvement," he said. "The more involved students are, the more engaged students are and the more affiliated they are with BSU. Then they are more likely to stay in schoofl and less likely to leave."
Ullah said the senate is also working on issues related to affordable textbooks and textbook alternatives for students as part of a state-wide effort; is supporting the work of Bemidji State's Diversity and Inclusion Committee; and exploring issues related to student security and safety on campus.
"We want Bemidji to serve as a model to the six other state universities," he said.