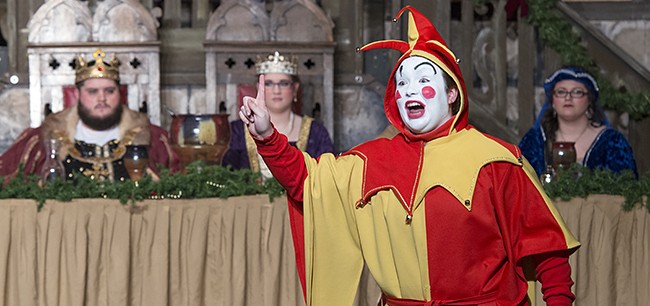 For the first time in the 49-year history of Bemidji State University's Madrigal Dinners, the show is moving off campus. This year's performances are being held at Salolampi, the Finnish language camp at Bemidji's Concordia Language Villages.
"We want to give our patrons a complete experience, from the moment that they come on site through the time that they finish the evening," said Dr. Dwight Jilek, assistant professor of music at BSU and producer of the Madrigal Dinners. "We want them to feel like they have been transported to another place, and when you think of the Concordia Language Villages that is exactly what they were made to do.
"The trip out to the Language Villages Is part of the experience — it's a patron's journey to the castle," he said. "This is an ideal fit, and gives us the opportunity to truly welcome our patrons to Deep Manor."
This year's masque will use a script penned by Madrigal Dinners founder Dr. Paul Brandvik, professor emeritus of music at BSU, entitled "The Truth Fairy." With the help of the audience, the titular Truth Fairy will help feature performers Lancealot and Lancealittle determine the difference between truth and falsehood.
"It's very funny, very witty," Jilek said. "Everything you would expect from a Brandvik script."
Beyond the change of venue, Jilek said previous visitors to Deep Manor will not see significant changes from past performances.
"There won't be fundamental changes, but when you go into Salolampi the first thing our audience will recognize is that this space is beautiful," he said. "This space is elegant—it's a royal space. The energy in the room will also work to the show's advantage—it will feel like the whole room is packed with visitors to Deep Manor."
Jilek will serve as music director and producer for this year's dinner, while award-winning designer and Bemidji State alumnus Fred Rogers will serve as artistic director and costume designer. Rogers earned a liberal arts degree from BSU in 2012 and a criminal justice degree in 2015.
Bemidji State's 2017 performance schedule includes five shows — four evening dates beginning at 7 p.m held Nov. 30 through Dec. 3, with a 1 p.m. matinee on Dec. 3. Doors open 30 minutes prior to each performance. Patrons are encouraged to purchase tickets early, as performances traditionally sell out.
Tickets for the Madrigal Dinners are $40 for adults and $30 for students, and are on sale now. Tickets can be purchased by visiting the Madrigal Dinners ticket office in Room 101 of BSU's Bangsberg Fine Arts Complex or by printing an order form from the Department of Music website and sending it with a check via postal mail. Tickets also are available online. For more information about online tickets, visit the Madrigal Dinners' page on Facebook. Ticket orders cannot be placed by phone.
Admission includes a meal prepared by Concordia Language Villages chefs, with an option to purchase non-alcoholic sparkling cider and roses from beggars during the show. The meal will include vegetarian, vegan and gluten-free options, and a cash bar will be available.
"When we did our tasting, they had a flaming pudding that was just incredible," Jilek said. "There will also be a cream-based wild rice soup, bacon-wrapped figs and beef filets with white raisins and brandy. It's going to be a great meal."
Jilek said the new venue offers significantly increased accessibility with drop-off conveniently located near entrances. It also will provide more flexible seating options, particularly for large parties. While previous dinners were limited to tables of eight, this year's performance can accommodate same-table seating for much larger parties.
Parking will be available on-site at Salolampi, and a limited-availability shuttle from the Bangsberg Fine Arts Complex parking lot will be available. Seating on the shuttle, which loads one hour prior to each performance and departs 10 minutes later, can be reserved when patrons purchase advance tickets for the dinners.
The Madrigal Dinners were founded at BSU in 1968 under the tenure of Dr. Paul Brandvik, professor emeritus of vocal music. The dinners combine musical, visual, dramatic and culinary arts into an evening that transcends time. Since their debut at Bemidji State, the dinners have been performed in Washington, Wisconsin and in the Twin Cities.
Contact
Links
Bemidji State University, located amid the lakes and forests of northern Minnesota, occupies a wooded campus along the shore of Lake Bemidji. Enrolling more than 5,100 students, Bemidji State offers more than 80 undergraduate majors and eight graduate degrees encompassing arts, sciences and select professional programs. BSU is a member of the Minnesota State system of colleges and universities and has a faculty and staff of more than 550. The university's Shared Fundamental Values include environmental stewardship, civic engagement and international and multicultural understanding.