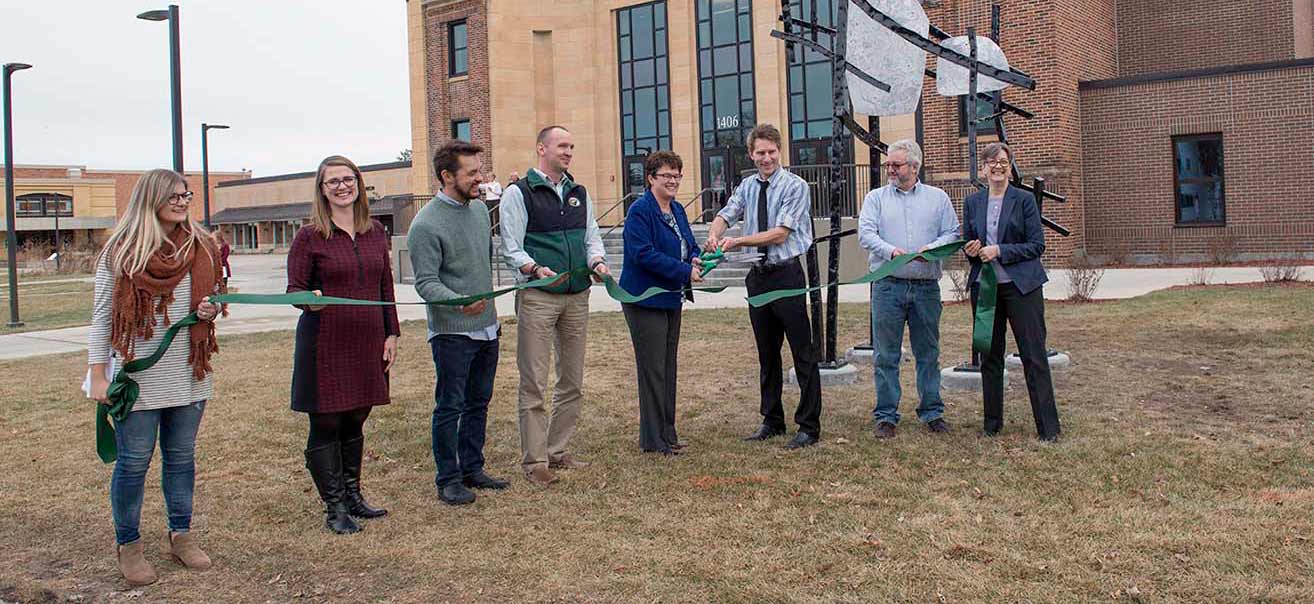 Bemidji State University dedicated "Northscape," an installation of five sculptures by Mahtomedi, Minn., sculptor Jon Kamrath on the lawn between Birchmont Drive and Memorial Hall, with a Dec. 1 ribbon-cutting ceremony.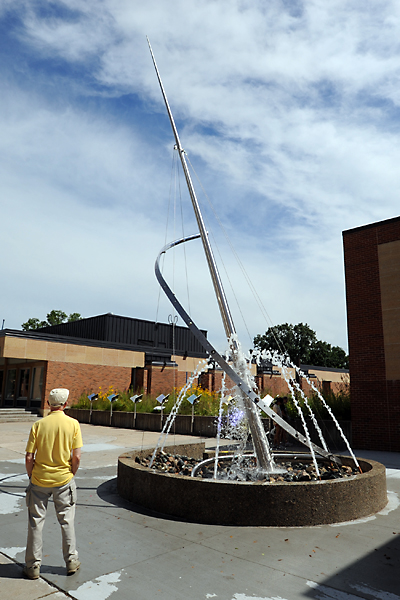 "In Flight," a sculpture on the plaza between Memorial and Sattgast halls by Alexander Tylevich, was also added on campus as part of Minnesota's "Percent for Art" program during the Sattgast Hall renovation.
The "Northscape" works are aluminum and steel structures, described by Kamrath as "three-dimensional line art," which take inspiration from the outdoors.
"Rather than creating a piece of art that you would see and accept and move on, my goal was that it was going to be an environment," Kamrath said.
Each piece has a line or design element that guides visitors to other parts of the space, he said. His inspiration came from birds over water, cairns used for wayfinding, butterflies, moose and fish.
"I tried not to make a sculpture that is 'a thing'," he said. "I wasn't trying to make a sculpture that is a fish – more of a beautiful sculpture. To get visual reference, I had to draw from somewhere and that's where my inspiration came from."
Bemidji State President Faith C. Hensrud said the sculptures create an enduring welcome to the students, faculty and all future visitors to Memorial Hall.
"Works of art like Jon Kamrath's 'Northscape' sculptures play an essential and profound role on our campus and in other public spaces," she said. "Art of all kinds has the power to spark our imaginations and fire our spirits, to invite us to a new dimension of feeling and thought. Jon's work does all of that."
She added that just as Kamrath had drawn inspiration from the flora and fauna found in the north woods Bemidji State calls home, visitors to BSU would in turn be inspired by his creations.
"Each of us will enjoy these sculptures in our own way, and BSU will be a richer place because of them," she said.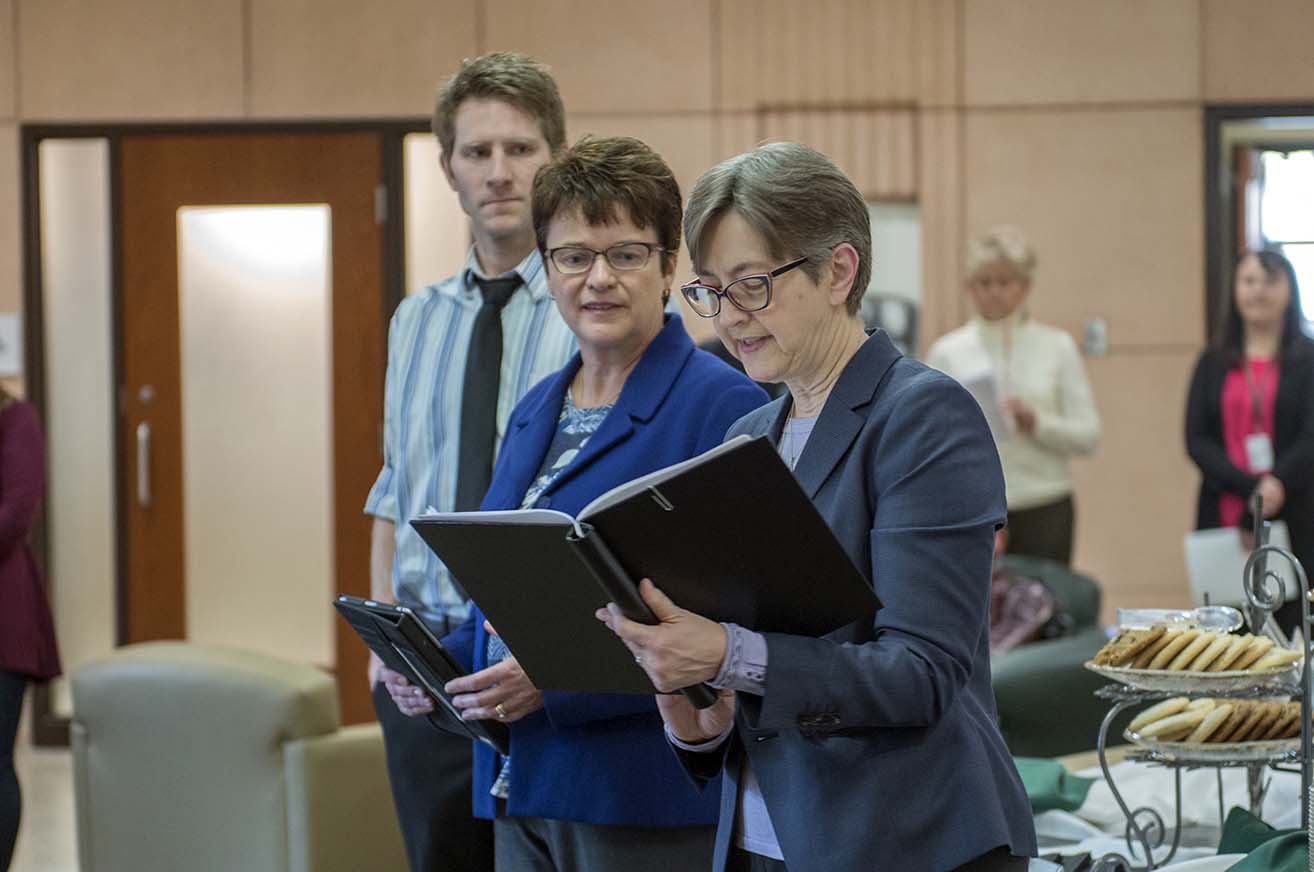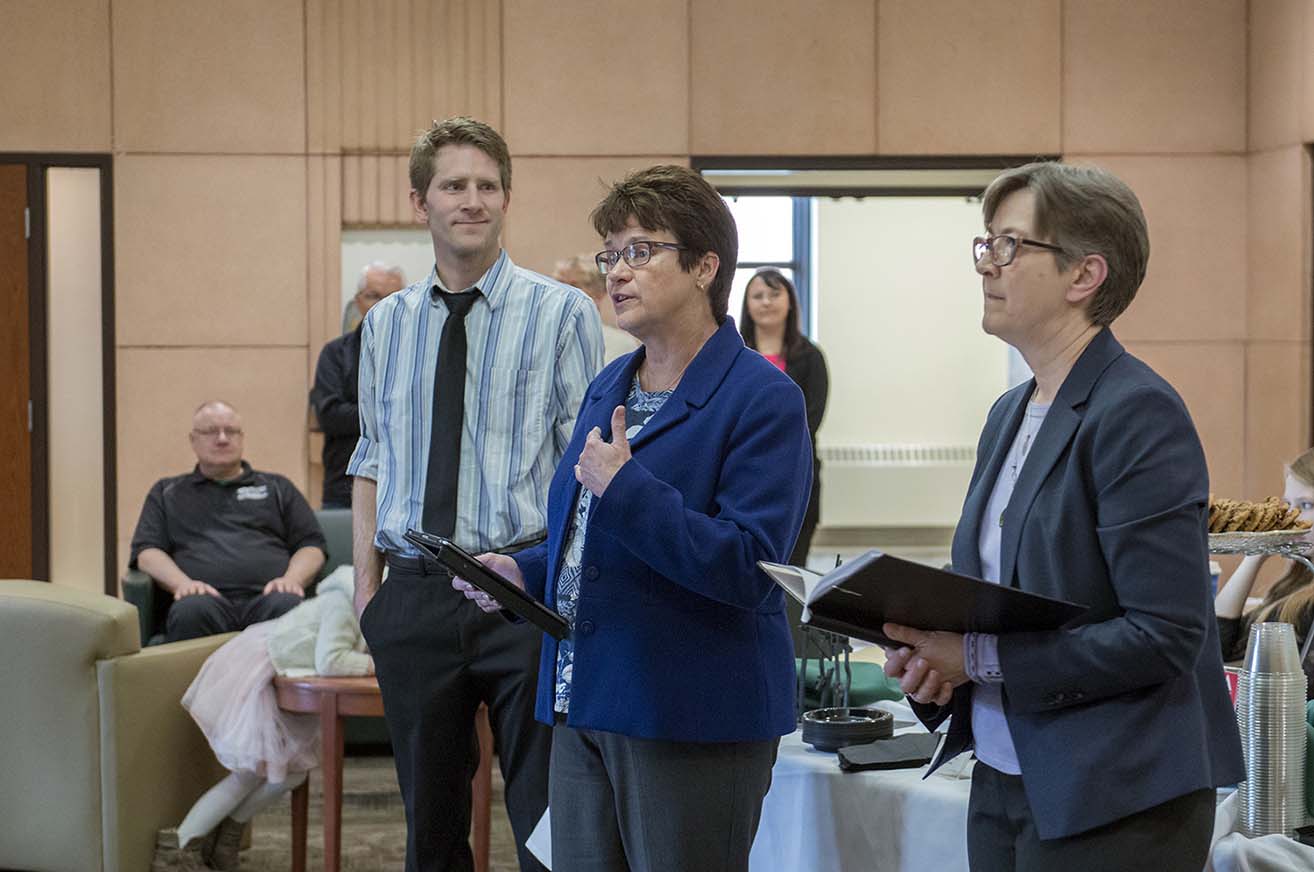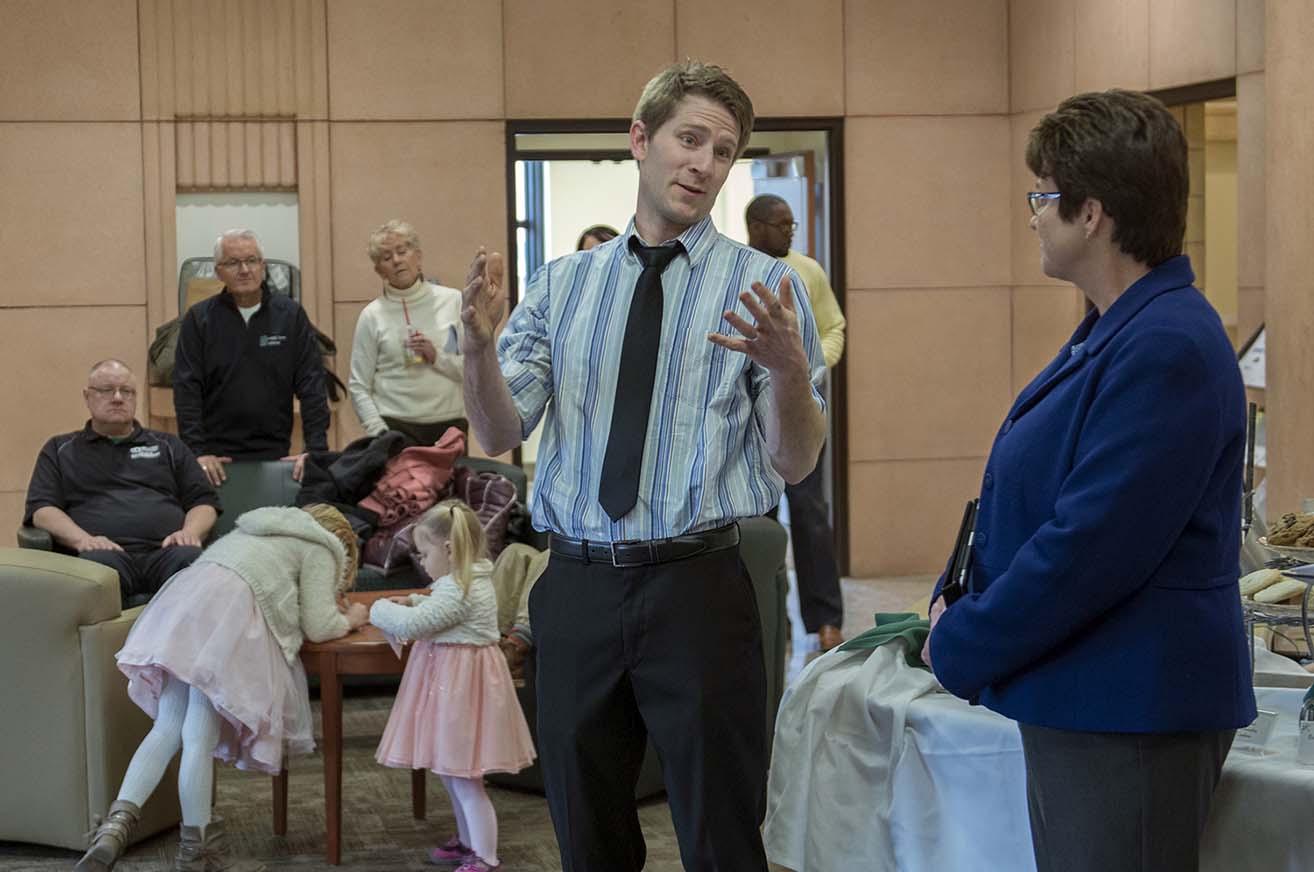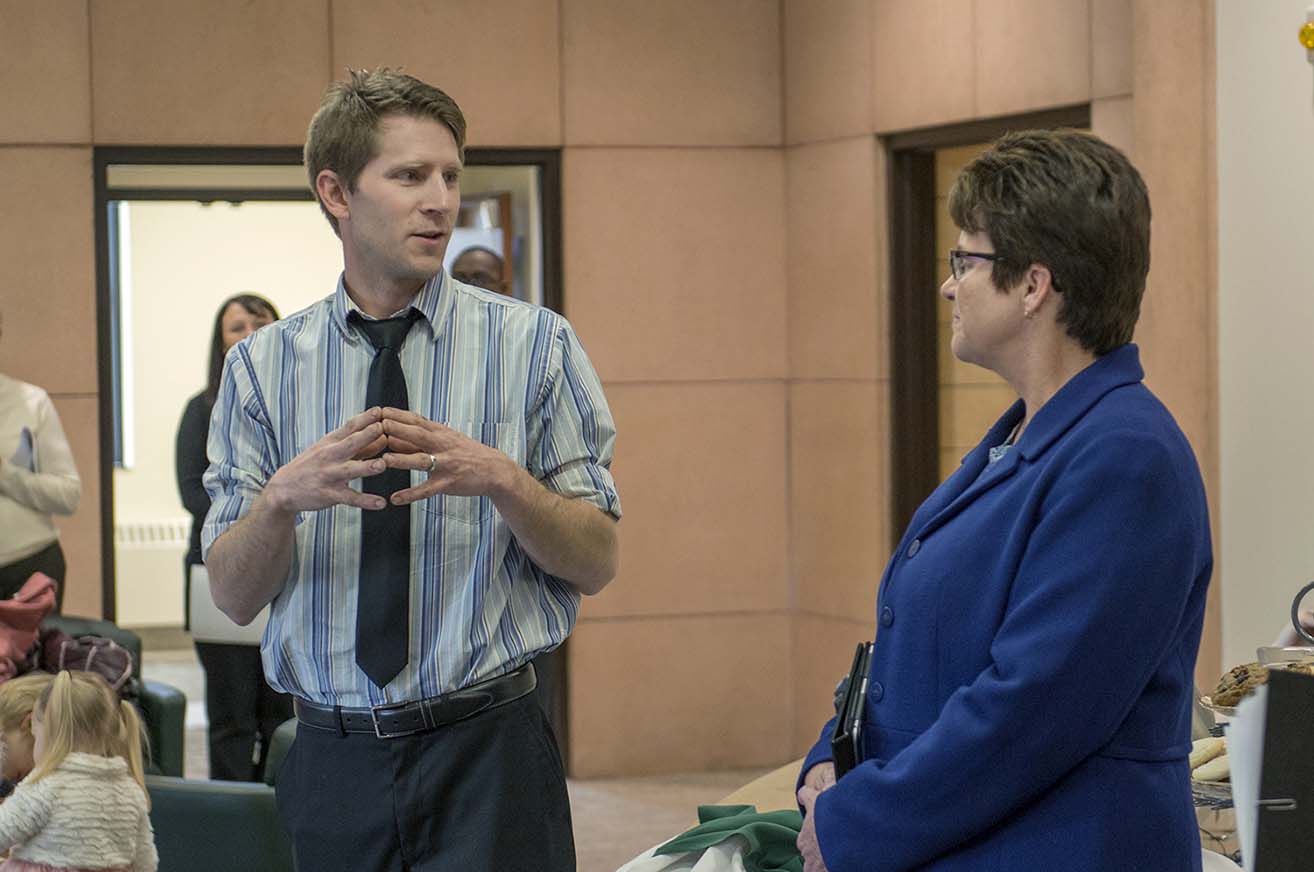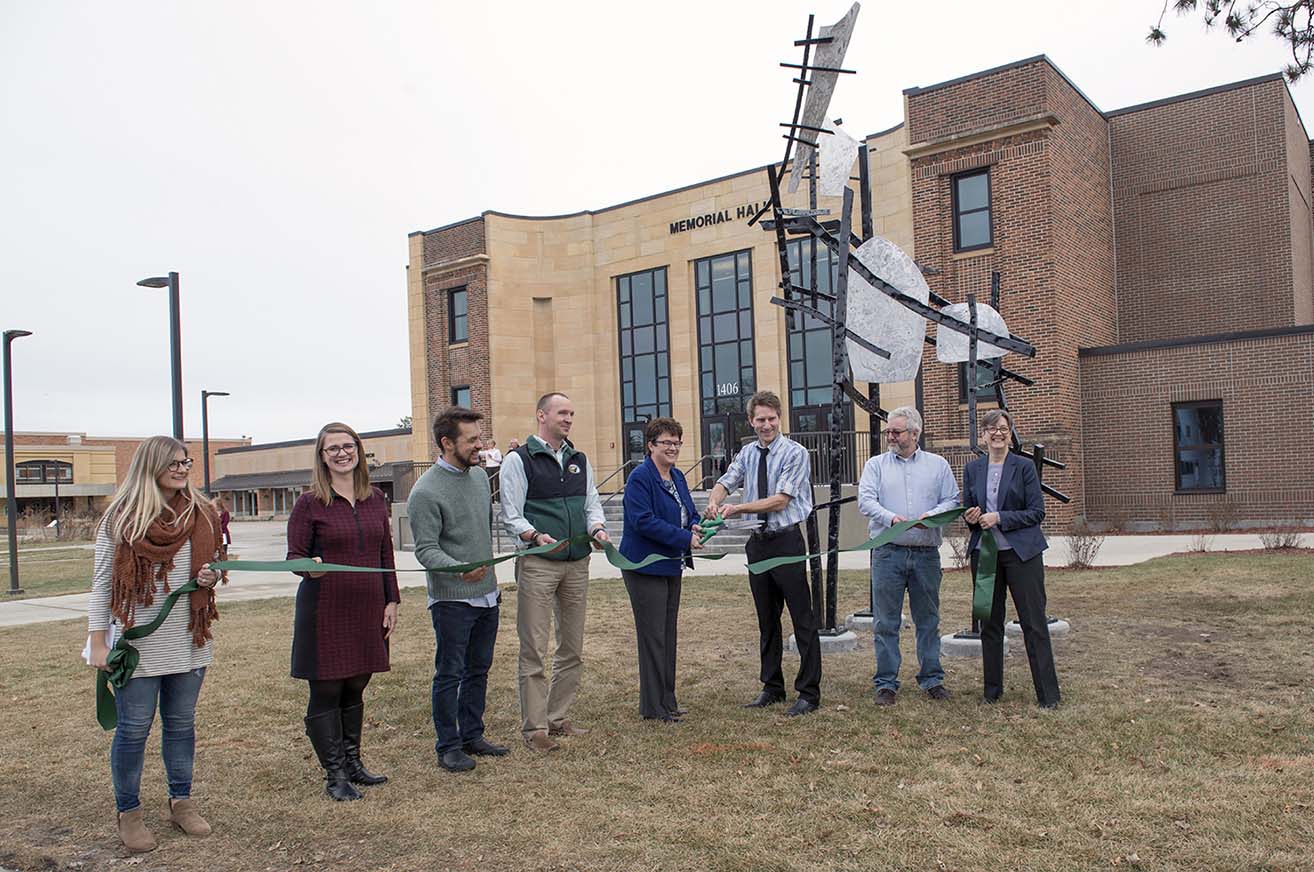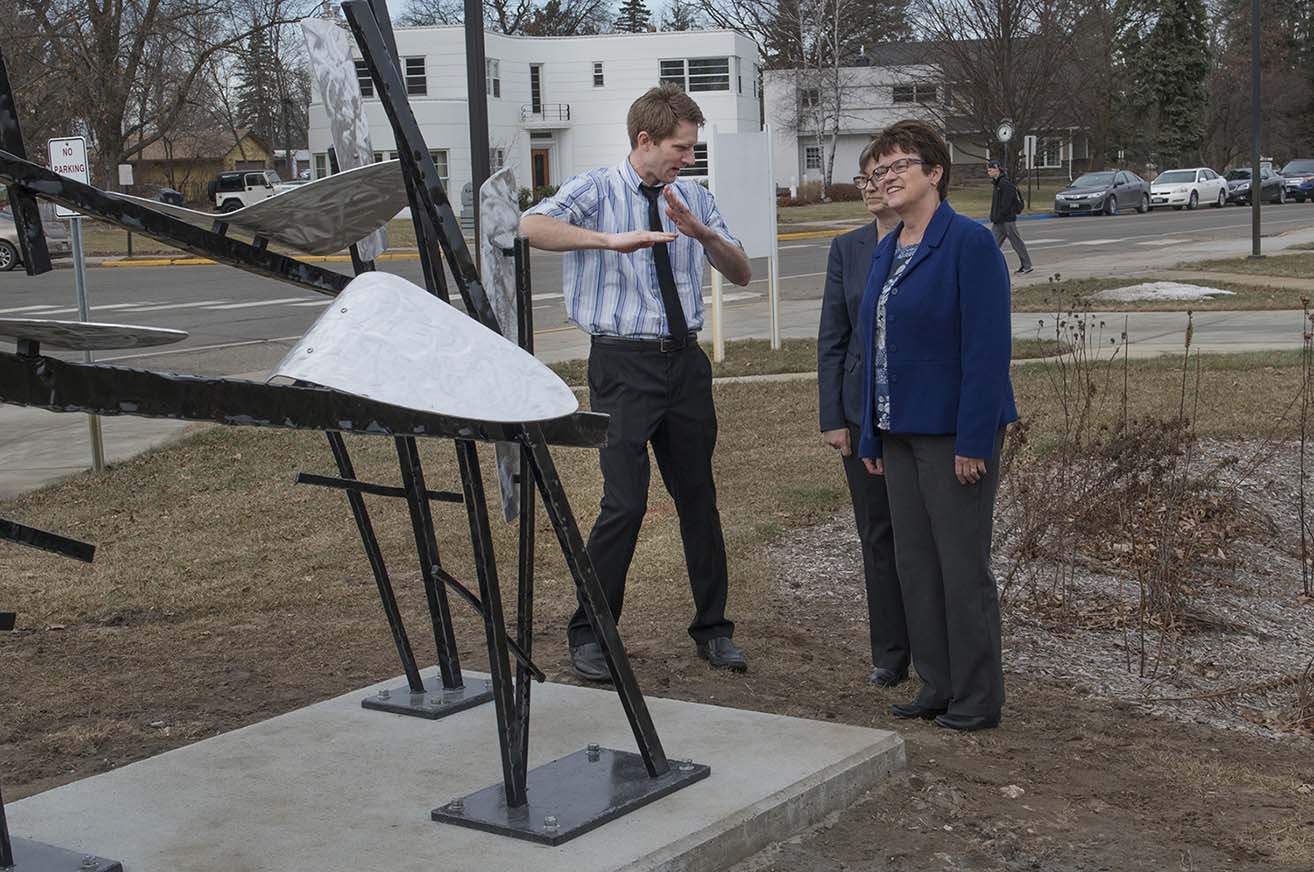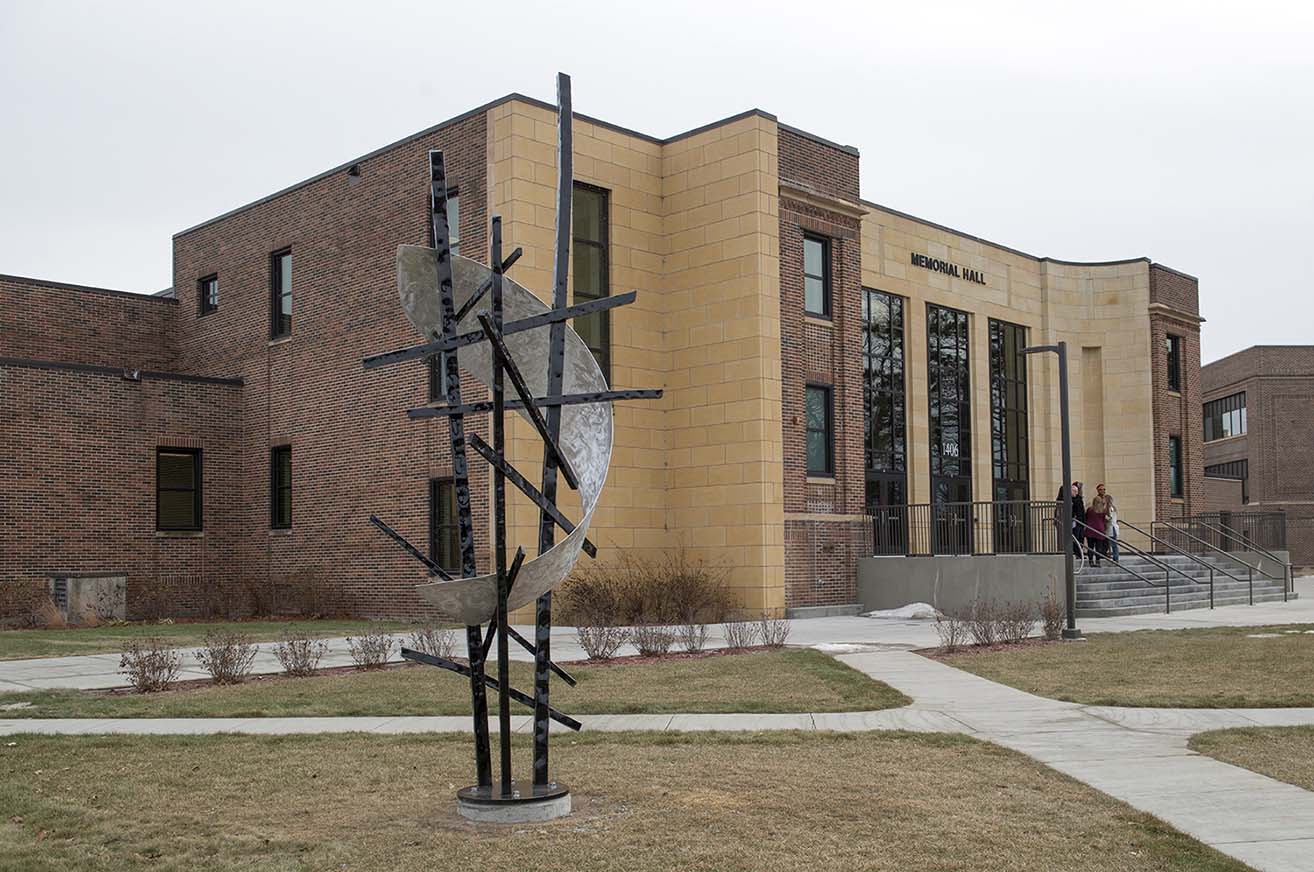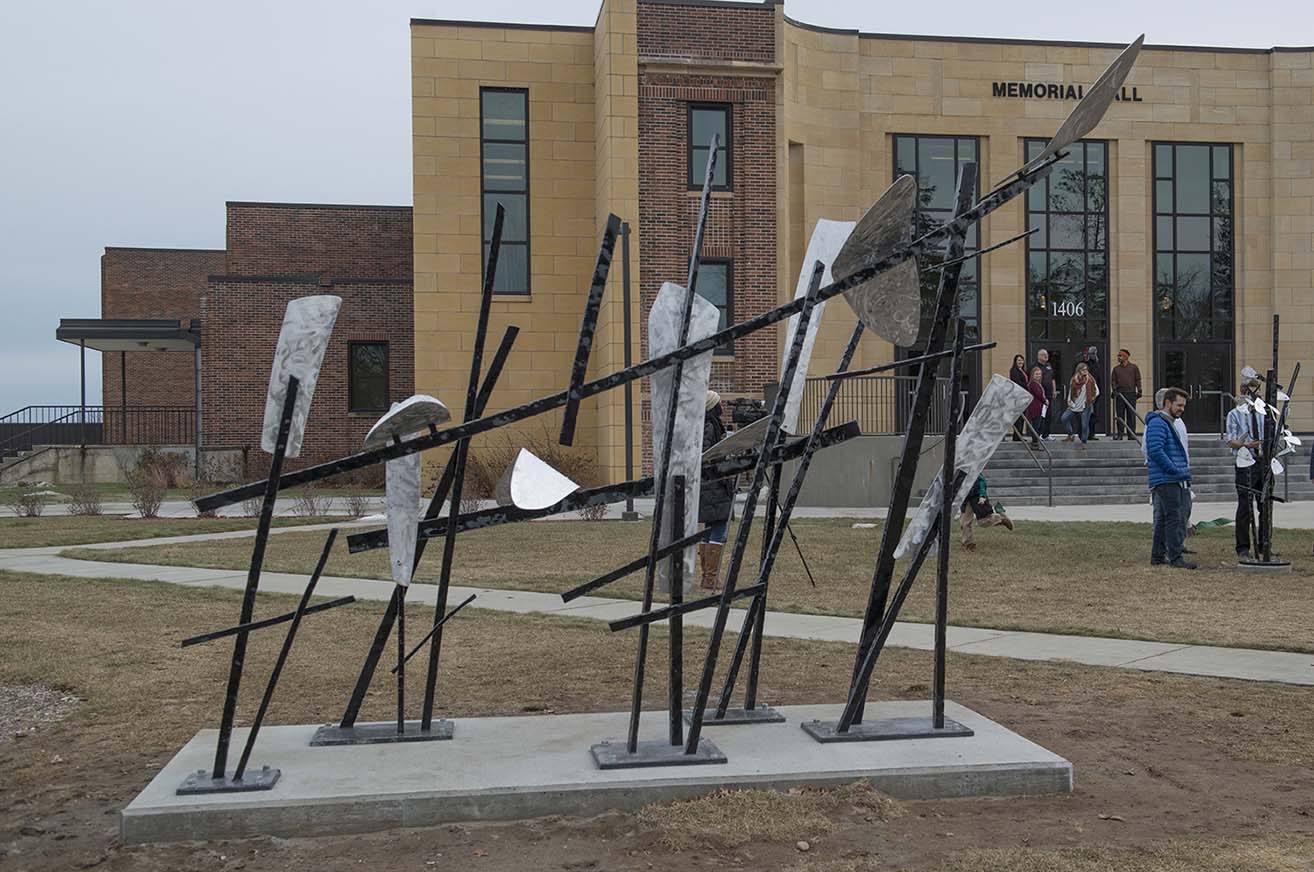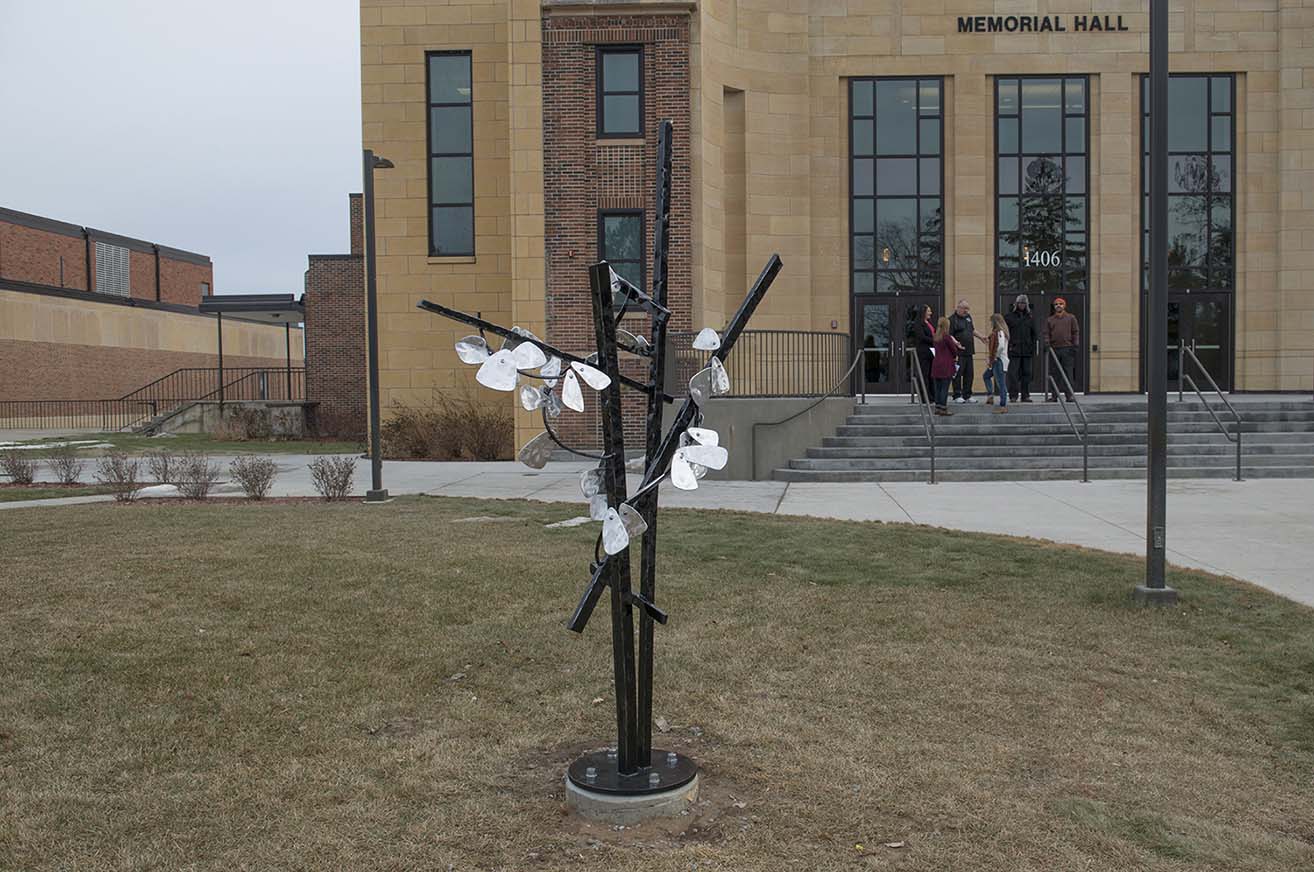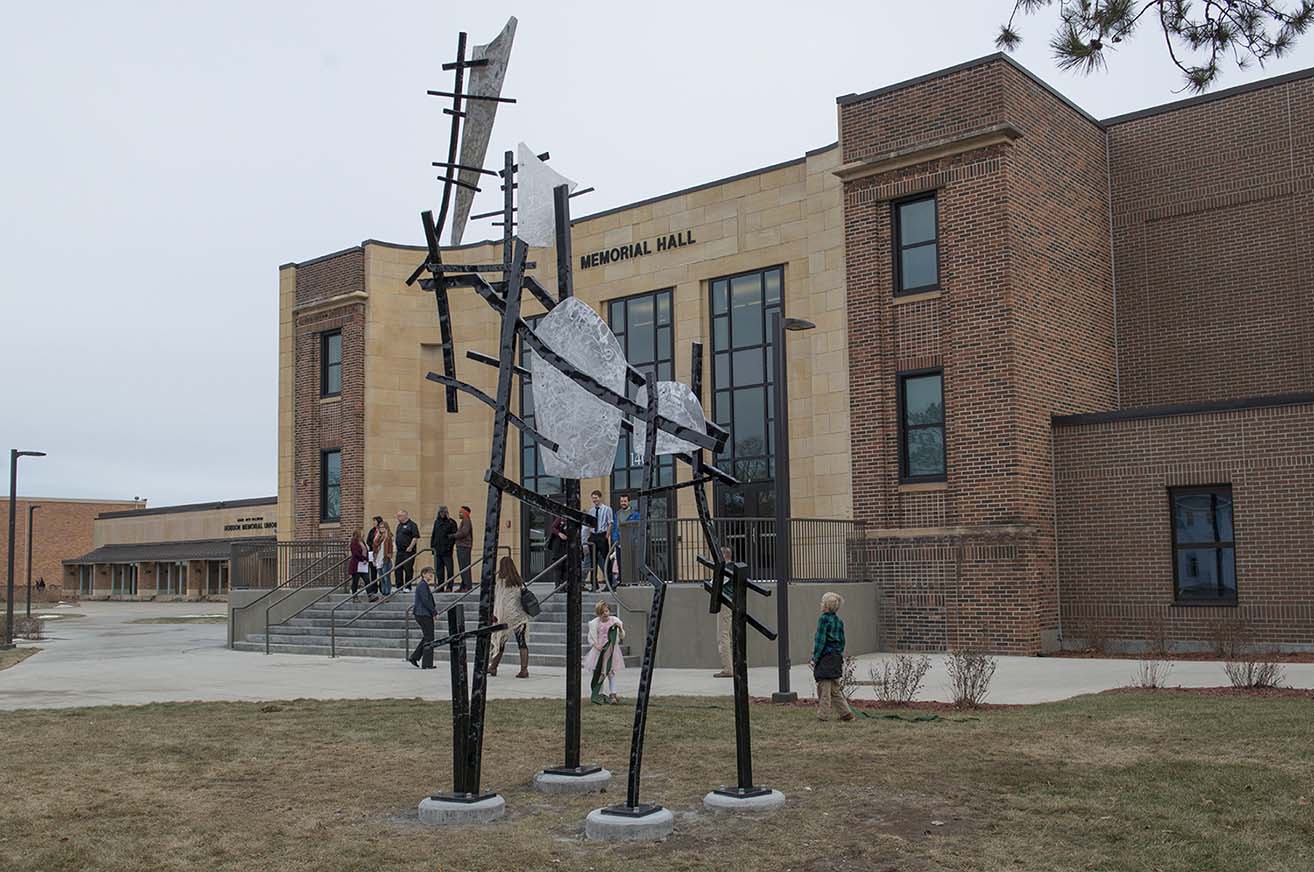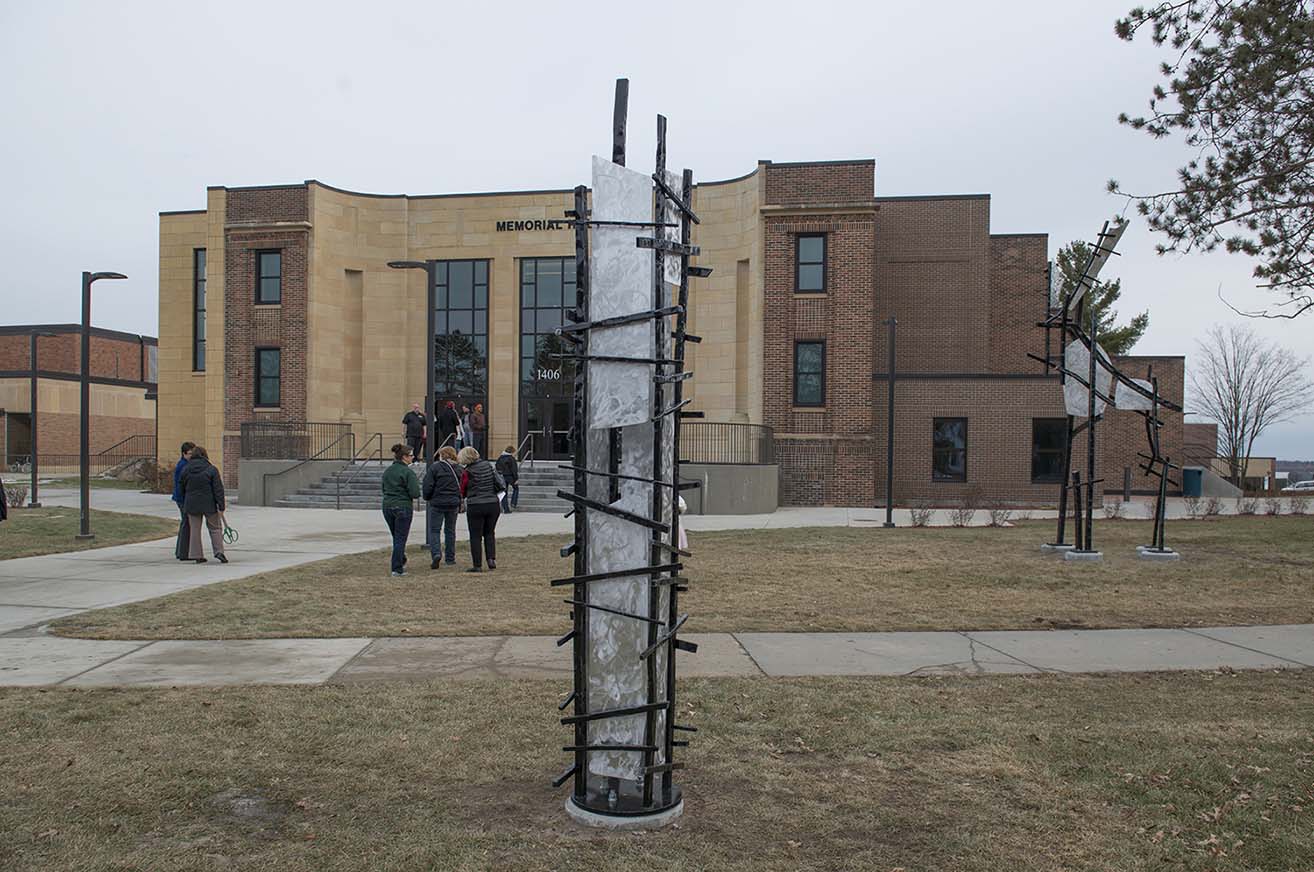 Northscape is part of the Memorial Hall renovation project, which was completed in 2015. The sculptures were funded through the Minnesota Percent for Art in Public Places program, which is a legislated component of state public building projects. The program acquires works of art to be exhibited in and around state buildings in areas regularly accessible to the general public. Percent for Art purchases existing work or commissions artists to create new work especially for the state building or site.
Artwork is purchased with funds provided by Minnesota's 1984 "Percent for Art" legislation, which encourages state building projects with construction or renovation budgets of $500,000 or more to use up to one percent of the total construction budget to purchase or commission original artwork for the site. Minnesota's Percent for Art in Public Places is one of 26 state public art programs around the country that commission work to enliven our shared public spaces, and provide opportunities for artists. More than 130 art installations have been completed in the state of Minnesota using the Percent for Art program.
Installation of the sculptures was completed on Nov. 29.
"This was a crazy honor for me," Kamrath said. "The fact that I got to do it was amazing, and I was floored by how well BSU treated me through the entire thing. It was just a great experience."
About Jon Kamrath
Jon Kamrath is a fine art sculptor in ceramics, wood and various metals. A native of Mahtomedi, Minn., he taught at Fergus Falls Middle School for a year and a half after receiving his bachelor of arts in art education from Concordia College in Moorhead. He then began graduate studies at Iowa State University, where he received a master of fine arts in integrated visual arts. He then taught art for five years at the Eagle Ridge Academy in Eden Prairie, Minn., before pursuing his own work full time beginning in 2014.
He has presented work in both solo and juried group shows in Minnesota, North Dakota, Wisconsin and Iowa. His pieces are in public and private collections, including The Rourke Art Museum, Iowa State University and Des Moines University. Jon's largest piece is a sculpture of steel and aircraft aluminum called "Ascension," a 45-foot tower with three angels spiraling up toward a cross. It was commissioned by Hosanna Lutheran Church in Rochester, where it was installed in 2016.
Jon and his wife, physican Dr. Heidi Kamrath, have three children.
Contact
Links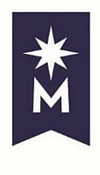 Bemidji State University, located amid the lakes and forests of northern Minnesota, occupies a wooded campus along the shore of Lake Bemidji. Enrolling more than 5,100 students, Bemidji State offers more than 80 undergraduate majors and eight graduate degrees encompassing arts, sciences and select professional programs. BSU is a member of the Minnesota State system of colleges and universities and has a faculty and staff of more than 550. The university's Shared Fundamental Values include environmental stewardship, civic engagement and international and multicultural understanding.
---
2018-B-L-044