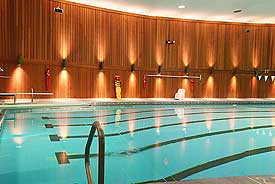 Bemidji State University's Gillett Wellness Center is offering winter youth swimming lessons with the Red Cross Learn to Swim Program beginning Jan. 23.
Lessons cost $60 per child for eight sessions, held on Tuesday and Thursday evenings each week. All lessons will be held at the Gillett Wellness Center Pool on the BSU campus.
Lesson times vary depending on skill level. Level One is held 4–4:35 p.m.; Level Two is held from 4:45–5:20 p.m.; Level Three is held 5:25–6 p.m.; and Levels Four and Five are held from 6:05–6:35 p.m.
Skill levels follow criteria set by the American Red Cross. Level One is an introduction to water skills designed to help students feel comfortable in the water; Level Two provides fundamental aquatic skills; Level Three focuses on stroke development; Level Four on stroke improvement; and Level Five on stroke refinement.
The American Red Cross program features swim instruction with emphasis on drowning prevention and water safety.
Future sessions will be held in late March and this summer.
Contact
Links
Bemidji State University, located amid the lakes and forests of northern Minnesota, occupies a wooded campus along the shore of Lake Bemidji. Enrolling more than 5,100 students, Bemidji State offers more than 80 undergraduate majors and eight graduate degrees encompassing arts, sciences and select professional programs. BSU is a member of the Minnesota State system of colleges and universities and has a faculty and staff of more than 550. The university's Shared Fundamental Values include environmental stewardship, civic engagement and international and multicultural understanding.