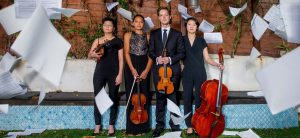 The Argus Quartet, the graduate quartet in residence at the Juilliard School, will perform Jan. 21 at Bemidji State University as part of the Bemidji Concert Series.
The concert begins at 3 p.m. in the Thompson Recital Hall of BSU's Bangsberg Fine Arts Complex. Tickets are $20 for adults and $10 for children. Tickets are available at the doors or in advance in Room 201 of BSU's Bangsberg Fine Arts Complex.
The Argus Quartet has quickly established a reputation as a dynamic, versatile ensemble known for innovative performances and diverse repertoire. Their performances features new work by living composers in addition to traditional staples of chamber music canon. As the graduate quartet in residence at the Juilliard School, a position the group began in the fall, they will work closely with the Juilliard String Quartet.
The Argus Quartet features Clara Kim and Jason Issokson on violin, Dana Kelly on viola and Joann Whang on cello.
Repertoire for the concert will include:
String Quartet No. 1, Opus 12 by Felix Mendelssohn;
String Quartet No. 1 by Juri Sea, a piece commissioned by the Argus Quartet;
Selections from Josquiniana by Josquin des Prez and Charles Wuorinen; and
String Quartet by Witold Lutoslawski
While in Bemidji, the Argus Quartet will give a free master class for string players in BSU's Thompson Recital Hall. The class is scheduled for 3 p.m. Jan. 20. Contact the BSU Department of Music for additional information about the master class.
---
ABOUT THE BEMIDJI CONCERT SERIES
Bemidji State University's Department of Music began the Bemidji Concert Series in 2001 to help reinforce Bemidji's reputation as a cultural center in northern Minnesota and to provide the Bemidji region with local access to world-class musical performances.
Upcoming performances include:
March 9 — Atlantic Reed Consort
The Atlantic Reed Consort — which includes oboe, clarinet, bassoon, bass clarinet and saxophone performers — embraces contemporary music while bringing traditional chamber music composed by Bach, Gershiwin and Ravel to audiences in an unexpected format. The group promotes chamber music through numerous clinics, recitals, public outreach concerts and recordings. The group made its Carnegie Hall debut in January.
2017-18 Bemidji Concert Series
Sept. 28 — The Rose Ensemble
Nov. 5 — Boston Brass
Jan. 21 — Argus Quartet
March 9 — Atlantic Reed Consort
Calendar
Jan. 21 – 3 p.m. – Bemidji Concert Series presents The Argus Quartet. Thompson Recital Hall, Bangsberg Fine Arts Complex, Bemidji State University. Tickets: $20 adults, $10 children, available at the door. Information: (218) 755-2915.
Contact
Links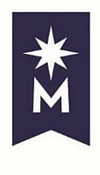 Bemidji State University, located amid the lakes and forests of northern Minnesota, occupies a wooded campus along the shore of Lake Bemidji. Enrolling more than 5,100 students, Bemidji State offers more than 80 undergraduate majors and eight graduate degrees encompassing arts, sciences and select professional programs. BSU is a member of the Minnesota State system of colleges and universities and has a faculty and staff of more than 550. The university's Shared Fundamental Values include environmental stewardship, civic engagement and international and multicultural understanding.
---
2018-B-L-051