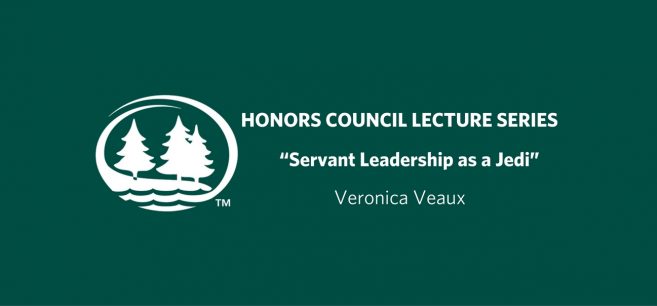 A Bemidji State University professor will explore the philosophy of servant-leadership and provide context using the 2005 film "Star Wars Episode III: Revenge of the Sith" to provide a depiction of servant-leadership as part of the university's Honors Council Lecture Series.
Veronica Veaux, assistant professor of business administration and co-director of leadership studies, will present "Servant Leadership as a Jedi" Jan. 17 at 6:00 p.m. in Hagg-Sauer 102 on the BSU campus.
Veaux's presentation will illustrate how servant-leaders and Jedi both place an importance on empathy, patience and foresight, and there is evidence of a commitment to being responsible stewards.
"Servant-leadership is a way of life, and most people are naturally inclined to be servant-leaders." Veaux said. "Yoda, a Jedi Master, is probably one of the best representations of a true servant-leader."
She will start by discussing the characteristics of a servant-leader, and then identifying Jedi traits. She will then use examples from the film to support the contradictions and inner strife that one may experience as they journey to becoming a servant-leader, while blending examples of what a true servant-leader may do in certain situations.
She will conclude with why she believes there is a need for more servant-leaders and outlay the benefits she believes servant-leaders have on organizations and society.
The Honors Council Lecture Series provides a forum for BSU faculty to share their expertise and the results of their research with the Bemidji community. Honors Council lectures are open to everyone free of charge.
About Veronica Veaux
Veronica Veaux is an assistant professor in Bemidji State University's Department of Business Administration and co-director of leadership studies. She completed her MBA in American Indian entrepreneurship at Gonzaga University, where she is currently studying in the leadership studies doctoral program. She completed her undergraduate from Bemidji State University. Veaux is a member of the Leech Lake Band of Ojibwe and resides near Bemidji with her husband and five children.
BSU Honors Council
The Honors Council Lecture Series is hosted by the Bemidji State University Honors Council, the advisory group to BSU's honors program composed of 12 faculty members representing each of the university's colleges. Student representatives are also elected to the council by their cohorts for one-year terms.
Calendar
Jan. 17 – 6:00 p.m. – Bemidji State University Honors Council Lecture Series presents Veronica Veaux, assistant professor of business administration, "Servant Leadership as a Jedi." Hagg-Sauer Hall 102, BSU campus. Admission: free. Information: (218) 755-3984.
Contacts
Bemidji State University, located amid the lakes and forests of northern Minnesota, occupies a wooded campus along the shore of Lake Bemidji. Enrolling more than 5,100 students, Bemidji State offers more than 80 undergraduate majors and eight graduate degrees encompassing arts, sciences and select professional programs. BSU is a member of the Minnesota State system of colleges and universities and has a faculty and staff of more than 550. The university's Shared Fundamental Values include environmental stewardship, civic engagement and international and multicultural understanding.