"My heart is totally full today," said Dr. Misty Wilkie, associate professor of nursing at Bemidji State University, as the Department of Nursing unveiled its new Niganawenimaanaanig (neh-gah-na-WAY-nee-MAH-nah-neg; click to listen) student lounge in Bensen Hall 128.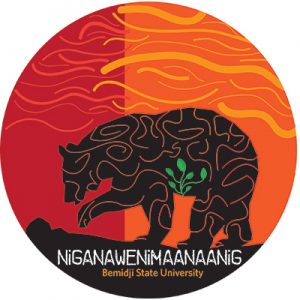 The logo for Bemidji State's Niganawenimaanaanig program was designed by BSU design student Allison Hoeft.The bear represents the Ojibwe bear clan—medicine people with knowledge of healing—with the green plant representing natural herbs gathered for medicines.
"This is a dream come true for me, to have this space for students and to bring this kind of support to our nursing students at Bemidji State," Wilkie said. "I'm hoping this space provides an opportunity for some peer mentoring and, hopefully, some lifelong friendships."
The lounge, which will be available to all nursing students, was created as part of a nearly $2 million Nursing Workforce Development grant from the U.S. Health Resources and Services Administration received by Bemidji State in June.
Students participating in the Niganawenimaanaanig Program—named for an Ojibwe word meaning "we take care of them"— receive scholarships up to $4,000 and monthly stipends of up to $500 for meeting specific program requirements. Students are required to attend weekly meetings and goal-setting sessions with a faculty mentor, participate in scheduled activities and attend assigned tutoring or study sessions. The lounge will provide a home for the program's activities and a gathering space for all BSU nursing students.
"My idea was to create a home away from home for nursing students," Wilkie said. "Someplace they could come to study, to hang out, to have that mentoring and support and encouragement from a mentor that's right next door."
Dr. Tony Peffer, BSU's provost and vice president for academic and student affairs, said the new space demonstrates the university's commitment to helping its nursing students make a positive impact on their communities after graduation.
"Healing is a wonderful art, as well as science, and I know that our American Indian students and all of our nursing students are going to play such an important role in bringing healing to the lives of people and communities," he said. "I'm so excited that we have this place and so grateful that we have this grant."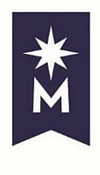 Bemidji State University, located amid the lakes and forests of northern Minnesota, occupies a wooded campus along the shore of Lake Bemidji. Enrolling more than 5,100 students, Bemidji State offers more than 80 undergraduate majors and eight graduate degrees encompassing arts, sciences and select professional programs. BSU is a member of the Minnesota State system of colleges and universities and has a faculty and staff of more than 550. The university's Shared Fundamental Values include environmental stewardship, civic engagement and international and multicultural understanding.
---
2018-B-W-021