Administrators and students celebrated the debut of Bemidji State University's new Center for Diversity, Equity and Inclusion at a Jan. 11 ribbon cutting ceremony.
The Center for Diversity, Equity and Inclusion is a student-driven initiative. Bemidji State's Student Senate passed a bill to develop the center in February 2016, and renovation of space in the Hobson Memorial Union to create a home for the center began in November 2017.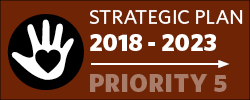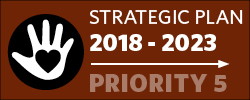 The center creates a hub for Bemidji State to promote and reinforce its shared fundamental values of civic engagement and leadership and international and multicultural understanding in a space safe for all students, faculty and staff.
"Today marks the culmination of a series of resolutions, events, student meetings, and conversations," said Dr. Jesse Grant, BSU's interim dean of students. "We are sitting in a space for students to gather to continue the dialogue around diversity, equity, inclusion and social justice."
Grant told the gathered crowd that opening the center was part of BSU's recently unveiled strategic plan, which called for the center to be completed in Fall 2018. With a nod to BSU President Faith Hensrud, he said "check—it's done!"
"The task is completed," he said. "However, this is the beginning of a series of dialogues, conversations, programming and reaching across the campus to engage our students."
In her remarks, Hensrud reiterated the center's importance to the university's plans for its future and its role in helping BSU recruit and retain a more-diverse student body.
"It will also help to strengthen BSU as a place of transformation," she said. "This center is extremely important as we all look to celebrate our differences and to see what it really means to be a community built upon mutual respect."
The dedication also introduced the center's first coordinator, Dr. Brian Xiong, who began his new role on Jan. 8. He said the center was especially meaningful to him and that he was excited to use the center as a resource to support BSU students.
"Like many of the students that I will be working with, am also a first generation college student," he said. "I am a refugee American; I came from Thailand, from a refugee camp. I came here and I knew at a young age that education was the key to open a new door. So I'm excited to be here, to help you open that new door and reach your goals."
After the ceremony, Dr. Jesse Grant, BSU's interim dean of students, led a recognition of the life of Dr. Martin Luther King, Jr., in the Beaux Arts Ballroom. Grant spoke on King's legacy and led a performance by the BSU Choir, and children from the Boys and Girls Club of Bemidji reflected on what King's teachings meant to them.
---
Video
Jan. 11, 2018 — Bemidji State University dedicates the Center for Diversity, Equity and Inclusion