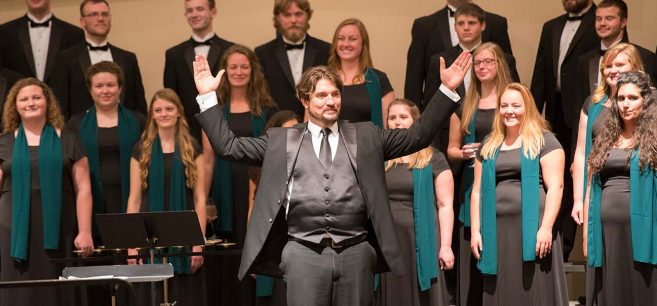 The Bemidji State University choirs will tour the Baltic states of Latvia and Estonia for a series of performances as part of tours arranged by Music Celebrations International.

Many of the choir's 38 members, along with Dr. Dwight Jilek (right), assistant professor of music and director of choral activities, will depart May 10 for an eight-day tour that will include performances in Riga, Latvia, and Tallinn, Estonia, as part of the American Celebration of Music concert series.
"The Baltic states have an incredible choral tradition," Jilek said. "There is community and educational singing of all shapes and sizes there, and we'll be singing with some of the better choirs in Europe. Our performances promise to have full houses and wonderful support."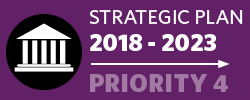 The choirs selected the Baltics for their international tour after the Department of Music finalized an arrangement with internationally renowned composer Ēriks Ešenvalds, who is from Riga, for a residency beginning in March.
Around the concerts, the Bemidji Choir will explore the region's sights and culture, including the shores of the Baltic Sea, Latvia's Freedom Monument and Estonia's Rocca al Mare open-air museum.
Leading up to Estonia's freedom from Soviet occupation in 1991, hundreds of thousands of people joined a bloodless resistance by singing together publicly in what is known as the "Singing Revolution." During the weeklong tour, students will hear stories of trials and oppression citizens of the area faced during Soviet occupation — including the loss of loved ones and the use of forced-labor camps in Russia.
"Our students will have a unique opportunity to gain a global, first-person perspective on the importance of freedom, the dignity of all people and the immense power of music," Jilek said.
The choir has partnered with BSU Alumni & Foundation to allow opportunities for alumni and friends to support the tour. More information is available on the Alumni & Foundation website.
"Performing internationally significantly increases BSU's visibility all over the world," Jilek said. "Opportunities to participate in these kinds of tours can help encourage students who want to study music to choose BSU, and can encourage our current and future students to perform in our ensembles — which are open to all students and not limited to only music majors."
About Music Celebrations International
Music Celebrations International embraces Ludwig Van Beethoven's famous statement that music can change the world. The organization provides performance and educational opportunities by offering the ability to participate in prestigious events, access to superior venues and associations with some of the world's oldest music festivals.
Contact
Dr. Dwight Jilek, assistant professor of music and director of choral activities, Bemidji State University; (218) 755-2855, djilek@bemidjistate.edu
Jana Wolff, director of annual giving, BSU Alumni & Foundation; (218) 755-2872, jwolff@bemidjistate.edu
Links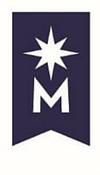 Bemidji State University, located amid the lakes and forests of northern Minnesota, occupies a wooded campus along the shore of Lake Bemidji. Enrolling more than 5,100 students, Bemidji State offers more than 80 undergraduate majors and eight graduate degrees encompassing arts, sciences and select professional programs. BSU is a member of the Minnesota State system of colleges and universities and has a faculty and staff of more than 550. The university's Shared Fundamental Values include environmental stewardship, civic engagement and international and multicultural understanding.
---
2018-B-R-008