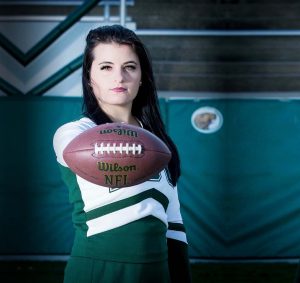 Caylin Coen asks a thought-provoking question about mental illness: "How would we treat it if we could see it like a broken arm?"
A native of Duluth, the senior psychology major at Bemidji State University is on a mission to erase the stigma surrounding mental health. She was diagnosed with depression and social anxiety in high school and remembers how scary it was to feel so "crappy" and "alone."
Coen's fellow students already are responding to her call to be photographed with their mental health challenges, fears and other emotions written across their faces, arms and body to show what most people never see. She plans to present her research and photos at the BSU Student Achievement Conference on April 4.
"I'm very open about my experience," Coen said. "I know there are a lot of students who have experienced some of the same things that I have, and no one wants to talk about it. I tell people that there's no formula for being well. Everyone is different. I had three different medications and five different therapists before I found what works. It's important to try and try again."
Coen has shared her story with peers as a member of the BSU Mental Health Panel. She also is a founding member of the BSU Mental Health Board, sponsored by the university's counseling center to heighten awareness about mental health.
Her goals include helping faculty and administrators faculty and administrators recognizing students in distress, how to create a safe and comfortable environment and where to find resources when needed.
"Caylin is a bright spark at BSU trying to help us all better understand this complex issue," said Dr. Kate Larson, assistant professor of psychology. "She is advancing the conversation, sharing and being vulnerable. She is amazing."
Coen has been a football and hockey cheerleader and a member of two BSU choirs. "I love performing," she said. "It's therapeutic for me."
She plans to also earn a coaching license and eventually a master's in education so she can teach and coach teenagers.
Coen admits it was "terrifying" the first time she shared her story. Nonetheless, she said she intends to continue sharing. "It's so important that we keep talking."