Three Bemidji State University students have won scholarships in the Department of Music's Don and Ione DeKrey Memorial Scholarship Competition.
A total of nine students participated in the 32nd annual competition, held April 14 in BSU's Bansgberg Fine Arts Complex. This year's winners of $1,500 scholarships were:
Evan Byler, a junior mass communication and music major from Pennington, Minn. Byler, a tenor, performed "Non t'amo più!" by Francesco Paolo Tosti. He was accompanied on piano by Chiao-Yen Chen, adjunct instructor in music.
Savanna Hagerty, a junior music education major from Cornelia, Ga. Hagerty, a soprano, performed "The Gallows Tree" by Steven Mark Kohn. She was accompanied on piano by Dan Will, adjunct instructor in music.
Hannah Jenson, a senior music education major from Princeton, Minn. Jenson, a soprano, performed "Von ewiger Liebe" by Johannes Brahms, accompanied by Will.
Also singing in this year's competition were:
Anna Ames, junior, music education, Moorhead, Minn., performing "Give Me Jesus" arranged by Moses Hogan.
Claire Johnson, junior, vocal music education, Waunakee, Wis., performing "The Black Swan" by Gian Carlo Menotti.
Dezerae Medina, senior, music education, Wadena, Minn., performing "Morgenständchen" by Fanny Mendelssohn Hensel.
Arianna Hady, sophomore, music education and music, Blaine, Minn., performing "Liebst du um Schönheit" by Clara Schumann.
Joscelin Eischens, junior, music education, Nevis, Minn., performing "Du bist Wie eine Blume" by Robert Schumann.
Kaitlyn Huhta, sophomore, music education, Sebeka, Minn., performing "O del mio amato ben" by Stefano Donaudy.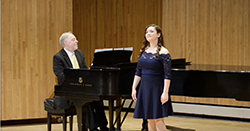 This year's alumni performances are available on YouTube.
Each year, after scholarship recipients are announced, the competition concludes with a group performance by previous winners of the award. As this year's scholarship recipients, Byler, Hagerty and Jenson will be invited to participate in future DeKrey alumni performances.
This year's alumni performances featured all three 2017 DeKrey winners —Lindsay Marketon, Katilynn Meine and Kari Norheim — along with 2010 winner Mattea Elhard and 2015 winner Samantha Velde.
All three 2017 winners are current students. Marketon is a senior music education and music major from Howard Lake, Minn.; Meine is a senior music major from Mentor, Minn.; and Norheim is a junior music major from Alexandria.
The award was established by Dr. Donald DeKrey to honor his late wife, Ione, and her love for music. Ione was a Bemidji State University alumna, graduating in 1975 at age 44. Donald DeKrey and his four children, Steve DeKrey, Betsey Tower, Dr. Dan DeKrey and Nancy Glenn, started the event by pooling memorial money following Ione's death. For the DeKreys, the scholarship competition has become an important living memorial and a way to give students an opportunity to perform in a competitive situation. Family members attend the competition and assist with judging along with a panel of Bemidji State music faculty.
Since the competition began in 1987, 72 BSU students have won DeKrey scholarships valued at more than $35,000. The competition has provided scholarships for three winners each year since expanding in 2008.
Contact
BSU Department of Music; (218) 755-2915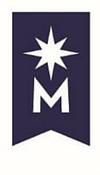 Bemidji State University, located amid the lakes and forests of northern Minnesota, occupies a wooded campus along the shore of Lake Bemidji. Enrolling more than 5,100 students, Bemidji State offers more than 80 undergraduate majors and eight graduate degrees encompassing arts, sciences and select professional programs. BSU is a member of the Minnesota State system of colleges and universities and has a faculty and staff of more than 550. The university's Shared Fundamental Values include environmental stewardship, civic engagement and international and multicultural understanding.
---
2018-B-L-099