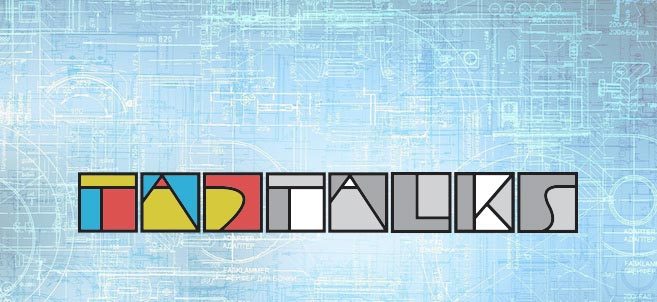 Bemidji State University's School of Technology, Art and Design features eight speakers and a concert from Bemidji folk music fixture Corey Medina at its fourth annual TAD Talks event. This year's speakers include world-renowned designers, metallurgists, authors, creative directors and others who will share their visions on how to improve our universe through the interwoven lenses of technology, art and design.
TAD Talks begin with a concert by Medina at 6 p.m., with presentations beginning at 7 p.m. Medina will also perform during an intermission. The event will be held in the Main Theater of BSU's Bangsberg Fine Arts Complex, and admission is free for everyone.
TAD Talks, modeled after the famous TED Talks series, is a multi-disciplinary event featuring 12-15 minute speeches from live presenters. Presentations are intended to promote understanding and seek meaning in issues involving technology, creativity, innovation and the entire process of life.
TAD Talks is presented by TEAM Industries and sponsored by Acme Design, Hill & Partners, Mix 103.7, Lueken's Village Foods, North Country Confections and Arrow Printing.
2018 TAD Talks presenters, in order of appearance:
Jim Ross, Cambridge, Minn. — TEAM Industries metallurgical lab manager
Karl O'Reilly, Chicago, Ill. — ion exhibits creative director
Charles Pappas, Rochester, Minn. — senior writer, EXHIBITOR magazine
Rhiannon Andersen, Las Vegas — vice president, Steelhead Productions
Ron Gray, Brownsville, Texas — director of operations, Robertshaw Controls
Scott Knutson, Bemidji, Minn. — managing legacy producer/director, Lakeland PBS
Mark Holme, Weymouth, Mass. — creative director, Hill & Partners
Mitchell Mauk, San Francisco, Calif. — founder and principal, Mauk Design
Jim Ross, Cambridge, Minn. — TEAM Industries metallurgical lab manager
Ross will present "Heat Treatment of Steel" and share thermal manipulation theories for steel. The presentation will explore how a metal's crystalline structure can be changed through heating and cooling, creating a material that can be easily machined or that possesses the strength needed for its intended application.
Ross began his professional career with the Fort Wayne, Ind.,-based Dana Corporation after earning a metallurgical engineering degree from the University of Cincinnati. He later spent time as a materials engineer in the automotive industry, and for the last 15 years he has been manager of the Corporate Metallurgical Lab at TEAM Industries. In that role, Ross develops and implements strategies to control and measure metallurgical properties of materials through all stages of its production cycle.
Karl O'Reilly, Chicago, Ill. — ion exhibits creative director
O'Reilly's presentation, "Who… What… Why… and the other Questions that Start with W," explores humanity's ability to dream, build and create which dates back 70,000 years to the first evidence of early man's use of art for visual communication. O'Reilly says these ancient creations leave more questions than they answer. Why do we create?  Why would anyone want to destroy such beauty? And what's the deal with Tide Pods?
O'Reilly has been creative lead at ion exhibits for more than 16 years. He has a deep professional portfolio of graphic and 3D design including digital illustrations, technical line art, client branding, package design, animation, exhibit design and experiential environments.
Charles Pappas, Rochester, Minn. — senior writer, EXHIBITOR magazine
Pappas will explore how exhibit design impacts all aspects of modern life in a presentation named for his book "Flying Cars, Zombie Dogs, and Robot Overlords." He will show how any imaginable everyday activity — plugging in a phone, turning on a television, withdrawing money from an ATM, eating an ice cream cone, taking a drug or watching a movie about dinosaurs — can be traced to a successful exhibition. He also will show how any momentous idea that added to or subtracted from human happiness — from nudism to Nazism, from pure foods to eugenics — also found their tipping points in exhibitions. And at the heart of each of these exhibitions is a designer who then creates revolutions and war while he or she is making history.
Before his current role at EXHIBITOR magazine, Pappas spent time as an investigative reporter, tech writer, social worker and a tracer of missing heirs for a private detective in New York.
Rhiannon Andersen, Las Vegas — vice president, Steelhead Productions
Andersen will share tips for successful job searches in her presentation "Land the Best Job EVER!" She'll share her view of the most important question a job candidate can ask before starting a search and share three simple things to consider before accepting a job.
Andersen has been co-owner of Steelhead Productions, which specializes in trade show exhibit design, for more than 22 years and has worked with hundreds of clients.
Ron Gray, Brownsville, Texas — director of operations, Robertshaw Controls
Gray will share his experiences with servant leadership, a principle of leadership which places importance on empathy, patience and foresight, and shows evidence of a commitment to being a responsible steward.
He is director of operations for Robertshaw Controls' facility on Matamoros, Mexico, where he oversees manufacturing of electronic and electro-mechanical controls for appliances and electric vehicles for clients such as Whirlpool, GE, Sub-Zero and Tesla. He has more than three decades of experience in engineering and manufacturing, first as a project engineer in the automotive industry. He also has traveled extensively to provide Lean Manufacturing training in Brazil, India, Germany and Mexico. He has a bachelor's degree in mechanical engineering from Lawrence Technological University, a master's degree in manufacturing systems from the University of Michigan and a master's in engineering management from Wayne State University.
Scott Knutson, Bemidji, Minn. — producer and director, Lakeland Public Television
Knudson will share "big-city, down-and-dirty" filmmaking techniques that he guarantees will get the story told — or at least work if all else fails — in "Guerrilla Filmmaking for Local Public Television." He will share some closely guarded artistic secrets, observations from his years as a producer and a few hard truths for aspiring filmmakers.
As managing legacy producer and director ant Lakeland PBS, Knudson creates the station's Common Ground program, which details arts, culture and history in northern and north-central Minnesota. He also creates feature-length documentaries for Lakeland, some of which receive statewide and national distribution.
Mark Holme, Weymouth, Mass. — creative director, Hill & Partners
Holme will discuss the importance of creative outlets and inspiration, along with a recap of his own creative journey and artwork, in "The Value of Creative Outlets."
Holme is an award-winning creative director, designer and fine artist who has spent more than 30 years designing user experiences for world-renowned brands including Samsonite, Dunkin Brands, IBM, Bristol-Myers, Novartis, Coca-Cola and RMS Titanic. He has combined his passion for building and fabrication with formal design and arts training. He founded the Seekonk Artist Network in Seekonk, Mass., and has been closely involved with student mentorship at both Bemidji State and the Fashion Institute of Technology in New York City.
Mitchell Mauk, San Francisco — founder and principal, Mauk Design
Mauk will provide his insight into the future of the exhibit design industry with a presentation, "Where Do Exhibits Go From Here?"
Mauk founded Mauk Design in San Francisco in 1986. The company specializes in exhibit design and corporate communications, with special emphasis on marketing integration of 2D and 3D imagery. Mauk is an award-winning designer with honors from the Industrial Designers Society of America, the Society for Experiential Graphic Designs and the American Institute of Graphic Arts, and he was named Exhibit Designer of the Year by Exhibitor Magazine.
Bemidji State University, located amid the lakes and forests of northern Minnesota, occupies a wooded campus along the shore of Lake Bemidji. Enrolling more than 5,100 students, Bemidji State offers more than 80 undergraduate majors and eight graduate degrees encompassing arts, sciences and select professional programs. BSU is a member of the Minnesota State system of colleges and universities and has a faculty and staff of more than 550. The university's Shared Fundamental Values include environmental stewardship, civic engagement and international and multicultural understanding.
---
2018-B-W-029