A cherished 74-year Bemidji State University tradition began inauspiciously as a student dance performance assigned to a new physical education instructor.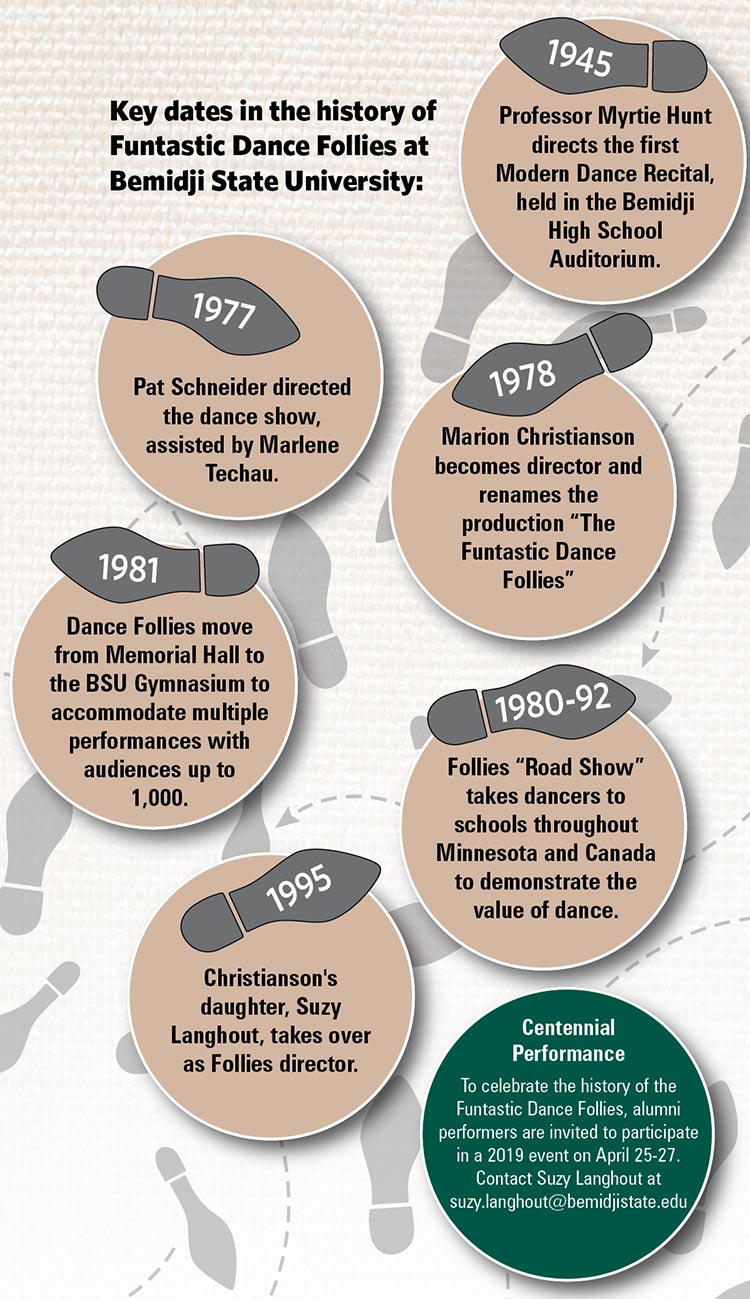 Key dates in the history of Funtastic Dance Follies at Bemidji State University. Click to enlarge.
In 1945, despite having little dance experience and even less guidance, Dr. Myrtie Hunt collaborated with choir director Carl O. Thompson to present a version of "The Nutcracker Suite."
One of the eight brave students in that show was Marion Fenson, who became Marion Christianson. "Mrs. C.," as she was known by dancers, took over as show director in 1978. In 1995, she was succeeded by her daughter, Suzy (Christianson) Langhout '93, who continues as co-director with her husband, Jon Langhout '91.
Along the way, what is now known as "Funtastic Dance Follies" has made indelible memories for generations of Bemidji State students.
"It shaped my life in ways that are hard to explain, but it was an important part of all the great things that happened in Bemidji for me," said Dave Thomas '79, a BSU swimmer and assistant swimming coach.
"It taught me about poise and kindness and how to step out of the box and do something I was not comfortable with, and be successful at it. I figured if I could be the dance teacher's partner and perform in front of an audience, I could do just about anything."
In its early decades, the show's music and choreography were tailored to a predominance of women dancers.
Christianson said in a 2011 interview that the bond of a favorite teacher and favorite student she had with Hunt helped get the program off the ground.
"She always called me her 'kid,'" Christianson recalled. "Between the two of us, we got everything going. My sister and mother made the costumes. We worked with what we had. That was a fun production, and it was very well received."
When she became director, Christianson decided the Dance Follies needed to be "Funtastic." She hoped to attract more dancers, especially men. She moved from having a different theme every year to encouraging dancers' creativity under the "fun" umbrella.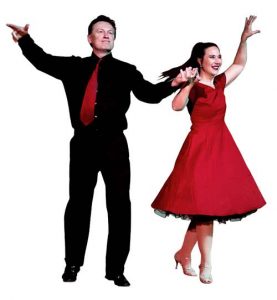 "My purpose in changing the name was that it should be fun for the dancers to do and a lot of fun for the audience to watch, kind of a funtastic experience for everybody," she said.
The name change, along with square dance and social dance numbers that Hunt had introduced, helped the program grow. It also helped that football coach Chet Anderson taught square dancing and encouraged his players to participate.
Male and female athletes from hockey, swimming, diving and other sports trained with Christianson to learn new physical skills.
Groups across campus also took part, and students from individual residence halls teamed up to prepare dance numbers.
Suzy Langhout remembers one year when all the resident assistants were in the show. They raced back and forth between numbers so someone would always be on duty, but it didn't quite work out.
"One group didn't get back in time for the other group to get there," she said. "Oh, they were mad. They missed their beach number."
Miscues and mishaps are part of Dance Follies lore -— from theft of a reel-to-reel recorder that contained music for an entire show during the Hunt years, to electrical overload in Memorial Hall that almost kept one of Christianson's shows in the dark, to a dancer getting stuck in an Elmo costume under Langhout's watch. But always, the show has gone on.
Routines have celebrated popular culture and cultural heritage. Through the decades, audiences were exposed to dances from Ukraine to Tonga. They reflected such trends as disco in the 1970s, country line dancing in the '80s and hip-hop in the '90s.
In recent years, one fashion that's new again is swing dancing. Members of BSU's Swing Dance Team provide a strong foundation for the Follies through their group and audience participation numbers, with help from the Ballroom Club and BSU Dance and Cheer teams.
Langhout and her husband, who goes by the nickname "Hondo," provide professional guidance to these groups outside the two-week window when the Follies come to life.
"We have been able to add some more technical dances," Suzy said. "We're doing tougher stuff than we've ever done."
The couple, who operate the Suzy & Hondo School of Dance in Bemidji, say the students' range of experience strengthens the program: Beginners learn and more skilled dancers have a place to perform.
Though some productions have showcased highly trained dancers, the Langhouts said Funtastic Dance Follies have always been about community.
As Christianson said, "Anybody can be in it. There are no restrictions — even if they haven't had a single dance class and they just become a part of it because it looks like fun. Come to the practices, we'll work with you."
---
Written by Maryhelen Chadwick