In the archives of Bemidji State's A.C. Clark Library is a 1941 doctoral dissertation by A.C. Clark that analyzes students at Minnesota's six state teachers' colleges.
Dr. Clark, who twice served as acting president of Bemidji State, compiled a statistical composite of students at his own college in 1935 that has distinct modern-day echoes:
87 percent of students on the Bemidji campus were born in Minnesota, Iowa or North Dakota. Twenty-one percent said both their parents were foreign-born — nearly all in England, Germany and Scandinavia.
62 percent came either from farms (a quarter of which were 80 acres or smaller), or from towns of fewer than 1,000 population. Sixty-four percent had ventured fewer than 50 miles from home to earn their degrees.
45 percent had at least four siblings, and 51 percent reported that neither parent had gone to school beyond eighth grade.
Though the past 83 years have softened those edges, Bemidji State students remain markedly homogenous in ethnicity, geography and socioeconomics. For that and other reasons, increased diversity is a leading goal in the university's new five-year strategic plan.
But faculty and administrators say the identity of a "typical" BSU student goes deeper than their surname and the size of their high school class — or, for that matter, their ranking in it.
The educators' admittedly unscientific consensus is that the modest background of a great many students – rural and suburban — helps them thrive on an egalitarian campus in Minnesota's north woods, one large enough to offer what they want but not so large that they get lost in the crowd.
Regardless of whether they were academic or extracurricular stars in high school, many are in awe of what they are able to achieve, both at the university and after they graduate.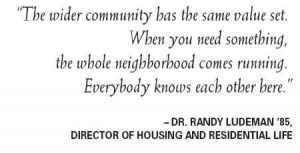 "They need something from us that students out of the Cities don't need," said Dr. Randy Ludeman '85, director of housing and residential life and a BSU employee for his entire career. "The wider community has the same value set. When you need something, the whole neighborhood comes running. Everybody knows each other here."
Students' work ethic, refreshing open-mindedness and self-motivation also were noted by Dr. Art Lee, Bemidji State historian and professor emeritus of history, in his book "The University in the Pines," published in 1994 to mark BSU's 75th anniversary.
Lee describes a relationship of respect between students and teachers that "has made Bemidji State a wonderful place to teach — and to learn."
Calling them "scramblers," he says students contribute to "a campus culture marked by a no-nonsense emphasis on materialism, promoting self-success measured by good jobs and dollars."
"But not that many dollars," Lee continues, "not that foolish notion of super-big-bucks dreams. … Verily, life's a struggle, school's a struggle, but it's worth it because there is a better life out there with a degree."
Demography is the through-line from one era to the next, so it's worth pointing out that in Fall 2017, just under 12 percent of BSU students reported a non-white race or ethnicity, and a little more than 2 percent came from outside the United States.
In addition to being predominantly white, 45 percent still hail from communities north of U.S. Highway 10 in 2017 — in other words, from the northern half of Minnesota. But Twin Cities students make up a steadily increasing share. Back in 1999, a full 65 percent of students came from northern Minnesota.
Even more striking is the fact that among students who reported their parents' educational attainment last fall, 53 percent said neither parent has a bachelor's degree, and 14 percent said they are in the first generation of their families to even attend college. That latter number has barely changed since 1999, when it was 16 percent.
The average ACT score of BSU's incoming students in Fall 2017 was 22, compared with 28 at the University of Minnesota, Twin Cities. BSU accepted approximately 89 percent of students who applied.
Dr. Jesse Grant, associate vice president of student life and success, said the university's employees share a genuine commitment to students' well-being.
"A large number of people who work here are first-generation," Grant said. "Their own experiences when they were students really resonate, so there's an easy connection there."
Added Dr. Tony Peffer, provost and vice president of academic and student affairs, "Our students by and large are oriented toward community, so that makes BSU's sense of community sort of doubly appealing to them. At least at some level, we give them more of a feeling of home — another hometown, maybe."
Several BSU educators said students' origins – whether from small towns or families with small-town roots, and whether first- or second-generation college students — foster a level of personal accountability to parents, other relatives and even their hunting buddies back home.
"Most of our parents are making a sacrifice to send their children here," Peffer said. "They've got a good job, but they didn't get to go to college, or they didn't get to finish, and they're not rich.
"So I think maybe there's some sense of — I hear it from some students I talk to — a sense of obligation. They're not privileged, and they're conscious of the fact that a lot of people, or at least one or two people, are really investing in them. It's money they could use for something else."
Peffer, who has only been at Bemidji State for a year but who himself grew up on a small town in Kentucky and is a historian by training, said perhaps because of students' backgrounds, or having experienced the region on vacation, they are willing to get involved on campus and in the wider community.
"I think it might be because of where they come from, at least partly, but it's pretty easy to give them opportunities to make a difference in the community," he said. "They value the communities around here in large part because they come from the communities around here."
Nina Johnson, director of the Hobson Memorial Union, said students' personal humility means they sometimes need a nudge to step into leadership roles they wind up embracing.
"It's almost a little hard to get them to define themselves as leaders," she said, "because I think they don't want to take that crown in some ways. Humility is definitely a huge part of our culture on this campus compared to other places I've worked."
BSU President Emeritus Jon Quistgaard said that over his 30 years at BSU, ending in 2010, he watched thousands of graduates depart with a "competitive toolkit for success in the 21st century."
"They were comfortable with a world of continuing 'change' and prepared to make a difference," Quistgaard said.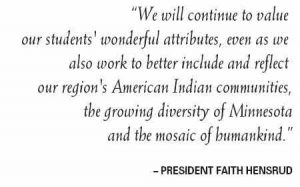 Staying true to that promise will demand that Bemidji State move beyond reliance on a particular cultural pathway for its students and their success, without losing touch with its historic benefits, said current President Faith Hensrud.
"We will continue to value our students' wonderful attributes," she said, "even as we also work to better include and reflect our region's American Indian communities, the growing diversity of Minnesota and the mosaic of humankind."
---
Written by Scott Faust