State approves $22.5M for a new Hagg-Sauer Hall
When Gov. Mark Dayton signed Minnesota's 2018 state bonding bill into law on May 29, Bemidji State University took a major step toward completion of a brand new Hagg-Sauer Hall and renovation of four other academic buildings by Fall 2020.
After more than five years of planning and delay, the $825 million bonding bill adopted by the Minnesota Legislature included $22.5 million to demolish the existing 48-year-old Hagg-Sauer Hall and replace it with a new, smaller and state-of the-art learning center on the same lakeshore site. The project also will fund significant upgrades in the A.C. Clark Library, Bangsberg Fine Arts Complex and Bensen and Sattgast halls that include study spaces adjacent to faculty offices.
Classrooms in the original 82,000-square-foot Hagg-Sauer building, completed in 1970, have poor wheelchair access, lack flexibility for group study and are not outfitted with modern interactive learning technology. The lakeshore building has also been plagued by basement water seepage, contributing to more than $9 million in deferred maintenance.
The new building, just 27,700 square feet, will have a variety of flexible learning spaces and state-of-the-art technology. Its energy-efficient design features extensive windows overlooking Lake Bemidji and native plant landscaping that will connect with the expanse of Lakeside Lawn.
Plans call for Hagg-Sauer to be demolished as soon as July 2019, with the goal of having the new building open for classes in Fall 2020.
Malhotra named permanent chancellor of Minnesota State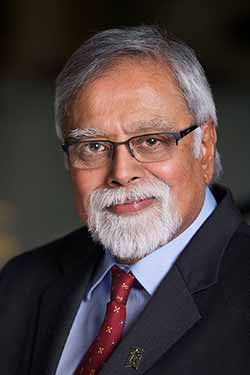 The Minnesota State Colleges and Universities Board of Trustees voted March 2 to name Dr. Devinder Malhotra as chancellor of the Minnesota State system through 2021. Malhotra, who had served as interim chancellor since August 2017, was permanently appointed after the board turned down three finalists.
Before becoming interim chancellor, Malhotra held leadership positions at other Minnesota State universities, including from 2014-16 as interim president of Metropolitan State University and from 2009-14 as provost and vice president for academic affairs at St. Cloud State University. He also served as dean of the College of Arts and Sciences at the University of Southern Maine, associate dean of the Buchtel College of Arts and Sciences at the University of Akron and a tenured professor of economics the University of Southern Maine and the University of Akron.

Class of 2018 sets record for American Indian graduates
Fifty-six American Indians were among nearly 1,100 graduates invited to Bemidji State's 99th Commencement, held May 4 in the Sanford Center arena. Previously, the most native graduates in a single year was 43, in 2016.
BSU Professor Emeritus of English Will Weaver delivered the Commencement address as the recipient of BSU's 36th Distinguished Minnesotan award. He challenged the Class of 2018 to be open to surprise and chance and remain aware of people around them. Also addressing the Class of 2018 were Daniela Maltais, a graduating psychology major from Bemidji, President Faith Hensrud, Minnesota State Trustee Roger Moe and BSU Alumni & Foundation Board President Peggy Ingison.
Commencement has grown so large since moving to the Sanford Center in 2010 that, for the first time, BSU required tickets for admission. Each graduating senior was allocated four tickets, and the Records Office was able to accommodate students who required additional seating for their families. According to the Sanford Center, 3,354 people attended this year's ceremony.

Bemidji State choirs perform in Baltic States May 12-15
The Bemidji State choirs began their summer with a six-day European tour, performing in the Baltic states of Latvia and Estonia under the guidance of Dr. Dwight Jilek, assistant professor of music and director of choral activities.
The BSU tour, which was part of the American Celebration of Music concert series, opened May 12 with a performance at St. Peter's Church in Riga, a building that dates to the 13th century. On May 13, the choir performed at St. Anna's Lutheran Cathedral in Jelgava, Latvia. The tour concluded May 15 with a performance at the Tallin Dome Church, completed in 1240.
The choirs chose the Baltics as a destination partly thanks to a BSU residency in March by internationally renowned Latvian composer Ēriks Ešenvalds.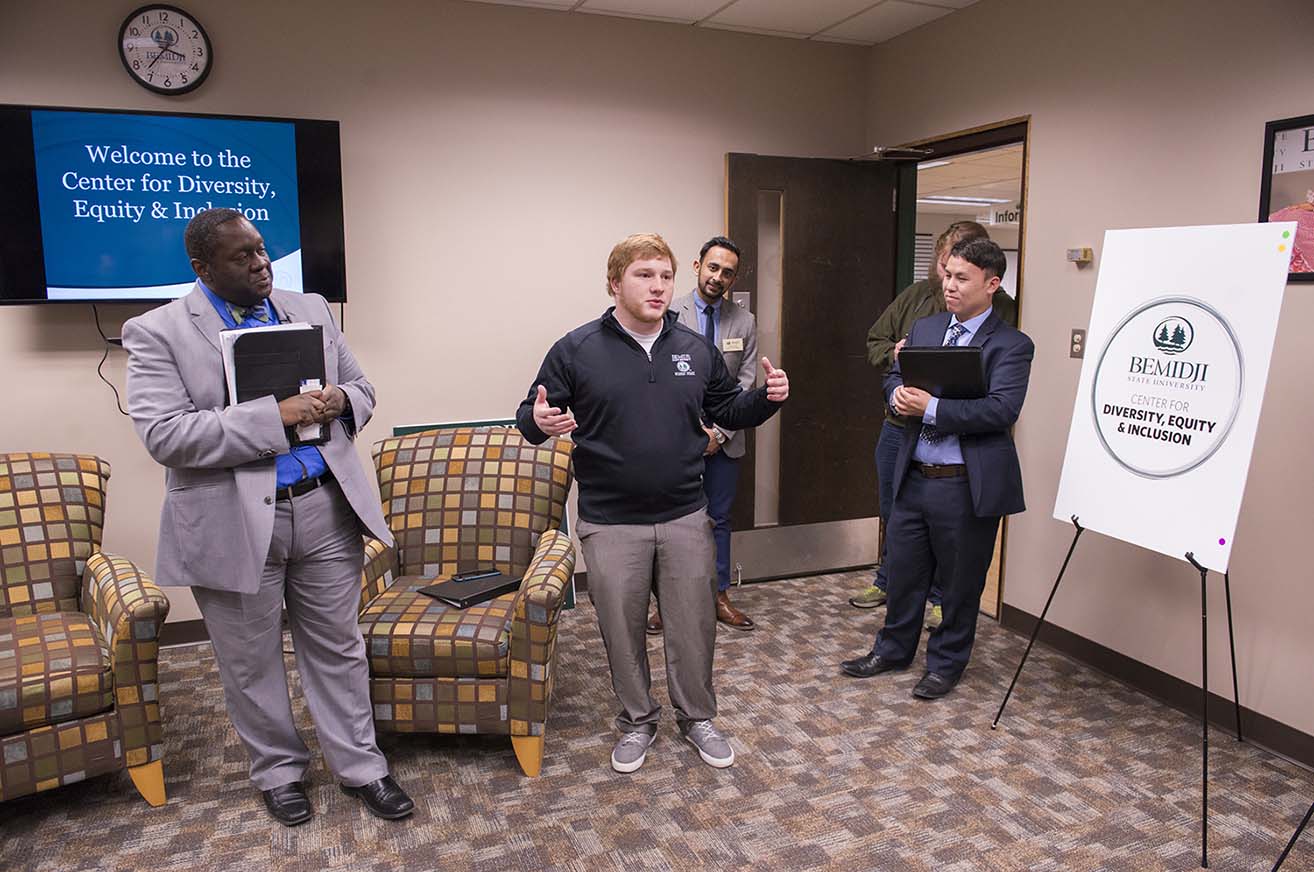 Center for diversity and equity opens in upper Hobson Union
Faculty, staff and students celebrated the opening of Bemidji State's Center for Diversity, Equity & Inclusion with a ribbon-cutting ceremony on Jan. 11.
The center was established to encourage support and respect for all aspects of campus diversity in keeping with the university's Shared Fundamental Values of civic engagement and leadership and international and multicultural understanding.
Located in the upper Hobson Memorial Union, it provides a safe and welcoming space for diverse students and student organizations, while encouraging activities and programs that raise awareness of and celebrate difference within the campus and wider communities.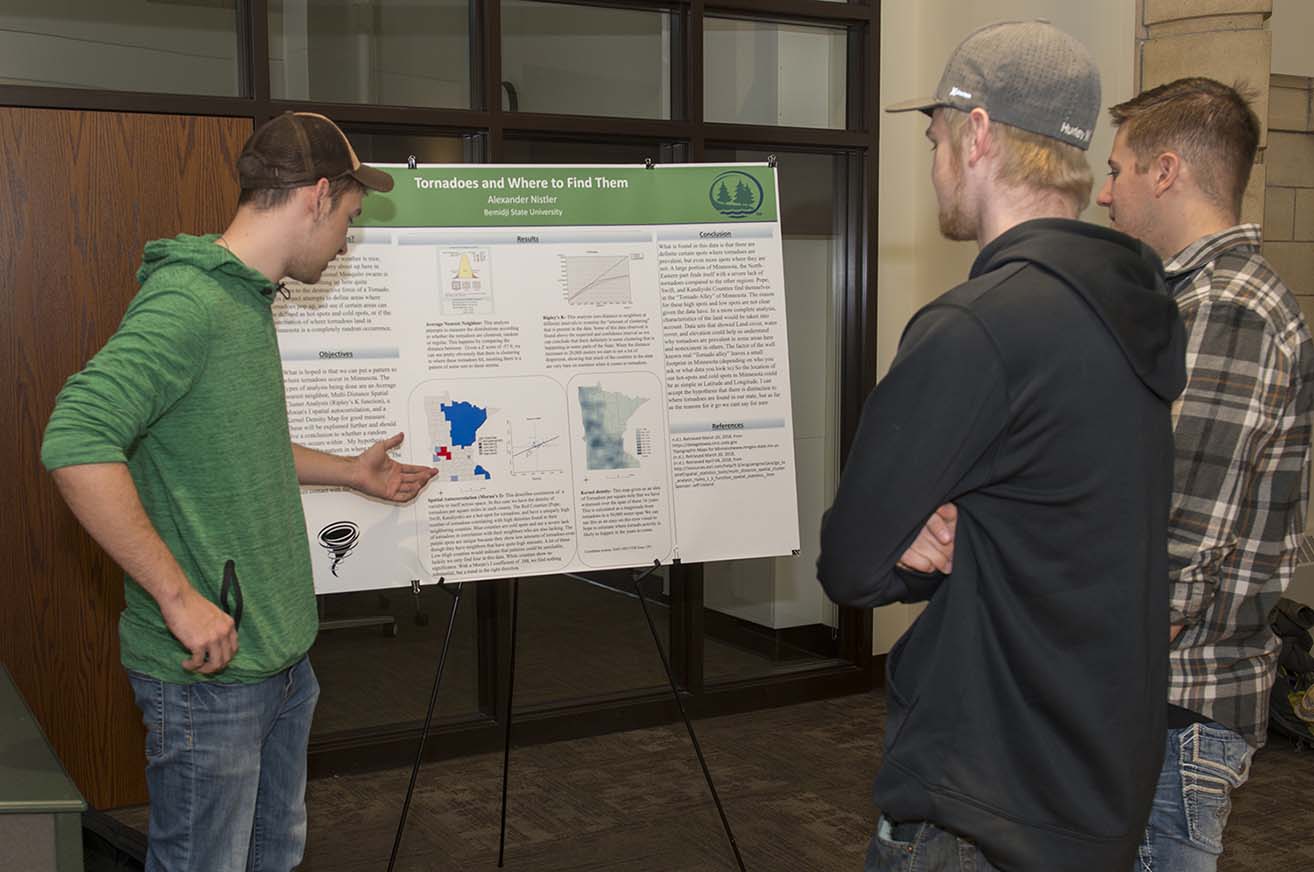 Student Achievement Day sets new standard for participation
A record number of Bemidji State students presented academic research and creative talents on April 4 during the 19th annual Student Achievement Day.
Nearly 300 participating students from a wide variety of academic majors gave nearly 150 presentations, poster displays, art exhibits and musical performances.
Students shared research on such subjects as U.S. income polarization, live-cell imaging of a protein called TCL, fish house rentals at the BSU Outdoor Program Center, training for bystander intervention in sexual assault cases, and the relationship between student employment and academic success.
Northern Student wins five Minnesota publication awards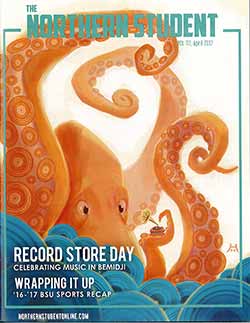 The Northern Student, Bemidji State's monthly student magazine, received five awards in the Minnesota Newspaper Association's Minnesota College Better Newspaper Contest, announced at its January convention in St. Paul.
The magazine was recognized for general excellence, and four individuals won awards in the competitive categories of Use of Information Graphics and Graphic Illustrations; Arts & Entertainment Story; and Feature Photo.
Hope Wall, a 2017 graduate who created an illustration used to celebrate the BSU Centennial, won first place in the Graphic Illustration category, and Tony Grobove, a senior in marketing communication from Burnsville, won first place in the Feature Photo category.
Recent appointments
These individuals have been appointed to permanent administrative positions over the past six months:
Awards recognize employees' excellence in service and spirit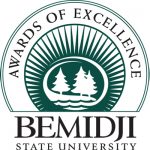 Bemidji State recognized 61 employees with 690 combined years of service, nine faculty members who received emeriti status, 14 retiring staff members and winners of the university's Awards of Excellence at a campus-wide breakfast on April 26. Award recipients were:
Distinguished Service
Carol Nielsen, professor of business administration
John Swartz, university photographer
Outstanding Contribution
Sandra Beck, facilities services supervisor, Physical Plant
Dr. Thomas Beech, professor of political science
Dr. Shannon Norman, assistant professor of human performance, sport & health
Excellence in Teaching
Dr. Andrew Hafs, associate professor of biology
Spirit of BSU
Angie Gora, summer program director
Grounds and facilities crew, for 2018-19 snow removal