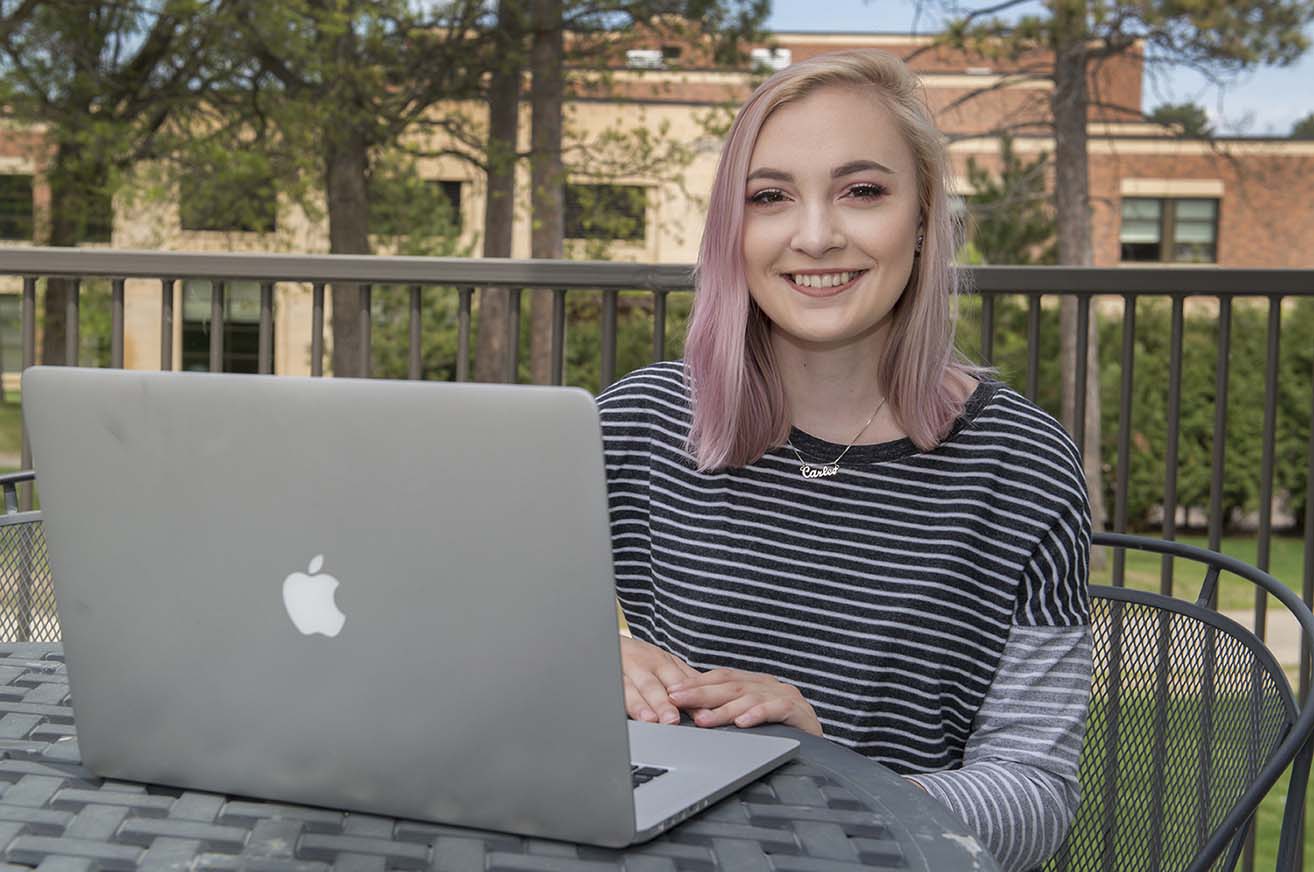 Carlee Waschek came to Bemidji State University because she wanted to do something different with her art — something she had never considered before. Bemidji State's exhibit design program fit the bill.
"I had no idea what it was," Waschek said. "I just knew it involved 3-D modeling and no one else was doing it and I wanted to learn."
The Pequot Lakes native transferred from Alexandria Technical and Community College to pursue a BSU degree in graphic design with an exhibit design emphasis in the School of Technology, Art & Design (TAD). She received a Rich and Marcella Sherman Scholarship for the upcoming year.
"When I started designing with 3-D modeling, it became a new passion," Waschek said. "I just like learning how to create a trade-show experience, how every room you walk into should create an experience, make people feel a certain way from the lighting to the furniture. It should all lead back to the design style."
Now a senior with plans to graduate in 2019, Waschek is spending her summer in New Jersey as an intern with Impact XM, a leading exhibit design firm. On campus, she works as a student designer with Michael Lee, BSU coordinator of design and publications. She was the lead designer for BSU's 2018 Student Achievement Day in April.
"Carlee is a very deliberate designer, meticulous and thoughtful," Lee said. "When she came from Alexandria, she had all the technical skills to be a good designer and a portfolio that could have gotten her a job in the real world."
Waschek said she appreciates her professors and BSU mentors.
"They really support us," she said. "I talk with them all the time about what I should do and where I want to go with my career."
Last year, she joined the BSU Design Guild and helped coordinate TAD Talks, a TED Talk-like event at BSU that features presentations by design professionals. Next fall, she and a group of TAD students will lead the guild together. On her own, she has created a series of YouTube videos about fashion and makeup.
Her dream job: combine graphic design, video editing and exhibit design and work for a big cosmetic company so she can explore makeup as art. For now, she plans to soak up all the knowledge she can and do good work.
"What I want others to feel about my work is my passion and happiness," she said. "I like trying new things. And I don't want anything to be dull or plain Jane about what I do."