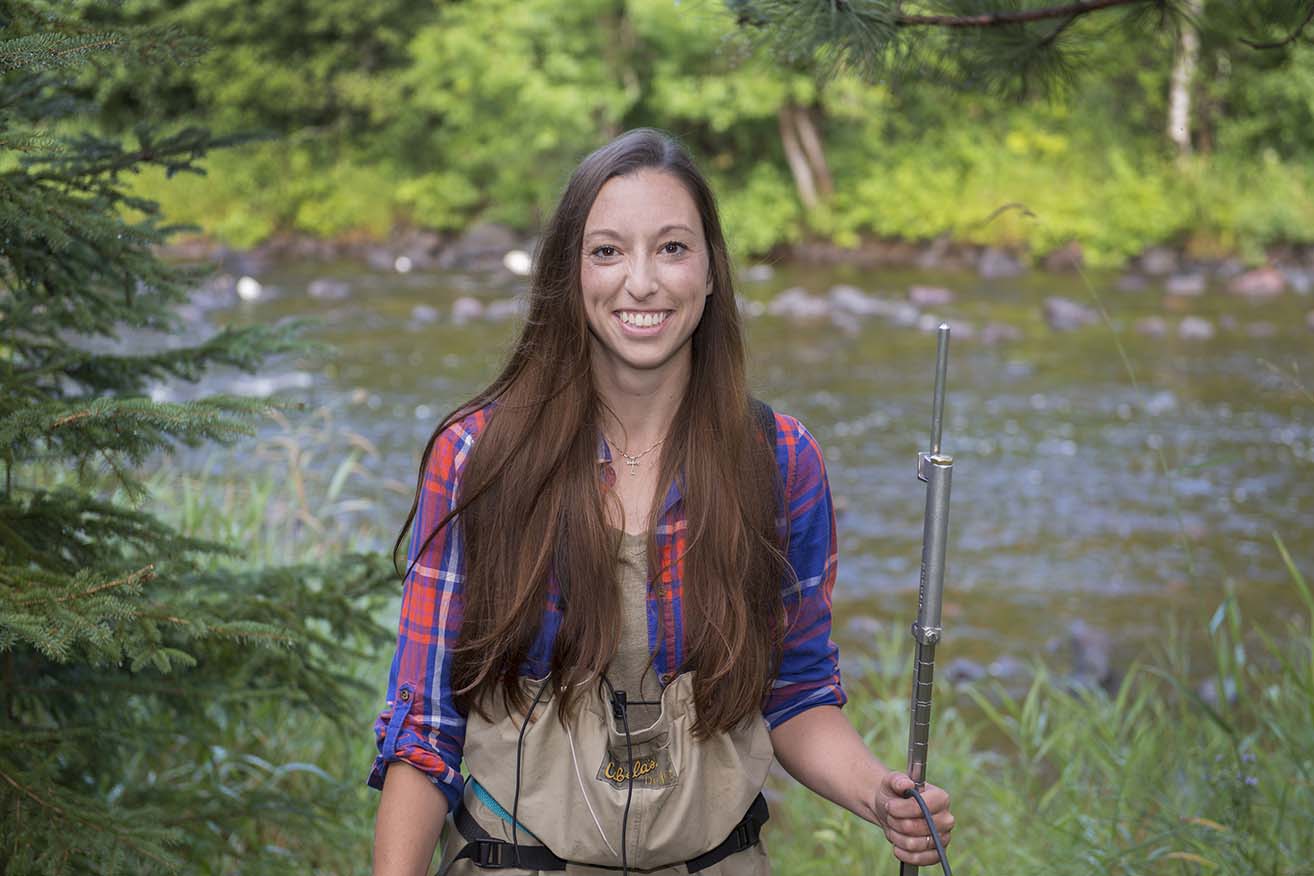 Katti Renik was a dance major at the University of Wyoming when she decided to give up her pointe shoes for a pair of fishing waders.
Renik, who grew up on a trout farm in western Nebraska, graduated from Wyoming in 2012 with a Bachelor of Science in fisheries. She spent a year
helping her dad raise trout and then a summer at an Alaskan salmon hatchery where she met Evan, her husband and kindred angler.
Last year, the couple moved to Minnesota — he for a forestry job, she to pursue a graduate degree in aquatic biology at Bemidji State University. She will graduate in 2019 and plans to continue her work improving fisheries habitat.
Renik and Dr. Andy Hafs, associate professor of biology, are conducting a two-year study along the North Shore of Lake Superior on the relationship between beavers and brook trout. Hafs works as the primary investigator, while Renik leads the field work.
"The public is really pushing for some data on brook trout," Renik said. "A lot of literature says beaver dams warm temperatures too much for brook trout, which like cooler water. But it seems to be regional. Out West, the beavers are good for trout. I'm really excited that we will have some beneficial data about what's going on along the North Shore."
Renik's work was featured on public television's "Prairie Sportsman" program in March. She also wrote an article for a women's fly-fishing magazine, presented at a January wildlife conference in Milwaukee and co-authored a paper to be published in the North American Journal of Fisheries Management.
"For her to have a paper accepted in a quality fisheries journal is impressive," Hafs said. "She has a lot of important data on the North Shore region. For her thesis, one chapter is required. She has five, and the writing is amazing. She has really good ideas, and her data analysis is really good. She teaches me things."
Renik is looking forward to another summer of field work. "I'm sure people wonder what that crazy girl is doing floating around a beaver pond," she said. "But I love what I do."
At Bemidji State, Renik prefers warm boots over dance shoes. She learned to ice fish and cross-country ski and appreciates the beautiful campus and opportunities she has found there.
"One of the greatest things about Bemidji State is its community," she said. "Dr. Hafs, my professors, fellow graduate students and so many wonderful and great people from different departments who have helped me and set me up for success."