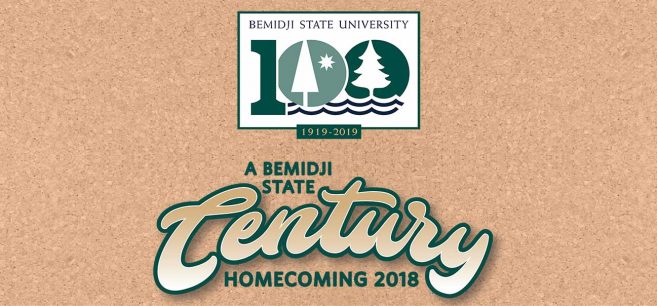 FRIDAY, OCT. 5
Start the weekend off right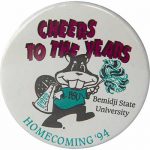 Friday night's Honors Gala at the Sanford Center is always fun and inspiring, and this year it will be even more special, thanks to the Bemidji State Centennial. Help us recognize the 2018 Distinguished Alumni Award recipients and hear their stories of achievement and service. This year's gala will include induction of an outstanding alumni educator into BSU's Professional Education Hall of Fame. You'll also share in honoring the university's most generous donors and hear from President Faith Hensrud. Social hour will start at 5:30 p.m., with dinner and the program beginning at 6:30 p.m. Tickets are $50.
Also Friday:
Alumni Leaders in the Classroom: Distinguished Alumni award recipients and other alumni share their professional experience with students, various times and campus locations TBD.
SATURDAY, OCT. 6
Parade in downtown Bemidji
People of all ages will gather and cheer from storefront sidewalks for the traditional 11 a.m. parade north through the heart of downtown on Beltrami Avenue. Parade participants are invited to theme their entries to one of the decades of Bemidji State's first century. The parade will feature distinguished alumni, President Faith Hensrud, BSU Athletics teams, the Pep Band, student organizations and community groups and a grand marshal, plus candy for the kids.
Football, reunions and hockey
The day's schedule is one of the busiest in memory. After the parade, head to Diamond Point Park for the Beaver Bash Pre-Game Tailgating, which will begin at noon. Bring your favorite food and beverages or enjoy what is provide with a free-will offering. (Must be 21 to consume alcohol.) Meet at the Alumni Arch at 12:30 p.m. for a one-hour guided Campus History Tour. After the Beavers' 2 p.m. football game against the University of Sioux Falls in Chet Anderson Stadium, attend a 5 p.m. Kickoff Celebration for the 50th Anniversary of Women's Athletics in the American Indian Resource Center. Or, you may want to opt for the post-game Football Reunion at The Tavern on South Shore or the Greek Reunion at 7 p.m. in the Sanford Center Ballroom. A bonus event this year is a men's hockey exhibition game vs. Lakehead University at 6 p.m. in the Sanford Center.
Street Dance with The Front Fenders
Wind up your day at the Beaver Block Party & Street Dance from 8:30 p.m. to 12:30 a.m. between Third and Fourth streets on Beltrami Avenue. The Bemidji Area Alumni Chapter will once again present the Front Fenders. (Must be 21 or older to attend.)
SUNDAY, OCT. 7
Carl O. Thompson Memorial Concert
This 3 p.m. concert in the Thompson Recital Hall at the Bangsberg Fine Arts Complex will feature the university's performing ensembles, as well as the instrumental and vocal Carl O. Thompson Scholarship recipients. Come early and check out the fabulous History Walk banners in the theater lobby, highlighting events from every decade of the Bemidji State Century.
HOMECOMING 2018 INFORMATION
More Homecoming information, including discounted Bemidji-area lodging, will be shared over the summer by mail and in the Alumni & Foundation e-newsletter.
(218) 755-3989 or (877) 278-2586
alumni@bemidjistate.edu
www.bsualumni.org