Bemidji's Rail River Folk School, in collaboration with the Indigenous Environmental Network and the Region 2 Arts Council, sponsored a community birch-bark canoe construction workshop from July 14-22 on the shore of Bemidji's Lake Irving. Summer interns from Bemidji State University's Niizhoo-gwayakochigewin program were among more than 50 community members who stopped by to participate.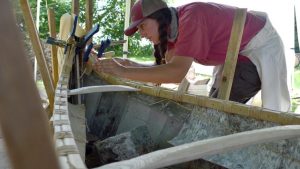 Turning to Tradition
The Bemidji Pioneer ran a July 30, 2018, story recapping the build with photos taken during the week.