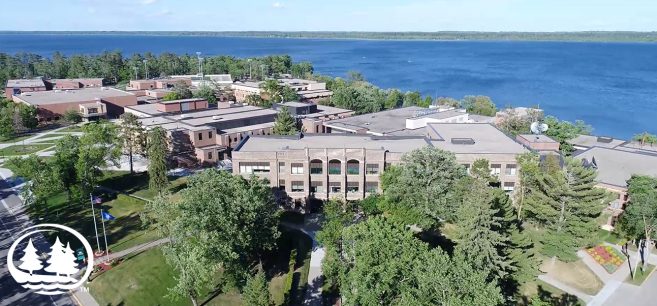 Bemidji State University's Class of 2022, which includes a freshman class expected to number around 750 students, will get its first taste of college at BSU's Orientation weekend, Aug. 24-26.
Orientation welcomes all students who are new to the university, including both first-time college students and students transferring to BSU from other institutions.
The schedule of activities begins with the BSU residence halls' annual Move-In Day Aug. 24 and continues with a series of activities for new students and their families throughout the weekend. BSU's traditional Convocation ceremony will take place Friday afternoon at 3:30 p.m.
Residence hall move-in and Orientation check-in will take place between 9 a.m. and 2 p.m.
Other activities scheduled include:
A Parent Sendoff at 1 p.m. in the Walnut Hall Upper Deck.
An official welcome ceremony and Class of 2022 group photo at Chet Anderson Stadium at 2:30 p.m.
Convocation begins at 3:30 p.m. in the BSU Gymnasium at the Gillett Wellness Center. Convocation officially marks the beginning of a student's academic journey as a member of the BSU student community, and includes an induction ceremony and a gift to new students.
A welcome picnic on the Hobson Memorial Union Lakeside Lawn from 6-8 p.m.
Gathering and social for off-campus students at the Hobson Memorial Union's Crying Wolf Room, beginning at 7:30 p.m.
A welcome dance for all new students in the Hobson Memorial Union's Crying Wolf Room beginning at 8:30 p.m.
SATURDAY, AUG. 25
The second day of Orientation features an Orientation Leader Time, meeting at the Walnut Hall Lawn at 10 a.m.
This meeting is followed by "Take Back College," a presentation by motivational speaker Ryan Penneau. He will explore the often difficult transition from high school to college and the challenges that come from moving away from home, choosing a major, making new friends, adjusting to new-found freedom and more. Penneau's message to students is to embrace their personal responsibility for their own educations and commitment to lifelong learning.
Penneau's presentation will take place in Hagg-Sauer 100 at 1:30 and 3 p.m.
Students also will attend a 10:30 a.m. "Life on Campus: What You Need to Know" session and a "Meet the Class of 2022" event at the Gillett Wellness Center at 1:30 or 3 p.m.
BSU's Campus Activities Board will offer a presentation to incoming students beginning at 8 p.m. in the Gillett Wellness Center.
SUNDAY, AUG. 26
Ropes Course
New students can participate in the ropes course at BSU's Hobson Memorial Forest from 9 a.m. to 7 p.m. Students will be divided into groups and depart at various times throughout the day.
Other activities scheduled include:
Orientation Leaders will lead walking tours of campus between 10 a.m.–2 p.m.
Transfer student orientation starts at 11 a.m. in the Beaux Arts Ballroom of the upper Hobson Memorial Union.
Sunday in the Park in Diamond Point Park from 1-5 p.m., weather permitting.
Official Orientation Weekend activities conclude with a campfires and s'mores at the residence halls beginning at 9 p.m.
A complete schedule of Orientation and Welcome Week activities is available online.