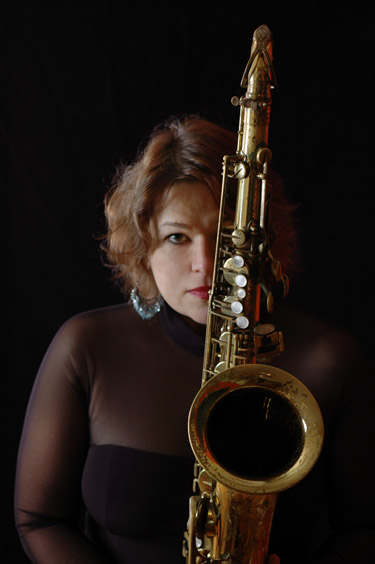 Chicago–based saxophonist, vocalist and composer Juli Wood and her Juli Wood Quartet will open Bemidji State University's 2018-19 Bemidji Concert Series on Sept. 10.
The concert begins at 7:30 p.m. at BSU's Thompson Recital Hall. Tickets are $20 for adults, $10 for children and free for students.
Tickets for the Juli Wood Quartet are available in advance by visiting the BSU Department of Music offices in Room 201 of BSU's Bangsberg Fine Arts Complex, and will also be for sale at the doors.
About Juli Wood
Juli Wood has been an established saxophonist, vocalist and composer in the Chicago music scene for more than 20 years. She has recorded four albums as a band leader, participated in several studio projects as a side performer, and has given countless performances worldwide. Her latest album, "Synkkä Metsä" or "Dark Forest", is a compilation of Finnish folk songs inspired by her heritage and played in an instrumental jazz style.
Wood has performed with a quartet for the Arts in Community Education program run by the Milwaukee Symphony Orchestra. Since its conception, The Juli Wood Quartet has performed each year in elementary schools in the greater Milwaukee metropolitan area, playing songs that the children recognize and introducing them to the rhythms, harmonies and melodies of jazz music.
She is also involved in the mentoring program affiliated with the Jazz Institute of Chicago called "The Women's Leadership Initiative" where mentors teach workshops and host jam sessions for young women learning jazz improvisation skills.
About the Bemidji Concert Series
Bemidji State's Department of Music began the Bemidji Concert Series in 2001 to reinforce Bemidji's reputation as a cultural center in northern Minnesota and to provide the Bemidji region with local access to world-class musical performances. The Bemidji Concert Series' 18th season begins in September and includes four concerts:
Oct. 13 — Great Northern Union
Great Northern Union was chartered in 1985 as a chapter of the Barbershop Harmony Society and won its first Land O'Lakes District Championship that same year. Since then, the chorus has appeared on the society's International Chorus Contest stage more than 20 times and placed in the top 10 each time, including eight times as a top-five medalist.
Feb. 4 —Hornheads
Hornheads, an internationally renowned group of five horn performers, has recorded more than 60 album compilations with national and international artists such as Prince, Chaka Kahn, Carmen Electra and more. The group performed for more than two million concert goers during a 20-country tour with Prince and the New Power Generation between 1991–94.
Mar. 31— Daichi No kai Taiko
Yuichi Kimura and Daichi No Kai, a taiko drum group from Kobe, Japan, will visit Bemidji as part of a TaikoArts Midwest tour which aims to develop, produce and promote taiko performances as a community-building activity throughout the region.
2018-19 Bemidji Concert Series
Sept. 10 — Juli Wood Quartet
Oct. 13 — Great Northern Union Chorus
Feb. 4 — Hornheads
Mar. 31 — Daichi No Kai
Contact
Links
Bemidji State University, located amid the lakes and forests of northern Minnesota, occupies a wooded campus along the shore of Lake Bemidji. Enrolling more than 5,100 students, Bemidji State offers more than 80 undergraduate majors and eight graduate degrees encompassing arts, sciences and select professional programs. BSU is a member of the Minnesota State system of colleges and universities and has a faculty and staff of more than 550. The university's Shared Fundamental Values include environmental stewardship, civic engagement and international and multicultural understanding.