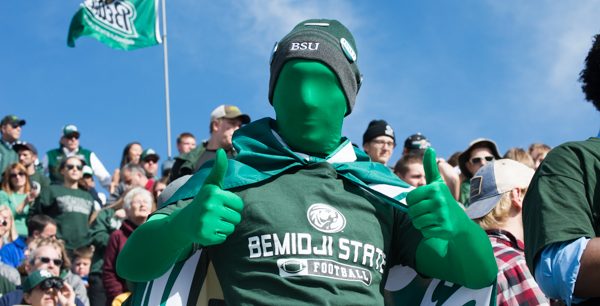 A full weekend of activities to celebrate Bemidji State University's annual Homecoming tradition begins Oct. 5.
Bemidji State's Alumni Leaders in the Classroom panels are topical programs that bring BSU graduates back to campus to share their professional experiences with students, staff and the public. This year's schedule includes business, accounting, marketing, education and sustainability panels. Participating alumni are listed in the calendar below.
Saturday's 11:00 a.m. Homecoming Parade through downtown Bemidji sets the tone for a full day of events including a pre-game breakfast and celebration at Diamond Point Park beginning at 11:30 a.m. leading into BSU's football game against the University of Sioux Falls at the Chet Anderson Stadium at 2:00 p.m.
Immediately following the football game, alumni football players will gather at The Tavern on South Shore for an annual reunion. A bonus event this year is a men's hockey exhibition game against Lakehead University at 6:00 p.m. at the Sanford Center.
The 2018 Homecoming schedule will also feature the kickoff celebration of the 50th anniversary of women's athletics at 5:00 p.m. on Saturday at the American Indian Resource Center. Former Bemidji State student-athletes, fans and friends of women's athletics and members of the community will honor the founders of women's athletics through photos, video, memory sharing and a short program. The cost of the event is $20 per adult; children 12-and-under are free.
Saturday will close with the annual Beaver Block Party in downtown Bemidji featuring live music by The Front Fenders. The block party, a 21+ event, is organized by the Bemidji Area Alumni Chapter. All Proceeds benefit the chapter's student scholarships. Admission is $5.
The Department of Music's traditional Carl O. Thompson Memorial Concert will wrap up the weekend's activities Sunday at 3:00 p.m. The concert features each of BSU's four primary ensembles — the Bemidji Choir, the Chamber Singers, the Wind Ensemble and Blue Ice Jazz Band — with performances by the winners of the 2018-19 vocal and instrumental scholarships, Kari Norheim and Levi Espeseth.
Oct. 5
10:00 a.m.—11:00 a.m.—Alumni Leaders in the Classroom: Accounting. John Thompson '98, vice president and controller, Federated Insurance, Owatonna; Teresa Freeberg '08, certified public accountant, Krigbaum & Jones, Bemidji; Thomas Kueber '08, Abdo, Eick & Meyers, Park Rapids.
11:00 am – noon.—Alumni Leaders in the Classroom: Business. Tom Heaviland '80, president and owner, Heaviland Landscape Management, Carlstad, Calif.; Patrick Pelstring '76, president and CEO, Mound; Shane Zutz '98, director of HR, Digi-Key, Thief River Falls.
10:00 a.m. -11:00 a.m.—Alumni Leaders in the Classroom: Marketing and Communications. Lisa Kittleson '16, Market Research Analyst, MOBE, Plymouth; Roger Reierson '74, chairman and CEO, Flint Group, Fargo, N.D.; Shelly Geerdes '93, CEO, Pinnacle Marketing Group, Bemidji.
11 a.m.–noon—Alumni Leaders in the Classroom: Biology. Dr. Nicholas Phelps '05, assistant professor and director of MN Aquatic Invasive Species Research Center, University of Minnesota, Blaine; Alexa Schillinger '14, Physician Assistant, Sanford Health, Bemidji.
11 a.m.–noon—Alumni Leaders in the Classroom: Education. Dr. Brenda Child '81, professor, chair of American studies and author, University of Minnesota, St. Paul; Jean Weyer '81, retired elementary teacher, Menahga Schools, Menagha; Kyle McMartin '08, assistant principal, Bemidji Middle School, Bemidji.
1 p.m. – 2 p.m.—Alumni Leaders in the Classroom: Student Leadership. Dr. Brent Glass '96, associate vice chancellor for student affairs, Minnesota State, Prescott, Wis.; Jenna Long '15, academic advisor/student relations coordinator, Minnesota State University – Moorhead, Moorhead; Dr. John Gonzalez '99, professor of psychology, Bemidji State University, Bemidji; Jim Frazee '75, retired, Prudent Financial, Minnetonka.
Noon – 1 p.m. —Alumni Leaders in the Classroom: Sustainability. Dylan Sievers '15, policy coordinator, Fresh Energy, St. Paul; Jordan Morgan '16, "Dove Fellow" graduate student, University of Minnesota, Minneapolis; Emmy Prince '13, account representative, Wells Technology, Bemidji.
All cities are in the state of Minnesota, unless otherwise noted.
Oct. 6
11 a.m.–noon — BSU Homecoming Parade; downtown Bemidji.
11:30–2:00 p.m. — BSU Pre-Game & Tailgate Party; Diamond Point Park.
12:30 p.m.- 1:30 p.m. – One-hour guided campus history tour, alumni arch.
2:00 p.m. — BSU Football vs. University of Sioux Falls; Chet Anderson Stadium. Tickets available at the gate: $12 for adults ($16 reserved chair-backs), $7 seniors, $6 children. BSU students free with ID.
5:00 p.m. – Football Reunion, The Tavern on South Shore.
5:00 p.m.– 50th Anniversary of Women's Athletics Kickoff Celebration, AIRC. Tickets: $20, free for children 12 and under.
6:00 p.m. – BSU men's hockey vs. Lakehead University; Sanford Center. Tickets available at the gate or via Ticketmaster.: $14-$24 for adults, free for BSU students with a valid student ID.
7:00 p.m.–9:00 p.m.— Greek Alumni Reunion and Social; Sanford Center. Tickets: $20.
8:30 p.m. -12:30 a.m. — Beaver Block Party and Street Dance; downtown Bemidji. Tickets: $5.
Oct. 7
3:00 p.m.— Carl O. Thompson Memorial Concert; Bangsberg Fine Arts Complex. Tickets: $10 for adults, BSU students free with ID.
More information about Homecoming at Bemidji State University is available at bsualumni.org.
Contact
BSU Alumni Association: (218) 755-3989 or toll-free (877) BSU-ALUM (278-2586); alumni@bemidjistate.edu
Links
Bemidji State University, located amid the lakes and forests of northern Minnesota, occupies a wooded campus along the shore of Lake Bemidji. Enrolling more than 5,100 students, Bemidji State offers more than 80 undergraduate majors and eight graduate degrees encompassing arts, sciences and select professional programs. BSU is a member of the Minnesota State system of colleges and universities and has a faculty and staff of more than 550. The university's Shared Fundamental Values include environmental stewardship, civic engagement and international and multicultural understanding.
---
2019-B-L-025