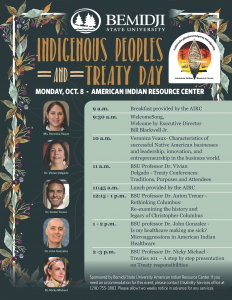 Bemidji State University's American Indian Resource Center (AIRC) will host a full day of activities to recognize Indigenous Peoples and Treaty Day on Oct. 8.
The day will begin at 9 a.m. with a breakfast provided by the AIRC. Bill Blackwell, Jr., executive director of the AIRC, will conduct a welcome ceremony to kick off a day of presentations featuring BSU faculty and staff.
This event is open free to the public.
Schedule:
9:30 a.m. – Welcome Song; welcome by Bill Blackwell Jr., executive director of the AIRC.
10 – 11 a.m. – Ms. Veronica Veaux, assistant professor of business administration; "Characteristics of Successful Native American Businesses and Leadership, Innovation and Entrepreneurship in the Business World."
11 a.m. – noon – Dr. Vivian Delgado, assistant professor of languages and ethnic studies; "Treaty Conferences: Traditions, Purposes and Attendees."
11:45 a.m. – 12:15 p.m. – Lunch provided by the AIRC
12:15 – 1 p.m. – Dr. Anton Treuer, professor of languages and ethnic studies; "Rethinking Columbus: Re-examining the History and Legacy of Christopher Columbus."
1 – 2 p.m. – Dr. John Gonzalez, professor of psychology; "Is My Healthcare Making Me Sick? Microaggressions in American Indian Healthcare."
2-3 p.m. – Dr. Nicky Michael, assistant professor of indigenous studies, "Treaties 101 – A step-by-step presentation on Treaty Responsibilities."
About the American Indian Resource Center
The American Indian Resource Center (AIRC) at Bemidji State University is a place for students to learn and gather in the rich culture and tradition of the Anishinaabe people throughout the Bemidji area and around the world. The AIRC supports American Indian students at BSU by connecting them with local resources, people and opportunities to enrich their professional and personal lives.
Contact
Links
Bemidji State University, located amid the lakes and forests of northern Minnesota, occupies a wooded campus along the shore of Lake Bemidji. Enrolling more than 5,100 students, Bemidji State offers more than 80 undergraduate majors and eight graduate degrees encompassing arts, sciences and select professional programs. BSU is a member of the Minnesota State system of colleges and universities and has a faculty and staff of more than 550. The university's Shared Fundamental Values include environmental stewardship, civic engagement and international and multicultural understanding. For more, visit bemidjistate.edu or find us at BemidjiState on most of your favorite social media networks.
—bsu—
Carissa Menefee
Associate Director of Communications & Marketing (interim)
Bemidji State University
carissa.menefee@bemidjistate.edu // (218) 755-3344
facebook.com/BemidjiState // @BemidjiState // bemidjistate.edu
2019-B-031