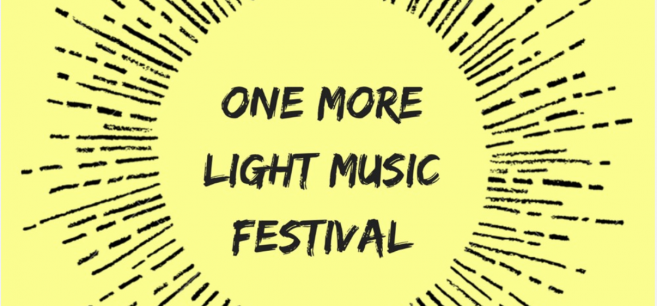 The Bemidji State University Student Senate Association (BSUSA) will host the One More Light Music Festival to help spread awareness about mental health acceptance and suicide prevention at Bemidji State and in the surrounding community. The music festival will take place on Oct. 11 from 6 to 9:30 p.m. on the lakeside lawn of the Hobson Memorial Union.
The song "One More Light", performed by the band Linkin Park, was released in Oct. 2017. Before the song was released to the public, the band's lead singer, Chester Bennington, passed away by suicide. After it's release, the song quickly became an anthem for suicide prevention and awareness across the nation prompting Linkin Park to start the One More Light Fund. The Fund works with 320 Changes Direction, a collaboration between Bennington's wife, Talinda Bennington, and The Campaign to Change Direction, an organization that seeks to change the culture of mental health in the United States and helps those in need receive treatment and support. The One More Light Fund and 320 Changes Direction raise awareness for mental health to help individuals and families cope with mental and emotional struggles, including suicide.
"Students at BSU really care about mental health and they want to see improvements made on campus," said Tsonda Martin, BSUSA chief of staff. "The support of every student and faculty member has been awe-inspiring. We hope this event is going to help spark the conversation on campus about mental health and show many, that there is a community that supports you and accepts you for who you are."
Headlining the One More Light Festival will be regional artist Corey Medina. Bemidji State alumni, Russell Alan, and other students will also be performing. Attendees can expect a night of music, food, fun and resources for mental health.
"We want this event to be fun and relaxing, but also have serious conversations about mental health here at BSU," Martin said. "The number one priority of Student Senate this year is mental health on campus. This idea came from the recent passing of a great friend of mine, who passed away by suicide in July."
The event is free and open to the public. The goal of the event is to open the conversation about mental health to the Bemidji community.
"We want as many people as possible to come together to support this amazing cause. We want this event to also help bridge the gap between the Bemidji community and BSU students, and what better way than music?" Martin said.
Calendar
Oct. 11 – 6 p.m. — One More Light Festival, Lakeside Lawn, Hobson Memorial Union. Admission: Free. Information: Bemidji State University Student Senate, (218) 755-2099.
Contact
Links
Bemidji State University Student Senate is the official voice of the students at Bemidji State University (BSU). Student Senate represents the student association, to which all students belong, to all levels of administration, faculty, and staff as well as all levels of government. It is also the official body that recognizes student organizations that are in compliance with BSUSA and University policies and constitutions. Acting in compliance with a form of parliamentary procedure, the Senate proposes regulations, creates services, initiates activity or policy, enforces compliance, petitions particular action by appropriate authority, and adopts resolutions to benefit the students of Bemidji State University.
Bemidji State University, located amid the lakes and forests of northern Minnesota, occupies a wooded campus along the shore of Lake Bemidji. Enrolling more than 5,100 students, Bemidji State offers more than 80 undergraduate majors and eight graduate degrees encompassing arts, sciences and select professional programs. BSU is a member of the Minnesota State system of colleges and universities and has a faculty and staff of more than 550. The university's Shared Fundamental Values include environmental stewardship, civic engagement and international and multicultural understanding. For more, visit bemidjistate.edu or find us at BemidjiState on most of your favorite social media networks.
—bsu—
—
Carissa Menefee
Associate Director of Communications & Marketing (interim)
Bemidji State University
carissa.menefee@bemidjistate.edu // (218) 755-3344
facebook.com/BemidjiState // @BemidjiState // bemidjistate.edu