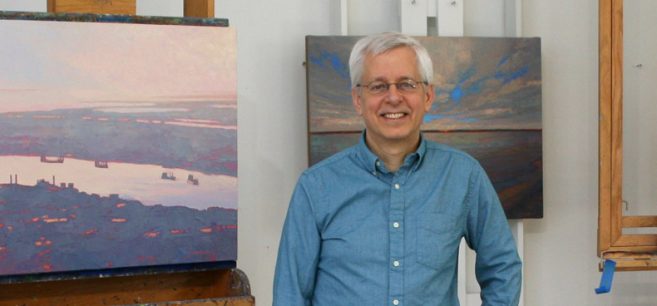 The Watermark Art Center welcomed the work of Thomas Paquette, a 1985 graduate of Bemidji State University, showcasing his exhibition of the Mississippi River, entitled, "America's River Re-Explored."
This 45-oil-painting exhibition is Paquette's re-exploration of the entire length of the Mississippi River, after having lived in five places near its shores. "Some of my first forays into seriously painting the landscape involved the Mississippi and also Lake Bemidji. So it is a kind of homecoming to show these recent works, more than 30 years after I graduated from BSU, so close to the beginning of it all, and in a gallery named after my painting professor," said Paquette.
During his time at Bemidji State, Paquette received his BFA in painting, which he said provided him with a strong grounding for his professional practice as an artist, with a great amount of art history and technical practice as well.
"Professor Marley Kaul, the gallery's namesake at the Watermark Art Center where my work is currently showing, was a thoughtful, dedicated artist and educator at BSU at the time, who continues to make art to this day. A true inspiration. It's a happy circumstance that the river's beginning and where I got my undergraduate degree in painting, were so close together. A third key serendipity, if you want to call it that, is that this wonderful fine art center was just opening in Bemidji," Paquette said.
What started as a project to paint images of the Mississippi National River and Recreation Area, honoring the 100th anniversary of the National Park Service in 2016, ended with an additional 2,200 miles being added to its scope."The work for this exhibition took me from Itasca, downstream, all the way out into the Gulf of Mexico," said Paquette. "I traveled as close to the river as possible, and am pretty sure that I crossed every bridge on the Mississippi, but for one and possibly two."
"America's River Re-Explored" will be open at the Watermark Art Center until Oct. 28.
About the Watermark Art Center
The Watermark Art Center has operated in Bemidji since 1982 as a member-supported, non-profit organization. The Watermark Art Gallery is located at 505 Bemidji Ave N. It is open from 10 a.m.-5 p.m. Monday—Wednesday and Friday–Saturday; 10 a.m.-8 p.m. Thursday; and noon-4 p.m. Sunday.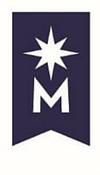 Bemidji State University, located amid the lakes and forests of northern Minnesota, occupies a wooded campus along the shore of Lake Bemidji. Enrolling more than 5,100 students, Bemidji State offers more than 80 undergraduate majors and eight graduate degrees encompassing arts, sciences and select professional programs. BSU is a member of the Minnesota State system of colleges and universities and has a faculty and staff of more than 550. The university's Shared Fundamental Values include environmental stewardship, civic engagement and international and multicultural understanding. For more, visit bemidjistate.edu or find us at BemidjiState on most of your favorite social media networks.
2019-B-037