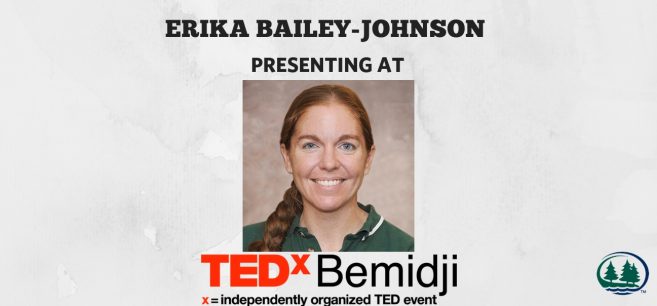 Erika Bailey-Johnson, Bemidji State University's sustainability coordinator, is presenting in the next session of TEDx Bemidji on Oct. 18.
TEDx Bemidji is an independently organized TED event on Oct. 18 from 1pm to 5:30pm at the Historic Chief Theater in downtown Bemidji.
Bailey-Johnson will be the first speaker of the event presenting a talk entitled "The Lens Through Which We Understand Our Relationship with Mother Earth."
"My talk is about how we can shift our lens of focus back to how we can take care of the Earth," said Bailey-Johnson. "I hope attendees will be able to shift their focus from learning about the Earth, to learning from the Earth."
The TEDx experience includes live music and short talks relating to the theme of momentum. Bailey-Johnson will present two ways people can shift their focus and momentum to build their relationship with the Earth. One is very easy and practical, while the other will allow participants to challenge themselves.
"I hope attendees take away that they can make a difference for this Earth. They can shift their lens and move in the direction of understanding their responsibility for taking care of the Earth," she said.
Bemidji State University, located amid the lakes and forests of northern Minnesota, occupies a wooded campus along the shore of Lake Bemidji. Enrolling more than 5,100 students, Bemidji State offers more than 80 undergraduate majors and eight graduate degrees encompassing arts, sciences and select professional programs. BSU is a member of the Minnesota State system of colleges and universities and has a faculty and staff of more than 550. The university's Shared Fundamental Values include environmental stewardship, civic engagement and international and multicultural understanding. For more, visit bemidjistate.edu or find us at BemidjiState on most of your favorite social media networks.