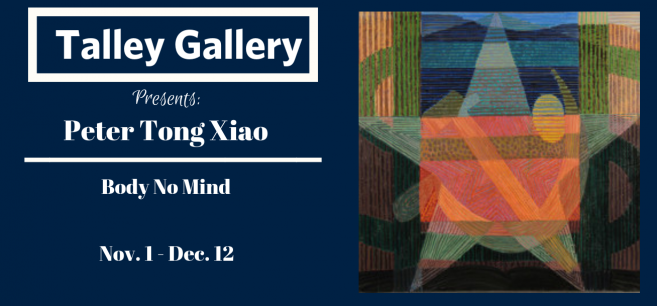 The work of Peter Tong Xiao, professor of art at Augustana College in Rock Island, Ill., will be featured in the Talley Gallery from Nov. 1 through Dec. 12.
"Body No Mind" includes a collection of large format paintings. Xiao's paintings are rooted in his own, as well as his students', education. He deals with issues surrounding liberal arts education and social issues that people struggle with today.
"The four-part piece called 'Liberal Arts' betrays my liberal arts background and present root in a liberal arts environment, the same as Bemidji State campus," said Xiao. "I made the work in 2015 while discussions went on at our campus about the signature questions of liberal arts. The four parts are labeled respectively 'exclamatory, declarative, imperative, interrogative.' The missing corners in the squares of each piece suggest a tumbling motion and express, for me, the interdependency of the arts or incompleteness of each."
The gallery includes pieces such as "Liberal Arts", "Blue Straight", "Yellow Frolic", "All Dreamers", "Makers" and more.
"I want to thank the kind viewer for bringing life and meaning to these otherwise rolled-up linens," said Xiao.
About Peter Tong Xiao
Born in Beijing, Peter Tong Xiao grew up during Chairman Mao's Cultural Revolution. The year Mao died, Xiao, now a high school graduate, minded pigs as a poorly trained vet in a people's commune outside the capital. A year later, he narrowly passed national exams to enter the Beijing Normal University to study English. Following his father's participation as the first Chinese writer in the University of Iowa's International Writers' Program, Xiao transferred to Coe College in Cedar Rapids, Iowa, under his pen name, Peter. He earned his B.A. in Fine Arts and English, followed by an M.F.A. in painting from Tyler School of Art at Temple University. He was an employee with the Philadelphia Museum of Art, taught life drawing part-time and exhibited art in Philadelphia, New York and the Chicago International Art Expo. In 1989, Xiao joined the art faculty at Augustana College, Rock Island, Ill., where he is now a professor of art. Xiao and his wife, Li, live in Bettendorf, Iowa with their two children.
About the Talley Gallery
Bemidji State University's *Talley Gallery* was dedicated to the memory of Ila Mae Talley on Sept. 27, 1975. Talley joined the Bemidji State Teachers College faculty in 1946 and taught at the college until her death in 1963. During her tenure, she organized the Bemidji Creative Arts Center and the Minnesota Art Education Exchange, now known as the Art Educators of Minnesota. At BSC, she taught a variety of students in elementary art, techniques of weaving, Introduction to Art and Methods of Teaching Art.
The Talley Gallery's exhibits, collections and programs have supplemented BSU art education and cultivated a greater understanding of and appreciation for creative expression in the Bemidji region. Each year, the gallery hosts six visiting professional artists and juries three BSU student shows – two senior art shows and one scholarship show.
Located in Bridgeman Hall room 140 on the campus of Bemidji State University, the Talley Gallery is barrier-free and open at no charge to the public. The gallery is open Monday through Friday from 9 a.m.-4 p.m.
Contact
Links
Bemidji State University, located amid the lakes and forests of northern Minnesota, occupies a wooded campus along the shore of Lake Bemidji. Enrolling more than 5,100 students, Bemidji State offers more than 80 undergraduate majors and eight graduate degrees encompassing arts, sciences and select professional programs. BSU is a member of the Minnesota State system of colleges and universities and has a faculty and staff of more than 550. The university's Shared Fundamental Values include environmental stewardship, civic engagement and international and multicultural understanding. For more, visit bemidjistate.edu or find us at BemidjiState on most of your favorite social media networks.
—bsu—