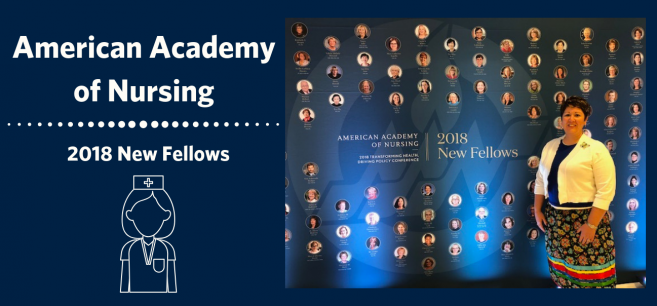 Bemidji State University's Dr. Misty Wilkie, associate professor of nursing and director of the Niganawenimaanaanig – an Ojibwe word meaning "we take care of them" – program, was inducted into the Fellows of the American Academy of Nursing in Washington D.C. on Nov. 3.
This prestigious accomplishment involves a very competitive and rigorous application process. Each applicant must be a current member of the American Nurses Association, provide evidence of their contributions to the improvement of nursing and health care and be sponsored by two current fellowship members. Wilkie was sponsored by Dr. Melissa Avery and Dr. Karen Monsen, both professors at the University of Minnesota.
"It's difficult to put into words what being inducted into the American Academy of Nursing means to me," Wilkie said. "Niganawenimaanaanig has been my dream come true and being inducted as a Fellow into the American Academy of Nursing has been my goal for many years. To have achieved this goal and to be recognized for receiving the highest honor in nursing is truly humbling."
Being inducted into the fellowship is a recognition of one's accomplishments within nursing. Fellows maintain a responsibility to contribute time and effort to work with leaders outside the Academy to transform America's health care by enhancing the quality of health and nursing.
"Coming to BSU has afforded me the opportunity to do work that's important to me and to improve the lives of indigenous communities and students. I am now able to use my doctorate degree to study the lived experience of American Indians with organ donation and transplantation," Wilkie said. "I have joined national organizations, sitting on executive boards, to make changes I believe are necessary to advance the health and well-being of indigenous people. I authored my first federal grant with the help of faculty and staff at BSU and received $2 million for a 4-year project to increase the number of indigenous nurses in the workforce."
The American Academy of Nursing's approximately 2,500 fellows are nursing leaders in education, management, practice and research. Fellows represent association executives; university presidents, chancellors and deans; elected officials; state and federal political appointees; hospital chief executives and vice presidents for nursing; nurse consultants and researchers; and entrepreneurs. This year there were 283 applications reviews for the fellowship, 190 of which were accepted for the induction process. The accepted applicants are from 37 states and 10 countries.
About the American Academy of Nursing
Created in 1973, the Academy serves the public and nursing profession by advancing health policy, practice and science through nursing leadership. The Academy and its members create and execute knowledge-driven and policy-related initiates to drive reform of America's health system. The Academy has more than 2,500 fellows. They are nursing's most accomplished leaders in education management, practice and research.
The Academy is governed by a 10-member board of directors, elected by the fellows. Board members oversee the Academy's strategic planning and financial management. They host an annual Policy Conference that offers fellows and interested parties an opportunity to share ideas and help develop new strategies for nurses to drive the transformation of America's health system.
Contact
Links
---

Bemidji State University, located amid the lakes and forests of northern Minnesota, occupies a wooded campus along the shore of Lake Bemidji. Enrolling more than 5,100 students, Bemidji State offers more than 80 undergraduate majors and eight graduate degrees encompassing arts, sciences and select professional programs. BSU is a member of the Minnesota State system of colleges and universities and has a faculty and staff of more than 550. The university's Shared Fundamental Values include environmental stewardship, civic engagement and international and multicultural understanding. For more, visit bemidjistate.edu or find us at BemidjiState on most of your favorite social media networks.
—bsu—
2019-B-076