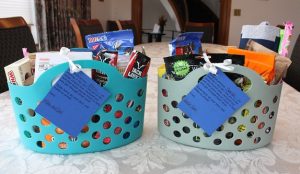 The Bemidji State University Fall semester will come to close with finals week starting Dec. 13. During this time, the BSU Alumni & Foundation is offering the opportunity for families or loved ones to send their students care packages as they study for their exams. Each package includes a variety of snacks and other items. Orders must be placed by 4 p.m. on Dec. 7.
The care packages are compiled by the BSU Alumni & Foundation office and a portion of each package sold supports BSU's Support Our Students (S.O.S.) Fund. This fund helps students who need assistance with basic needs including food, emergency grants, bookstore purchases and more.
Students will be notified a package has been purchased for them and they can pick it up at the Alumni House between the hours of 8 a.m. – 4:30 p.m., Monday – Friday, beginning Dec. 10.
Interested families can view the care packages and order online at https://www.bsualumni.org/carepackages or by calling 218-755-3989.