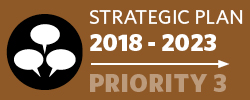 Students and faculty from the Bemidji State University Department of English attended the 2018 Graduate Student Mini-Conference on Dec. 3. Graduate students from the department's research and bibliography course presented a brief excerpt of their research on "Frankenstein" by Mary Shelley in honor of the novel's 200th anniversary.
Graduate Students Research Presentations: 
"I, Like the Arch Fiend, Bore a Hell[ish Experiment] Within Me": Shelley, Milton, and the Subversion of Patriarchal Science," by Peter Coffin of Bemidji, Minn.
"Frankenstein and the Failed God: Why Creators Must Take Responsibility for Their Creations," by Sarah Williamson of Cathedral City, Calif.
"Fractured and Surveilled: How Power and Privilege Made a Monster and Destroyed Victor Frankenstein," by Laura Seter of Bemidji, Minn.
"Frankenstein: When Prolife Isn't the Best Option," by Jennipher Martinez of Desert Hot Spring, Calif.
---

Bemidji State University, located amid the lakes and forests of northern Minnesota, occupies a wooded campus along the shore of Lake Bemidji. Enrolling more than 5,100 students, Bemidji State offers more than 80 undergraduate majors and eight graduate degrees encompassing arts, sciences and select professional programs. BSU is a member of the Minnesota State system of colleges and universities and has a faculty and staff of more than 550. The university's Shared Fundamental Values include environmental stewardship, civic engagement and international and multicultural understanding. For more, visit bemidjistate.edu or find us at BemidjiState on most of your favorite social media networks.