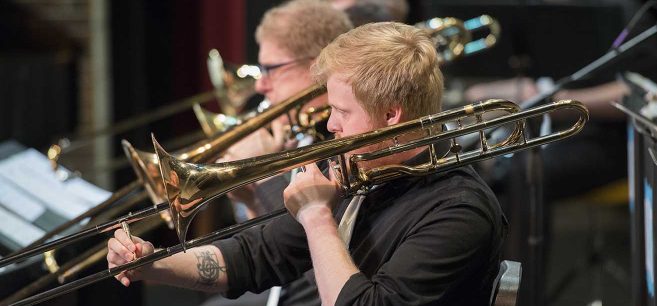 Bemidji State University's Department of Music will host their 40th Annual JazzFest with special guests Alan Baylock and Mike Williams on Feb. 1-2 at the Bangsberg Fine Arts Complex.
JazzFest is an annual event that brings together jazz bands from around the region to share their music and learn from talented guests. This year's ensembles are from Minnesota high schools and Canadian universities. Each jazz band will be given an hour on stage to perform and work with the special guests, who will rehearse with them and give personalized performance tips.
"Usually, we have guest artists who are performers. Alan is more of a writer and teacher however, so he is going to be great for the high school bands," Scott Guidry, assistant professor of music and director of bands, said. "Mike is a lead player, which means he plays all of the high notes. He is very powerful. It will be awesome hearing him play with BSU's Blue Ice Jazz Band."
Along with performances, there will be different workshops and clinics that students are invited to attend throughout the two-day event. Both Baylock and Williams will also host an hour-long masterclass tailored to their specialty.
Feb. 1
An open rehearsal will begin at 7 p.m. with the Blue Ice Jazz Band and the guest artists.
Feb. 2
Williams will host a clinic at 10 a.m. and Baylock's clinic will be at 4 p.m. At 7:30 p.m., there will be a featured performance by Bemidji State's Blue Ice Jazz Band. Baylock will lead and write custom pieces for Blue Ice as they play alongside Williams.
All of the daytime events are free and open to the public. The evening concerts will be in the Main Theatre of the Bangsberg Fine Arts Complex and tickets will be sold at the door for $10. BSU and NTC students are admitted free with a valid student ID.
About guest performers
Alan Baylockis a former Air Force band member and was the chief arranger in the Airmen of Note, the Air Force's premiere jazz band. Baylock is now the lead director of the One O'Clock Lab Band at the University of North Texas in Denton, Texas, an ensemble that has received seven Grammy nominations. Baylock has composed music for groups across the country and continues to write music for high school and collegiate level jazz bands.
Mike Williamsbegan playing trumpet at the age of 13. He later earned a bachelor's degree in music education at Northwestern State University in Natchitoches, Louisiana. He then attended the University of North Texas in Denton, Texas where he was a member of the One O'Clock Lab Band. Williams later became the lead trumpet player for the Count Basie Orchestra for 31 years. He is now an adjunct professor of trumpet at the University of Arkansas, Monticello.
Contact
Scott Guidry, assistant professor and director of bands; (218) 755-3365, scott.guidry@bemidjstate.edu
Links
---

Bemidji State University, located amid the lakes and forests of northern Minnesota, occupies a wooded campus along the shore of Lake Bemidji. Enrolling more than 5,100 students, Bemidji State offers more than 80 undergraduate majors and eight graduate degrees encompassing arts, sciences and select professional programs. BSU is a member of the Minnesota State system of colleges and universities and has a faculty and staff of more than 550. The university's Shared Fundamental Values include environmental stewardship, civic engagement and international and multicultural understanding. For more, visit bemidjistate.edu or find us at BemidjiState on most of your favorite social media networks.
2019-B-086