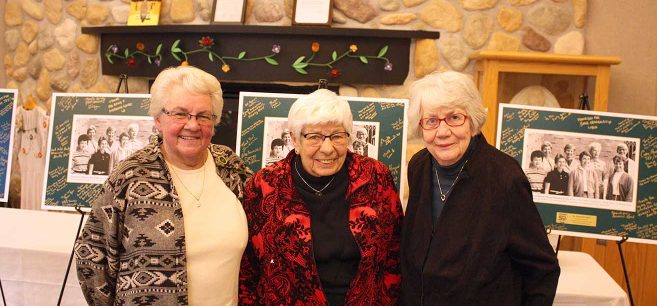 Founders of Bemidji State women's athletics celebrated at 'magical' Homecoming ceremony.
A group of nearly 100 former athletes, coaches, family and friends packed into the American Indian Resource Center's Gathering Room to help Bemidji State University kick off the 50th birthday of intercollegiate women's athletics in style.
Former BSU volleyball coach Donna Palivec helped get the idea of a year-long celebration of women's athletics off the ground during a summer 2017 conversation with Dr. Pat Rosenbrock, a long-time BSU faculty member, coach and women's athletics director, and former athletes Susan Alstrom and Becky Rud.
Building on the 30th-anniversary celebration spearheaded by Rosenbrock, the group wanted to engage alumnae athletes and use social media to build a community that would share information, photos and stories.
The Oct. 6 kickoff event was emceed by Bemidji State alumna and retired North Dakota State University women's athletics director Lynn Dorn '72 and included welcome messages from President Faith Hensrud and Director of Athletics Tracy Dill.
Highlighting the evening was a special recognition of Dr. Marjory Beck, Dr. Ruth Howe, Betsy McDowell and Rosenbrock, coaches and educators who were instrumental in the effort to bring competitive, intercollegiate athletics to Bemidji State.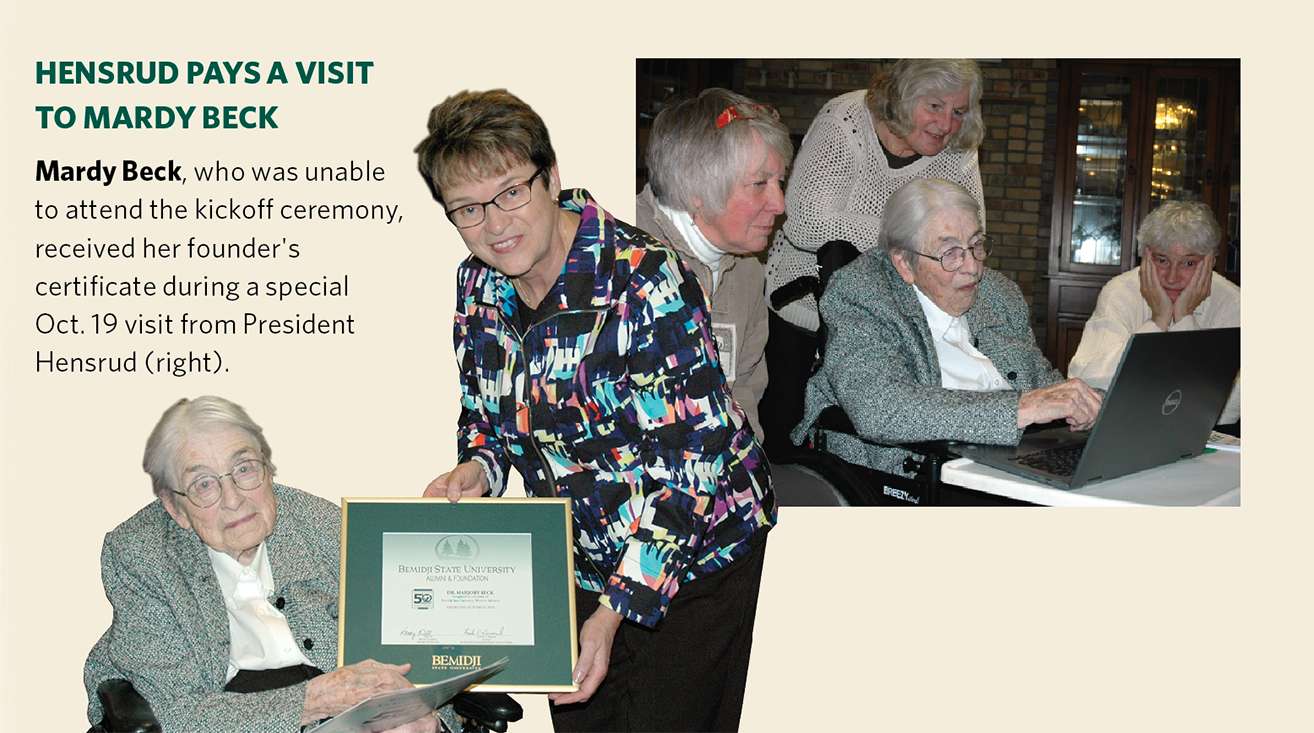 "Where did this all start?" Palivec asked. "Women's athletics at Bemidji State really happened because of these women. So that's why we decided that the kickoff should focus on the founders."
Beck, Howe and McDowell were celebrated as the three official founders of BSU women's athletics, while Rosenbrock was recognized for her tireless efforts to document the university's women's athletics history.
McDowell and Howe shared stories from the early days of Bemidji State College women's athletics in a video presentation.
The duo recalled the effort to found four sports — basketball, volleyball, field hockey and swimming — in the face of prevailing conventional wisdom that while athletic competition was considered healthy for men, it was "harmful and inappropriate" for women.
The pair also spoke about BSU's work to help found the Minn-Kota Conference — one of the country's first women's athletics conferences — in 1969, along with four other North Dakota and Minnesota schools.
Former athletes and supporters were encouraged to write their appreciation for each founder on personalized plaques that were presented to Howe, McDowell and Rosenbrock during the ceremony. Beck, who was unable to attend the event, was awarded her plaque during a private ceremony at Bemidji's GoldPine Home later that month.
The event program included a reprint of a document written in the late 1960's by Beck, which recapped the first seven years of women's athletics at the college.
"Mardy (Beck) didn't have a voice in the video, but her voice was in that document," Palivec said. "It was an amazing, powerful piece. I think if you asked any of the attendees what they felt, they would be impressed to have learned some of that history."
BSU Alumni & Foundation Executive Director Josh Christianson closed the event by announcing a $500,000 fundraising campaign to support BSU women's athletic programs. Christianson said donors have already contributed over $200,000 to the campaign, which will continue through 2022 — the 50th anniversary of the groundbreaking federal Title IX law that mandated equal competitive opportunities for women.
BSU's recognition of a half-century of women's athletics will continue during Athletic Hall of Fame Weekend in February and other events throughout the year, leading up to a three-day culminating celebration set for Aug. 23-25, 2019.
"I don't know if I can come up with the best word to describe the energy at the social. 'Magical' would be one," Palivec said. "I believe that those who were in attendance left hungry for more. There was a sense that people wanted this to continue, and wanted to come back. I hope they will encourage their teammates to join them at the event in August."
For information about supporting BSU women's athletics or to get involved in planning for the August 2019 celebration, contact Brett Bahr, director of alumni relations for the BSU Alumni & Foundation, at (218) 755-2599 or brett.bahr@bemidjistate.edu.