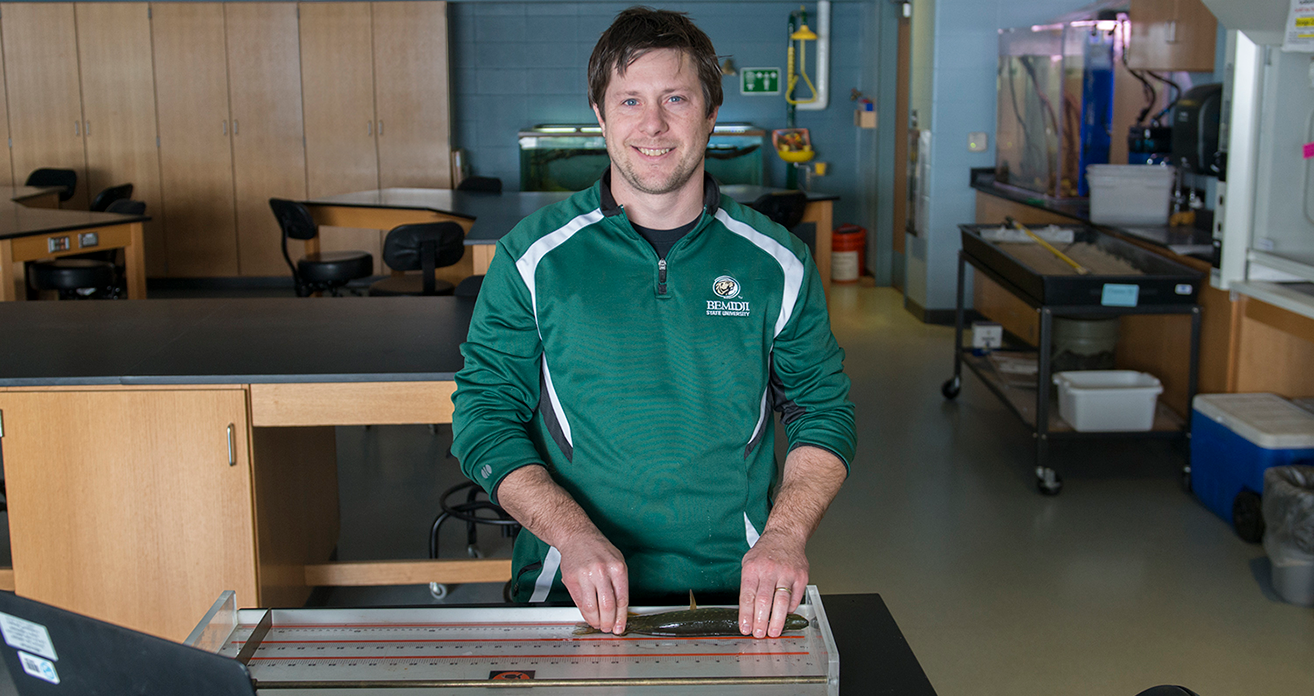 Research team helps Minnesota DNR answer difficult questions about Minnesota's environment
When the Minnesota Department of Natural Resources (DNR) needs answers to difficult questions about northern Minnesota's lakes, rivers,  and wetlands or the animals that inhabit them, the phone rings in Dr. Andy Hafs' office.
In his five years at Bemidji State University, Hafs has mentored a growing cadre of graduate-student researchers which has become a valuable resource to the DNR as it seeks to gain a greater understanding of the complicated relationships between animals and their environments.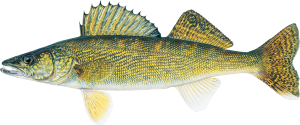 Currently, Hafs and his graduate students are working on a total of six projects with the DNR, including two that began this fall.
"A graduate student with my guidance can put a lot of time and thought into some of these things that the DNR doesn't have time to do," Hafs said.
Hafs said he was drawn to Bemidji from the University of California–Santa Barbara — where he did his post-doctoral work studying chinook salmon near Yosemite National Park — by the opportunity to build a research team.
"The graduate program was essential for me," Hafs said. "I knew I could do well and have fun with the undergraduate courses. They fit my core in fish research, fisheries management and inland waters. The opportunity to build a graduate research program, and with 500 lakes within 50 miles of campus, made this a no-brainer."
Almost immediately after arriving in Bemidji in 2013, Hafs connected with Tony Kennedy, a large-lake specialist with the DNR's Bemidji-area fisheries staff. The two immediately forged a friendship, with Hafs volunteering his time to support Kennedy's field activities on Cass and Red lakes — including day-to-day tasks such as helping maintain gill nets.
"He wasn't afraid to get his hands dirty," Kennedy said.
This friendship led to conversations about ways Hafs and his students could support the DNR's need for more scientific research to guide their management decisions.
"We got to know each other pretty well, and within two or three months of me being here Tony came up with an idea," Hafs said.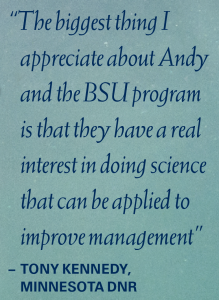 The pair hatched a project to study the impact of American White Pelicans on the Tamarac River walleye populations in Minnesota's Red Lake. Kennedy and the DNR questioned whether the number of walleye being consumed by the pelicans might have an adverse impact on the lake's fish population. Given the importance of walleye to Red Lake from both cultural and economic perspectives, the DNR wondered if it may need to consider controlling the pelican population.
"They ate a lot of fish — like 50,000 pounds in three weeks," Kennedy said.
Hafs said the management aspect of the project — the potential to determine whether birds needed to be removed from the ecosystem — particularly excited him.
"It was just a really cool study to get started with," he said.
Hafs and BSU graduate student Jake Graham counted the number of birds using the river, which varied greatly from year-to-year from a few hundred to more than 1,500, and determined the number of fish those pelicans were harvesting.
Dr. Andy Hafs

Associate Professor of Biology
Bachelor of science,
biology & limnology
University of Wisconsin – Stevens Point
Master's Degree
Arkansas Tech University
Doctorate
West Virginia University
Research History
researchgate.net/profile/Andrew_Hafs
---
Hafs Research Team
Active Projects

Steve Hauschildt — Spatial and temporal variability in post-larval Yellow Perch density — Started Jan. 2016
Katti Renik — Improving native brook trout stream habitat through beaver management — Started Aug. 2016
Heather Marjamaa — OTC based assessment of Walleye stocking in Cass Lake Chain — Started Jan. 2017
Cody Coyle — Leech Lake, Minn. fish population dynamics — Started August 2018
Tyler Orgon — Mercury and walleye in the Red Lakes, Minn. — Started August 2018
Joseph Amundson — OTC based assessment of Walleye stocking in Cass Lake Chain Part 2 — Starting January 2019
Kamden Glade — Quantification and comparison of Muskellunge and other piscivore diets — Starting January 2019
Katti Renik, who will earn her master's degree in biology this May, is nearing completion of what promises to be a landmark study on the relationship between beavers and brook trout along Minnesota's North Shore as part of Hafs's research team. She was featured as a Student to Watch in the Fall/Winter 2017 issue of Bemidji State University magazine, the study was featured on an episode of "Prairie Sportsman" which aired in March 2018, and she recently published a story on her work in DUN Magazine, a quarterly lifestyle publication for women fly anglers.
Even with the seemingly large number of fish being eaten by the pelicans, the study showed their impact on the total number of walleye in the lake was negligible. The relationship was simply a normal occurrence in the ecosystem.
"The birds would have needed to increase their numbers by an order or two of magnitude to have an impact on the natural mortality rate," Hafs said. "We were glad to find that harvesting the birds shouldn't have to happen. It was a really cool finding."
Kennedy said the partnership with Hafs was the only way the DNR would have been able to complete the study and answer a question that it needed to have answered.
"There's just no way that me or anybody else at the DNR would've had the time to be able to do an investigation like that," he said. "So that's when you pull in the university."
For Hafs, the project kickstarted what has become an extensive relationship not only with Kennedy and the Bemidji DNR, but with other DNR offices in the region.
"Our collaboration with the DNR grows every year," Hafs said. "We've grown from just working with Bemidji to doing some work in Walker and with DNR administration. There are more projects than we could possibly do at this point. I think fairly shortly we'll be working on about 10 projects."
Given the volume of potential work, Hafs says he evaluates projects based on his scientific interest in the question being asked, the funding available for the project and whether his students can successfully address the problem with their available resources.
"If the DNR says 'we really need this,' I'm going to do it," he said. "That's how I've been running my research lab — if there's a topic out there related to water biology, I'll try to help them answer it with the resources we have."
Kennedy says the DNR particularly values the applied research approach Hafs and his team take, which has led to practical, real-world implications on the DNR's management decisions.
"The biggest thing I appreciate about Andy and the BSU program is that they have a real interest in doing science that can be applied to improve management," Kennedy said. "Pure research doesn't necessarily help us make wildlife fishing better. Working with someone who also has an interest in improving fish management supports the interests of the DNR."