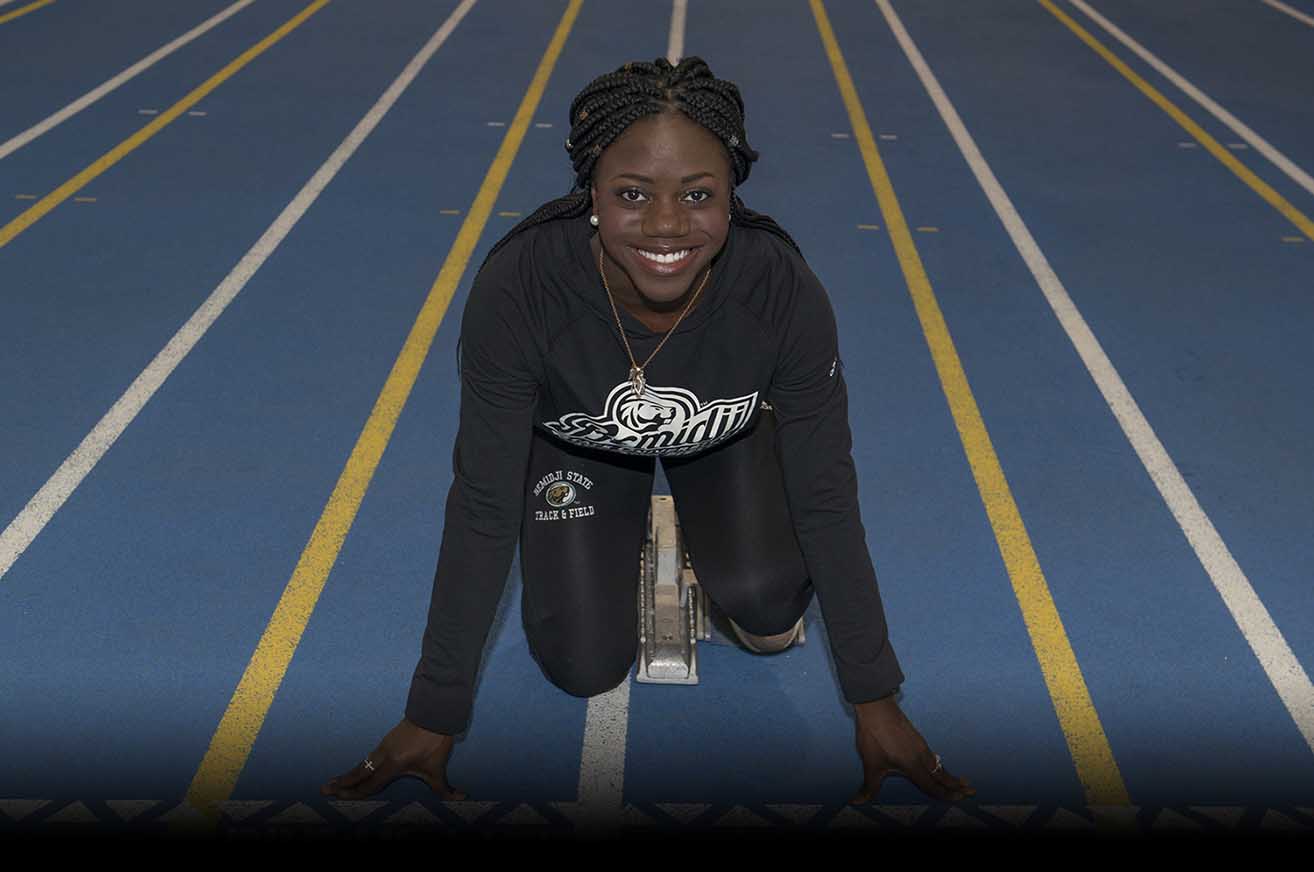 Close your eyes and make a wish. As Bemidji State University celebrates its centennial year, we asked three students with unique perspectives to share their journeys to BSU and their birthday wishes for their generation —  and those to follow.
Beatrice Kjelland, a track and field sprinter from Park River, N.D., believes in creating more diversity on campus and aspires to be a pediatric nurse and a good mom.
She was born in Liberia in 1998, just before the Second Liberian Civil War. As the country grew more dangerous, she and her younger sister were sent to an orphanage and, a year later, adopted by Jim and Marlys Kjelland of North Dakota.
Kjelland, then 6 years old, remembers leaving Liberia accompanied by two Caucasian escorts — the first white people she had ever seen.
"I just kept staring at the lady who came," Kjelland recalled. "We had never seen someone that white. It was kind of scary just being sent off with these people."
In Park River, she and her sister discovered a loving family and a whole new world on a North Dakota farm.
As a high school sophomore, she wrote about her experiences and thanked her adoptive parents for the opportunities they had given her. That essay won a Scholastic Arts and Writing state gold medal and a 2016 national American Voices Award. Her community raised the funds to send Kjelland and her mom, Marlys, to New York City for the national award presentation at Carnegie Hall.
"To be able to share that with my mom was just an amazing experience," she said.
Kjelland came to Bemidji State this fall as a freshman track and field recruit. She was a North Dakota Class B state champion in the 100- and 200-meter, and in 2018 her team won the state 4×100-meter relay. She grew up as an active 4H member and pays for a portion of her college living expenses with prize money from showing animals.
What she likes best about Bemidji State: The track team, the tunnels so she can avoid the cold and meeting Zoe Christensen — a fellow track freshman and her new best friend.
Birthday wish for BSU: "To make the campus more diverse."
Birthday wish for her generation: Less screen time and more time for doing things that matter. "Kids are getting phones too early," she said. "You see kids who can't interact and speak with one another. When they apply for scholarships, they don't know what to say when you ask, 'what did you do with your life?'"