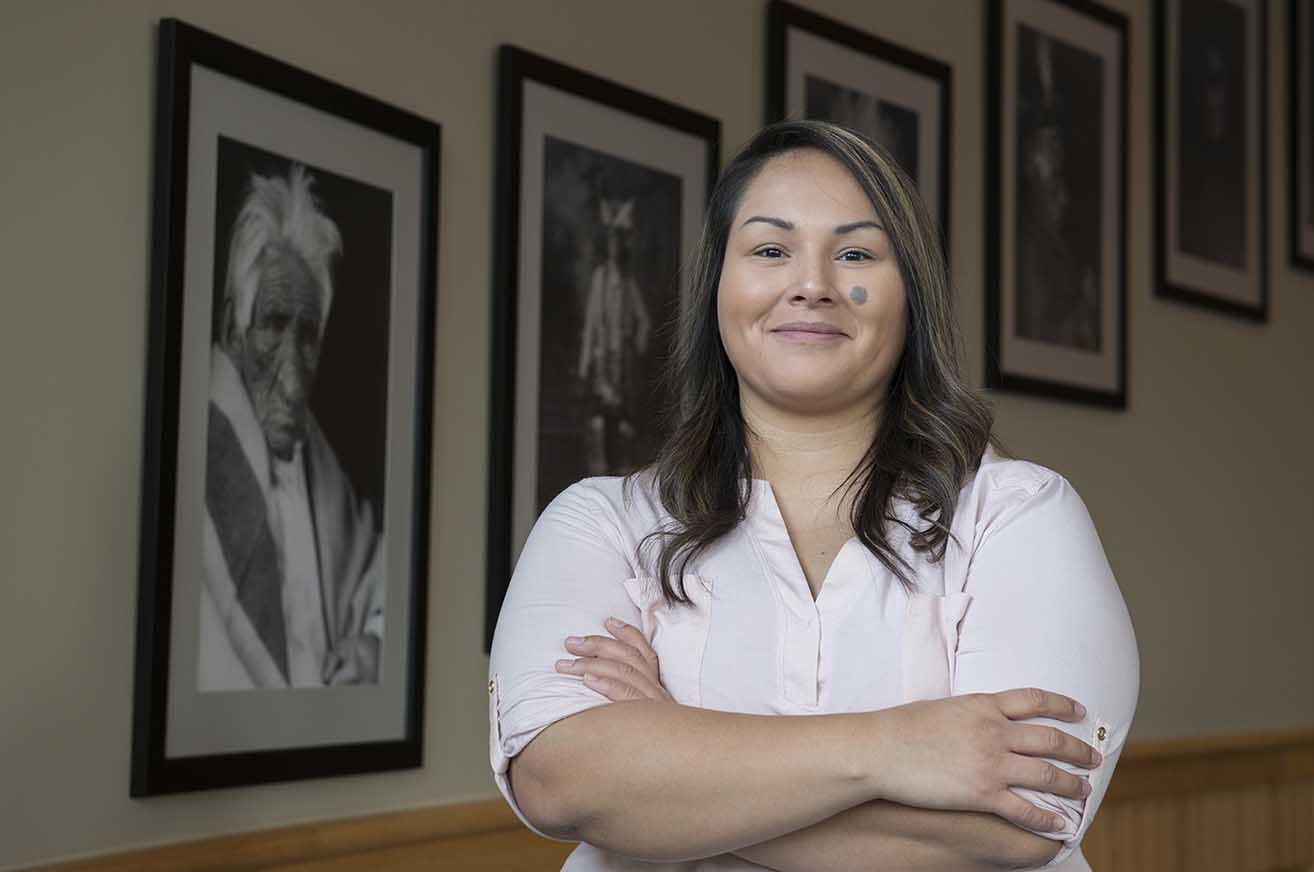 Chelsey Jourdain grew up across the street from the Bemidji State University campus in a house purchased by her great-grandfather, Roger Jourdain, who hoped that his grandchildren would attend the university.
The man Jourdain considered her grandfather spent more than 30 years as the chair of the Red Lake Nation, a lifetime of service she didn't fully appreciate until after his passing in 2002. She was a seventh grader at
the time.
"My grandfather lived upstairs," Jourdain said. "He wasn't the chairman to me and my siblings — he was the old guy upstairs. He always liked his coffee, gum, Milky Ways and his newspapers: the Star Tribune, the Pioneer Press."
While her grandfather had only an eighth-grade education, he never stopped learning.
"He had a pretty strong voice and that has stayed with me," she said.
Jourdain is now a junior at BSU and is working toward an elementary education degree. She aspires for a future teaching on the Red Lake reservation and serving the people and the place where her grandfather devoted his life.
She balances her studies with family life. She and her partner, fellow BSU student Brian Hawkins, have two children, Talon, 5, and Lily, 9 months in December.
She is president of the BSU Council of Indian Students. In November, she was awarded the Minnesota Indian Education Association College Scholarship and named the association's Outstanding American Indian Post-Secondary Student of the Year. She also serves on a higher learning committee charged with crafting BSU's cultural and diversity statement.
"Chelsey is community driven," said Bill Blackwell Jr. director of the BSU American Indian Resource Center. "She wants to be an educator to give back to the community. The foundation of her leadership is clear in her family. I know if her grandfather were here, he would be extremely proud of the person she is."
Her own children, especially Talon, who started kindergarten this year, inspire her to want the best for all children.
"I want to make them feel important in their community," she said.
Jourdain enjoys the opportunities Bemidji State has provided. She plans to pursue a master's degree and eventually a doctorate. The foundation of her classroom, she said, will be the Anishinaabe Teachings of the Seven Grandfathers, which focus on moral and ethical values.
She believes those teachings are worth handing down to a new generation.
"It's important to keep this family
tradition going, of being role models to others," she said.