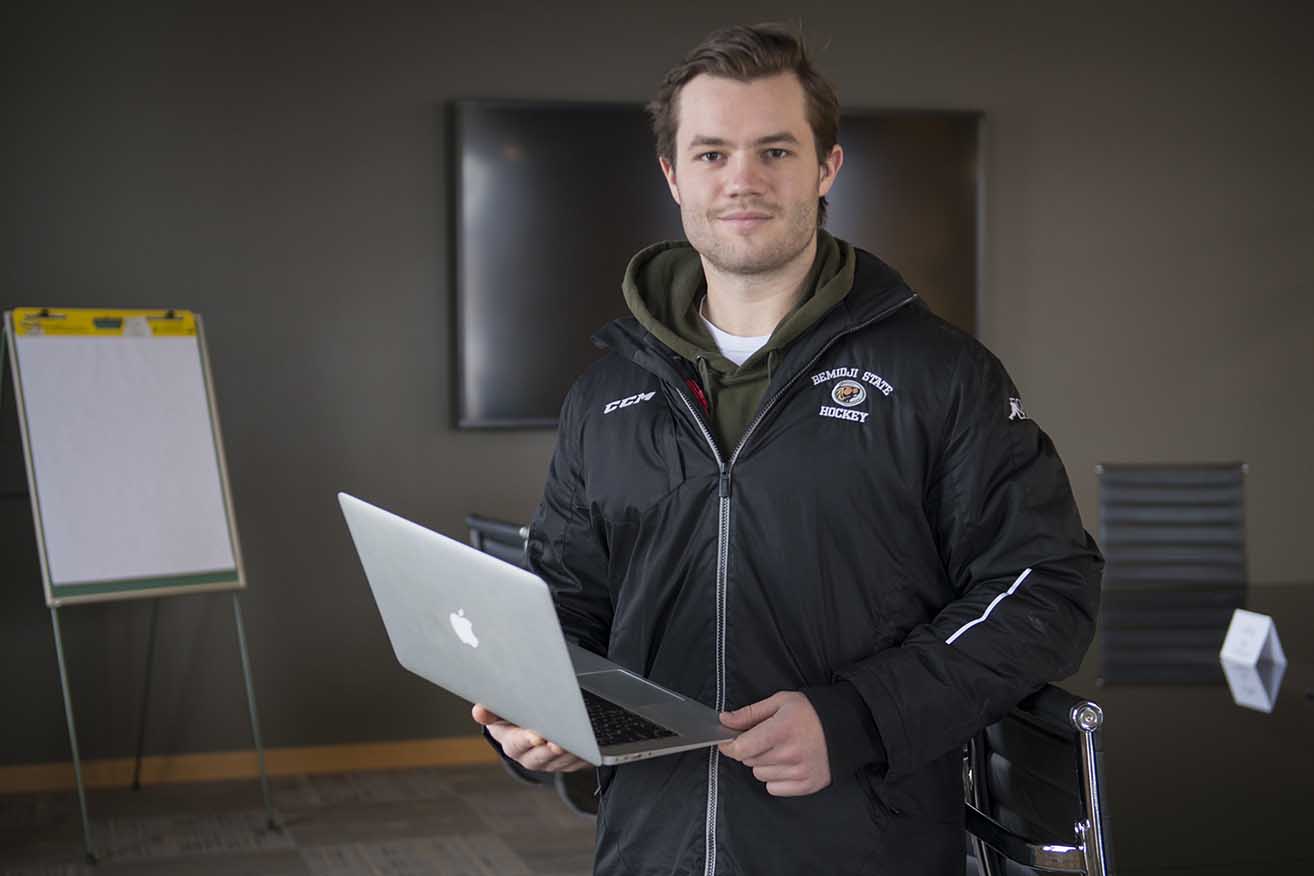 Dan Billett of Highlands Ranch, Colo., left home in seventh grade to spend a year with his grandfather in Detroit where he could play hockey with better teams.
"That was tough," he admitted, to be so far from home. But his grandfather, who never tired of watching him play, was always supportive.
Billett went on to compete at Indiana's Culver Military Academy and then for the North American Hockey League's Aberdeen Wings before landing at Bemidji State University.
Now a senior, the 6'1" defenseman helped lead the BSU men's hockey team to a 2016-2017 regular-season conference championship — BSU's first WCHA McNaughton Cup. He was twice named a WCHA Scholar-Athlete and last year earned a spot on the WCHA All-Academic Team. His grandfather remains his biggest fan.
Billett will graduate in May with a bachelor's degree in business administration with an emphasis in management and marketing and a minor in management information systems. Although he would love to play pro hockey, he said Bemidji State's business administration program has given him a backup plan.
"I wanted to pick a major that would leave me with a lot of career options," he said. "Business doesn't limit you. In my junior year, I picked up marketing and I loved it right away. It's not what I expected. You think advertising and selling, but there's a lot more that goes into it."
Last spring, Billett gained valuable experience through BSU Marketing Assistance & Research Solutions (MARS) working with a corporate client looking to expand into the Bemidji area. He led demographic research and presented his findings to project leaders. He also interned with the Minnesota State Advanced Manufacturing Center of Excellence where he managed multiple social media accounts.
"What I love is the creative problem solving, the analytical part of it," he said.
Billett appreciates the support of his BSU professors, especially Dr. Kelly La Venture who supervised his MARS work and his adviser, Dr. Angie Kovarik.
"Dan is very driven, motivated," Kovarik said. "Other students like when Dan is on their team. He is always professional."
At Bemidji State, Billet also discovered a passion for bass fishing and fishes whenever he can. He loves ice fishing,
too. But for now, he has his eye on the puck in pursuit of a strong finish in his final Beaver season.
"I've learned so much from hockey, how to work as a team, how to deal with adversity," he said. "That's stuff you can't teach, and I wouldn't trade it for anything."