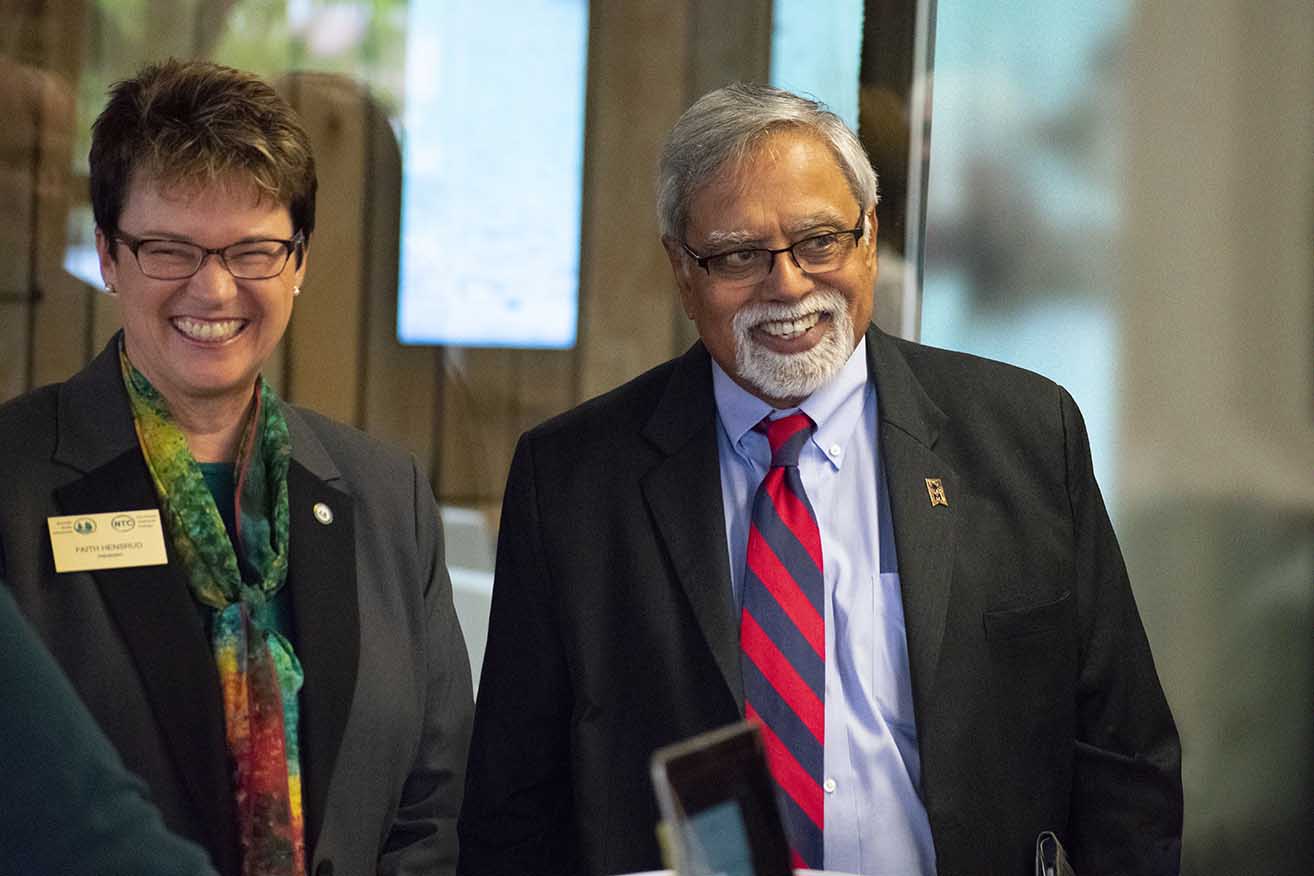 Chancellor Malhotra visits Bemidji on partnership tour
Minnesota State Chancellor Devinder Malhotra met with more than two dozen local business and industry leaders and area legislators at an Oct. 5 stop in Bemidji as part of his state-wide Partnership Tour. Malhotra, who was joined at Bemidji's Mayflower Building by President Hensrud and NTC Vice President for Academic Affairs Darren Strosahl, used the tour to share ways the state's businesses and industry can tap into the resources available in a state-wide system of 37 colleges and universities.
---
Bemidji State University Named One of the Nation's Most "Green" Colleges
The Princeton Review has once again included Bemidji State among the top 399 environmentally responsible colleges in the country. The publication's ninth annual list features institutions with remarkable commitments to sustainability based on their academic offerings, career preparation, campus policies, initiatives and activities. This is BSU's fourth appearance on the list, which has been published by the Princeton Review since 2011.
---
Bemidji State University Hosts 50th Annual Madrigal Dinners
Bemidji State's Department of Music staged its 50th annual Madrigal Dinners — the final annual performance of the long-time yuletide tradition — at Bemidji's Concordia Language Villages between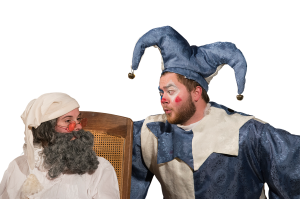 Nov. 30–Dec. 9. This year's production featured a re-staging of the original 1969 masque written by BSU professor emeritus of music and Madrigal Dinners founder Dr. Paul Brandvik. The Madrigal Dinners bring together students from a variety of majors across campus to recreate a yuletide feast in an Elizabethan England-era castle.
---

Ramsey Gallery Exhibit Honors Bemidji State University's Centennial Year
Artifacts representing Bemidji State's rich, 100-year history are on display in the Ramsey Gallery, located in the Bangsberg Fine Arts Complex. Historical archives, photographs, posters, clothing, keepsakes and other notable items fill the gallery, which was curated and installed by the Office of Communications and Marketing and the university archives as a part of the 18-month recognition of BSU's centennial. The exhibit also includes special displays celebrating the 50th anniversaries of both the Madrigal Dinners and women's intercollegiate athletics. The gallery is free and open to the public. The exhibit will be on display until early February, when it will go on hiatus until summer.
---
An Economic Engine: BSU, NTC Contribute $322 Million per Year to Minnesota's Economy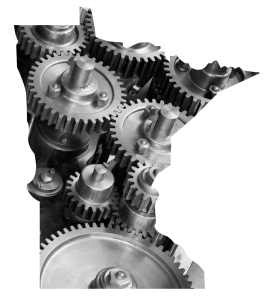 Bemidji State and Northwest Technical College provide an estimated total of nearly $322 million in economic activity, while supporting or sustaining 2,479 jobs in Minnesota each year, according to an economic impact study released in November. The survey, conducted by Pennsylvania-based consulting firm Parker Philips, was commissioned by the Minnesota State system to examine the impact of its 37 colleges and universities on Minnesota's economy. The survey also found that BSU and NTC contribute volunteer and charitable activity worth $2.5 million to the Bemidji community each year.
In total, the survey found the system generates an estimated $8 billion in state economic activity each year and supports or sustains nearly 68,000 jobs. In addition, it found that every $1 appropriated to the system and its schools by the State of Minnesota generates $12 in total economic activity.
---
Nursing Brings International Conference on Culturally Focused Care to Bemidji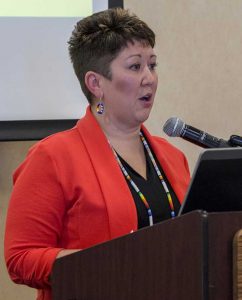 Faculty and students from the Department of Nursing had the rare opportunity to participate in an international conference without leaving home, as the Society for the Advancement of Modeling and Role-Modeling brought its 17th Biennial International Conference to Bemidji from Sept. 19–21.
The conference, "Facilitating Holistic Nursing Care Through a Cultural Lens," aimed to help nursing practitioners better understand their patients' unique worldviews and approach their health, healing and well-being from a cultural perspective. All conference activities were held at Bemidji's Hampton Inn.
---
Bemidji State Programs Receive Online Rankings for Quality, Affordability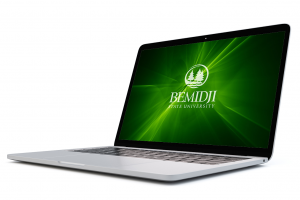 Bemidji State and several of its degree programs have recently received awards for quality and affordability from websites specializing in college rankings. A selection of these rankings include:
• BSU ranked fourth on the list "2018's Most Affordable: The Best Online Colleges in Minnesota" by Affordable Colleges Online.
• BSU's online bachelor's degree program in accountancy has been ranked fourth in the nation by Online Course Report.
• BSU's online bachelor's degree in business administration with an emphasis in marketing ranked 13th on the list "Most Affordable Online Marketing Degrees" by College Choice.
---
Hagg-Sauer Hall Project on Schedule for Spring Start
Bemidji State's project to renovate space in four academic buildings prior to the summer 2019 demolition and reconstruction of Hagg-Sauer Hall remains on track for an early spring start. Floor plans for space to be renovated in Bensen and Sattgast halls, the A.C. Clark Library and Bangsberg Fine Arts Complex were shared with faculty and staff in late September. Senior administrators met with faculty and staff of programs that will be affected by the renovations and ensuing relocations throughout October and November and provided opportunities to share last-minute feedback on office locations and floorplans. The university has selected KI Furniture Consultant as the project's furniture vendor, and construction bids were opened on Dec. 20.
---
Board of Trustees Approves Mission & Vision
On Nov. 14, the Minnesota State Board of Trustees accepted a recommendation from Chancellor Malhotra and the system's Academic and Student Affairs Committee to approve Bemidji State's mission and vision statements.
The statements were developed in 2013-14 during a strategic planning process led by President Emeritus Richard Hanson. At that time, broad campus feedback on the mission and vision statements was gathered from faculty, staff and students, as well as a variety of university constituents including the Greater Bemidji Board of Directors, area educators and community members.
In 2017, the mission and vision were reviewed as part of President Hensrud's strategic planning initiative and found to fit the needs of the institution. They were presented to campus bargaining units for further review in August and September of 2018 after a Higher Learning Commission accreditation team determined the statements had not been presented to the board for approval.
---
Celebrating Milestones in Student Leadership and Sustainability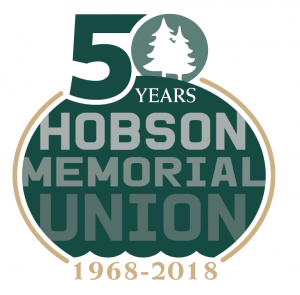 As part of "A Bemidij State Century," a year-long celebration to commemorate the university's 100th anniversary, both the Hobson Memorial Union and the Sustainability Office are celebrating significant birthday milestones this year.
The Hobson Memorial Union, which opened in 1969, celebrated its 50th birthday with a "Then & Now" panel during Homecoming week that explored student leadership through the decades. The conversation featured four alumni panelists who served in key student leadership positions during their undergraduate years at BSU. They shared their experiences as students and discussed trends in student-related issues on campus that have developed over time. The panelists were:
• Jim Frazee '75, former member of the Hobson Memorial Union board and retired from Prudential Financial;
• Brent Glass '97, former Student Senate president and current vice chancellor for student affairs at Minnesota State;
• Dr. John Gonzalez '99, former president of the Council of Indian Students and current professor of psychology at Bemidji State; and
• Jenna Long '15, former Student Senate president and current adviser and student relations coordinator at Minnesota State University, Moorhead.
The Sustainability Office also celebrated its 10th birthday this year, and the 10th birthday of the university's innovative student-mandated "Green Fee." Under the direction of Erika Bailey-Johnson, the office's first and only director, BSU's Sustainability Office has grown beyond the initial vision of a campus-based education and project management organization to become a local and regional leader in all aspects of sustainability and wellness. The Sustainability Office manages BSU's "Green Fee," a $7.50-per-semester student fee that helps finance sustainability-related projects and initiatives on campus.
BSU Receives $200,000 Bush Foundation Grant to Explore Race Relations in Bemidji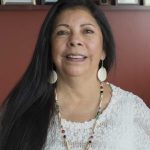 Dr. Vivian Delgado, assistant professor of indigenous studies, is beginning a three-year project to examine race relations in the Bemidji region with support from a $200,000 Bush Foundation grant.
Bemidji counts Minnesota's three largest native nations — the Red Lake Band of Chippewa, the Leech Lake Band of Ojibwe and the White Earth Nation — among its neighbors, and U.S. Census Bureau data shows that more than 21 percent of Beltrami County's 46,500 residents — and 12 percent of Bemidji's 15,000 residents — identify as American Indian.
Delgado says while American Indians make up a significant portion of the Bemidji region's population, they are disproportionately represented when examining factors such as poverty and suicide. To address those disparities, Delgado is assembling an eight-person Gwekendam Team, named for an Ojibwe word meaning "changing mind," to explore structural oppression, institutional racism and systemic gaps in opportunity and access — not only among American Indian people but all people of color in the Bemidji area.