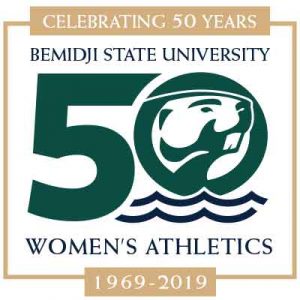 Pioneers recall early hardships in their campaign to create a competitive athletic program for women at Bemidji State.
In  1966, when Betsy McDowell first took her field hockey team on the road for extramural competition, the brakes went out on their Bemidji State College van.
She managed to stop only after banging into the bumper of a van ahead of her.
"I said, 'I'm not getting back into that car until I have a mechanic fix these brakes,'" recalled McDowell, who retired as a coach and professor of physical education in 1989. "'If we have to cancel the game, we will.'"
Crowded and chilly vans, cars and station wagons – driven through white-knuckle weather by coaches and students who had to get out and play a game – were a fact of life for women's teams well into the 1980s.
And in the earliest years of women's intercollegiate athletics at Bemidji State, players were required to travel in skirts and dresses, even when it was 40 below.
Meanwhile, the Beaver men's teams, at least some of them, cruised in chartered buses.
"I remember the long trips where the coach was in the front wagon with a number of girls and a senior was driving, following behind. I mean, really?" said Deb (Limond) Hegquist '76, who in 2004 was inducted into the BSU Athletic Hall of Fame for her success in gymnastics and track and field.
"And going from Bemidji in the winter season, I can't tell you how many snowstorms we drove through. There are crazy things we did because there was no other way; there was no money."
The women's meal allowance was meager, and teams such as volleyball and basketball had to share uniforms, often laundered at home by players and coaches between games. Off-campus recruiting was nonexistent, scholarships for women athletes had yet to emerge and women's coaches often had to fight for practice time in facilities they shared with the men.
Despite such hardships, athletes from across the decades say their appreciation for their experience has deepened over time.
"That's the way the culture was," said Angie (Nelson) Severson '01, who played volleyball throughout her years at BSU. "I don't want to say we accepted that as women we were kind of second rate, but it felt like we were a constant underdog. We loved what we did, and whether or not there were people in the seats, we just played because we played."
Severson, an art and fitness teacher and  former graphic designer who has coached volleyball at Lourdes High School in Rochester, brought her three daughters to the 50th anniversary kickoff celebration during Homecoming on Oct. 6.
"I want them to know where things start – and somebody had to start them," she said.
During that event in the American Indian Resource Center, the university and its athletic alumnae recognized three founders of women's intercollegiate athletics at Bemidji State. In addition to McDowell, they were former coach and physical education professor Dr. Ruth Howe, hired in 1957, and Dr. Marjory "Mardy" Beck, who was hired in 1964 and became BSC's first women's athletic coordinator, retiring in 1989. Also honored was women's athletic director and professor Dr. Pat Rosenbrock, hired in 1969, who coached gymnastics, track and field and volleyball and has done the most to preserve the school's rich history of women's athletics. She retired in 2006.
Six years after arriving in Bemidji, Beck joined with female counterparts in 1969 to organize a competitive women's league for five schools in Minnesota and North Dakota. The founding programs in the resulting Minn-Kota Conference, one of the first for women in the country, were Bemidji State, Concordia-Moorhead, Minnesota State-Moorhead, North Dakota State and the University of North Dakota.
Beck was president of the conference when it began in 1969-70 with basketball, field hockey, golf, gymnastics, swimming, tennis and volleyball. Golf and track and field were soon added. Today, BSU women compete in eight sports in NCAA Division II and a ninth, hockey, at the Division I level.

Before women's intercollegiate athletics and Minn-Kota, the university's women students played intramurals and in friendly extramural competition, complete with post-game socials.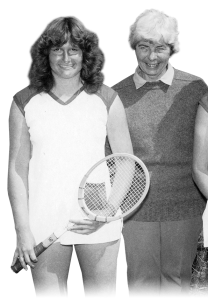 Amid accelerating social change following World War II, women majoring in physical education at Bemidji State and elsewhere began to demand more intense competition. Faculty responded, and administrators such as Vic Weber, BSU athletic director from 1964 to 1980, cleared the way with financial support, albeit limited.
"The need for a program to challenge the better skilled girl became increasingly obvious," Beck wrote in 1970. "If we did not meet that challenge as part of our college program, using educational principles as our guidelines, other organizations – less concerned about the college woman and her welfare and her special activity needs – would do the job for us."
Howe, who coached varsity basketball (1964-75) and tennis (1977-86) at Bemidji State, said women came out by the score for the founding teams, making up in enthusiasm what they lacked in technical knowledge.
"They stuck with something when they started it," she said. "They also were open-minded, and they learned skills well. I just had the highest regard for the students I had as basketball and tennis players – and as students, period."
That is the sort of history Severson wants her girls – ages 11, 10 and 6 – to contemplate.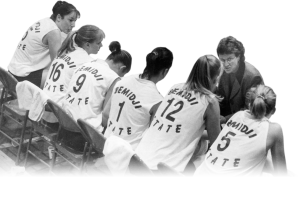 While driving the family to Bemidji in October, she used her mother's experience to illustrate the revolution spurred by leaders at Bemidji State and fortified by Title IX, a federal law that in 1972 began requiring schools and universities to provide equal opportunities for male and female athletes.
"My mom, she was a cheerleader because they didn't have sports in high school," Severson said. "That was the closest she could get to sports. And then right after she graduated, they started having women's sports. I mentioned that to my daughters, and they were like, 'What …?'"
Women's athletics — at BSU and elsewhere — has not advanced along a steady arc, and sporadic gains have  frequently required a determined push.
Laurie (Peterson) Gross '13, who was inducted into the university's Hall of Fame in 2013 for her basketball performance from 1982-86, points to her coach, Joan (Campbell) Anderson, as someone who sped progress – particularly through recruiting.
"I feel like she was getting us updated as quick as she could," Gross said. "She's the coach that turned the program around. She's a Bemidji alumna and got hired to go there and coach. When I was a senior in high school, they only won two games. And by the time I was done and she was done, we were nationally ranked. So she did a great job in four years."

Campbell '76 majored in physical education and coached basketball at Big Lake High School before becoming a second assistant to women's coaching innovator Ellen Mosher Hanson at the University of Minnesota. She joined the BSU Hall of Fame in 2011 as coach of the 1985-86 NAIA State Championship team.
She said her work with Mosher Hanson while earning her master's prepared her to elevate the Beavers' skill level and insist on greater parity with men's basketball.
"I came to the table and demanded a few things," said Campbell, who played for Howe in her own days wearing green and white. "I wanted the female athletes to have practice uniforms, I wanted their laundry done for them and we had to have practice time equal to the men. All of that was pretty much easily agreed to."
Outlining her strategy for identifying talent, she said, "I always recruited the person first. When I would go out and scout them, I would have to see that they were coachable, were respectful of themselves, their teammates and their coaches and that they played hard all the time."

Despite their intermittent gains, women athletes continued to see more room for progress.
Dr. Abby (Stritesky) Meyer '01, a 2016 Young Alumni Award honoree who found success in both volleyball and softball, recalls traveling in vans while the baseball team went via charter. She also remembers washing uniforms in a laundromat on the road.
But what bugged her and her teammates most was the university's lack of softball dugouts, which left the team exposed to the elements and sitting on a bench more suited to a youth league. Dugouts were installed in 2011.
"It drove us nuts," said Meyer, who came to BSU on a full-tuition academic scholarship and is now a pediatric ear, nose and throat surgeon with Children's Hospitals and Clinics of Minnesota. "It almost became a joke."
Nonetheless, she maintains a glass-half-full view of her athletic experience. Meyer quickly tallied its wealth of benefits, not the least of which being a lifelong bond with coaches and teammates:
"Time management, it's a huge thing – multitasking, that whole skill set; working with a team, getting along with others, being able to relate to people from all different places and walks of life,  problem-solving, how to be a leader, having a goal and working hard towards it. Also, knowing you can get better — and wanting to get better."
Recognizing the value of collegiate athletics and acknowledging progress does not mean ignoring need for further improvement, said another BSU Hall of Famer, Elizabeth Mulvihill '88. She was a basketball co-captain for Anderson who, in track and field, became BSU's first NAIA indoor champion in the shot put.
Mulvihill brought her 14-year-old daughter with her to the Oct. 6 kickoff and said she came away with "deep respect for the founding women."
"I did not know their story," she said. "I did not know their humble beginning, and as a student at BSU, at that point in my life, I didn't realize what a good physical and health education I had received. I had never reflected like I have after listening to their stories."
When her daughter, Zoë, initially balked at joining her, Mulvihill quoted 19th-century social reformer Susan B. Anthony, who said, "Our job is not make young women grateful. It is to make them ungrateful so they keep going."

Living in Minneapolis and pursuing a new career in holistic health studies after 16 years of teaching and coaching in the city's public schools, she said competitive athletics has opened many doors and enabled women to value and assert their own physical power.
Mulvihill, who has a same-sex partner, said some lesbian women have gravitated toward athletics, but acknowledging their own sexual identity has often been taboo in the arena of sport, where "women are stepping into a traditionally male realm and doing a male thing."
Mulvihill also pointed to such persistent imbalance as the continual scheduling of women's games ahead of men's in college basketball and hockey.
"We always played the earlier game, when everyone was still home for dinner, and the men played after," she said.
The passage of 50 years offers BSU's former women athletes a rich terrain for analysis of milestones and challenges, as well as gratitude – both of the founders' determination and the enduring impact of athletics in their own lives and families.
"Holy cow, did I have a great experience," said Lora (Weirs) Angileno '88, a four-year letter winner
and captain in basketball. "It really was an experience I'll never forget."
Added Hegquist, "We really didn't know how good we were, because we had nothing to measure by."