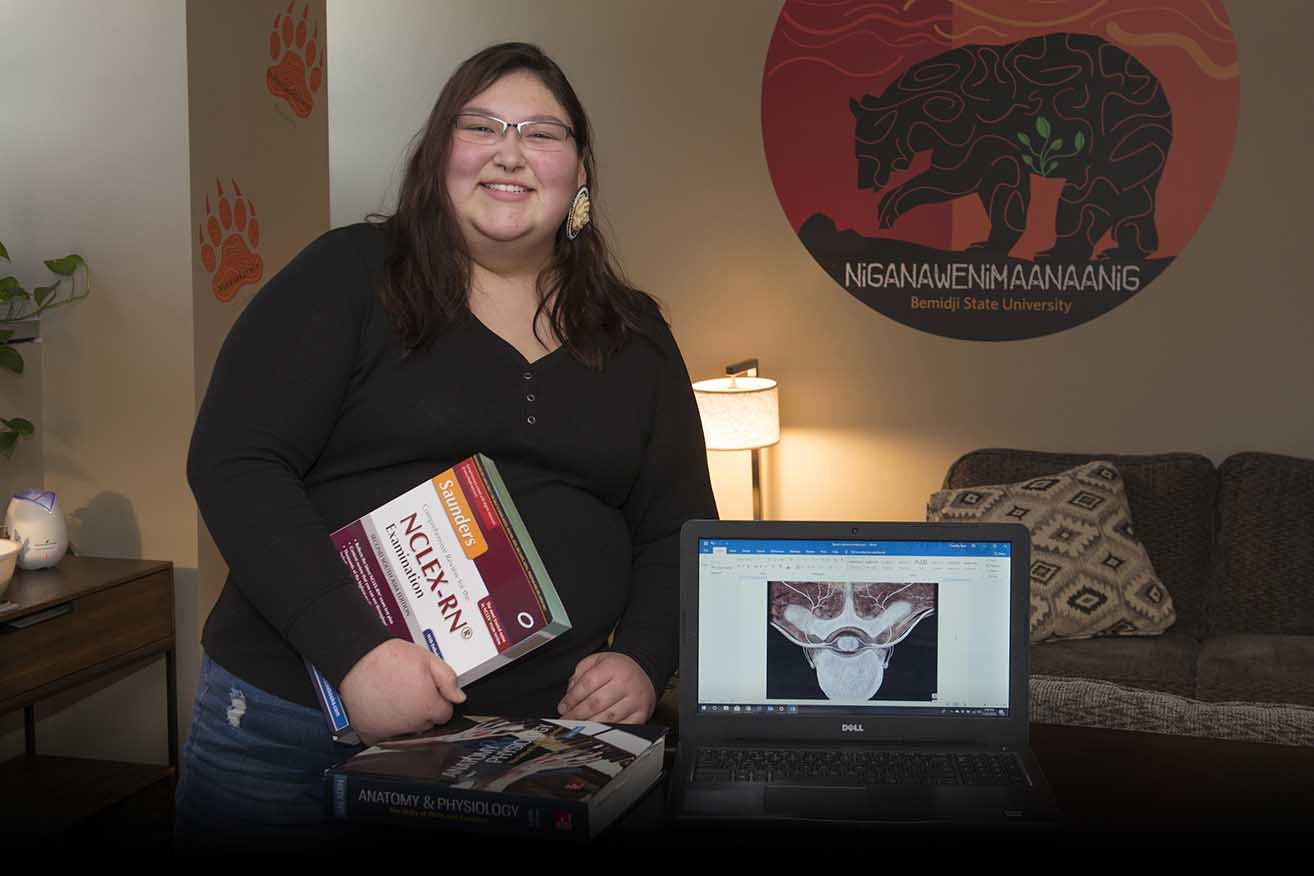 Close your eyes and make a wish. As Bemidji State University celebrates its centennial year, we asked three students with unique perspectives to share their journeys to BSU and their birthday wishes for their generation —  and those to follow.
Jackie Allen, of South Dakota's Flandreau Santee Sioux Tribe, wants to become a nurse and, eventually, a health care administrator to deliver better care options in Native American communities.
She is the freshman representative of the BSU Student Nurses Association and the secretary of the BSU Council of Indian Students. She is also a Niganawenimaanaanig scholarship recipient, a federally funded program for indigenous nursing majors. The program provides academic, social, cultural and financial support to encourage more indigenous students to pursue careers in nursing.
"That really attracted me here," Allen said. "I had never seen anything like it in the Midwest. I came here and I loved it. BSU was my first choice."
Allen, the youngest of seven children, is drawn to nursing by science and human anatomy, as well as the opportunities nursing offers to serve native communities.
"I grew up on a reservation and, at a young age, I knew there weren't enough health care providers in Indian health care services," she said. "One week we have a dentist – or a doctor – and the next week we don't."
Allen plans to be a travel nurse with the Indian Health Service so she can spend time on reservations around the country and learn different practices before returning to Flandreau.
"Other providers come and go and don't know our traditions, our 'mind, body and spirit' approach," she said. "For example, it's not just about diabetes — we need a 360-degree view."
Allen credits her parents for her inspiration and confidence and says she drew strength from her father to overcome childhood bullying.
"My dad is one of the kindest people you'll ever meet," she said. "He taught me how to stand up for myself."
As a nurse, she hopes to stand up for others and be kind.
Allen is the part of the Niganawenimaanaanig program's first freshman class. She appreciates the support she has found in Dr. Misty Wilkie, the program director, and Tammy Erickson, the grant coordinator.
"They're like my aunties here on campus," Allen said. "I can go to them for absolutely anything. No matter what it is, they will drop everything and help."
Birthday wish for her generation: More focus. "I think we're motivated, it's just keeping the focus," she said. "We're constantly trying to do so many things at once, change the world and take care of our lives. Sometimes it's hard to know where to start."
Career aspirations: "I see myself going back to school, getting a doctorate in administration and really making a difference in indigenous people's health care all around the United States."