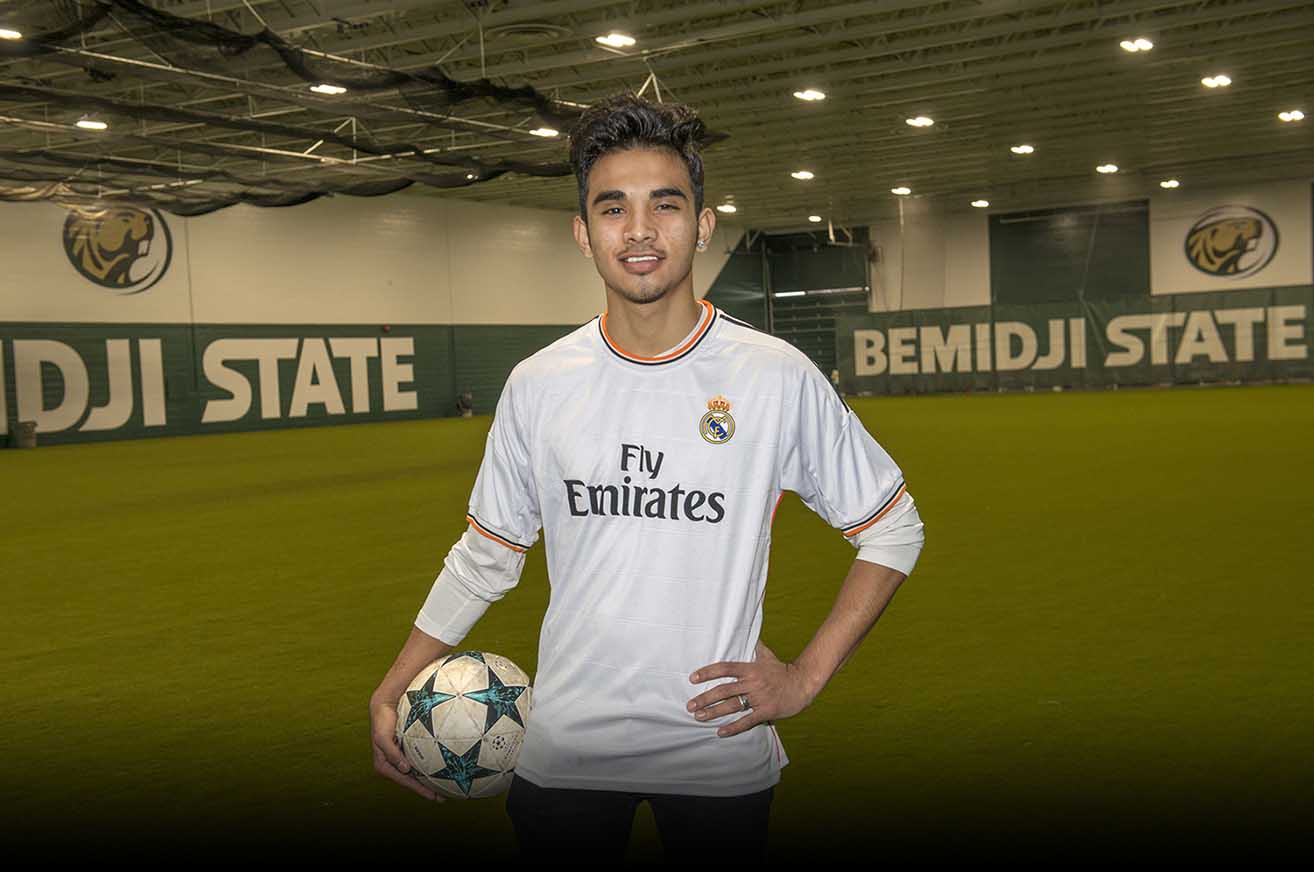 Close your eyes and make a wish. As Bemidji State University celebrates its centennial year, we asked three students with unique perspectives to share their journeys to BSU and their birthday wishes for their generation —  and those to follow.
Sagyan Khadka, a computer information systems major from Nepal, witnessed the aftermath of the 2015 Nepal earthquake and wants to improve communications in remote parts of his country to reduce isolation in the face of disaster.
A former member of Nepal's under-16 national soccer team, Khadka, now a sophomore, competes on a Bemidji State club soccer team. He also plays guitar, writes songs and performs on campus for international events like the Festival of Lights.
Khadka's first loves were soccer and technology. His parents bought him a computer in eighth grade.
"The first thing I did was install a game," he said. "That game phase really helped me learn a lot about how computers work. But as I grew, my goals got bigger."
An only child of two working parents, Khadka hung out at his mother's office after school. She works with Mercy Corp, an international nonprofit that delivers aid around the world.
"I would sit next to people at her office and see how they
were helping humanity," he said. "I was really inspired by
that. So, I thought, 'Maybe I'll study computer science to help other people.'"
Then on April 25, 2015, a 7.8-magnitude quake struck Nepal, flattening neighborhoods in the capital Kathmandu and devastating isolated rural areas. Khadka's family was OK, but nearly 9,000 people lost their lives.
"We have houses made of mud and stone, and many of those houses just collapsed," he said. "Volunteers were needed in places where no one could get to, and communications were cut off. I was 17 years old and that really shaped my goals."
Khadka appreciates the support of his parents and is surprised by the independence of children in the United States.
"In Nepal, our parents are with us, birth to marriage," he said. "I have always been around people who love me, who are really supportive and encourage me to explore my ideas."
Career aspirations: "I want to go to rural areas in Nepal and help people use technology to improve their lives, connect with each other and help them export goods."
Best experience at BSU: International Student Organization. "I really love meeting people. I like to know about people and share about myself."
Birthday wish for his generation: Less screen time. "Speak to someone in person. Our generation can solve a lot of problems just by talking, just connecting with one another."
Birthday wish for BSU: "Education is the best investment. BSU is doing a wonderful job and I wish them the best for the next 100 years."