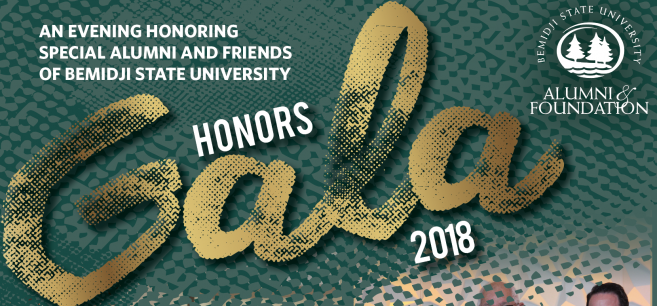 More than 250 people gathered in Bemidji's Sanford Center Ballroom on Oct. 5 to honor Bemidji State's 2018 alumni award recipients.
The event honored five BSU alumni who have become leaders in their respective fields and recognized new giving society members, which are based on total lifetime giving or planned gifts.
Bemidji State thanks this year's event sponsors — Sanford Health, Paul Bunyan Communications and the Joseph & Janice Leuken Family Foundation — for their partnership and support.
2018 BSU Honors Gala Alumni Award Recipients
Professional Education Hall of Fame:
Dr. Brenda Child '81
---
Young Alumni Award:
Dr. Nicholas Phelps '05
---
Honorary Alumni Award:
Wayne Thorson
---
OUTSTANDING ALUMNI AWARD::
Tom Heaviland '80
---
OUTSTANDING ALUMNI AWARD::
Patrick Pelstring '76
---
Builder's Society:
Merideth Kehoe '72
---
Builder's Society:
Rich Kehoe '72
---
Builder's Society:
Ken Traxler
---
Chancellor's Society:
Fred Baker '61
---
Deadline for Alumni Award Nominations Draws Near
Nominations are due March 1 for several upcoming award programs that recognize alumni for their outstanding contributions to Bemidji State University, their professions and communities.
The following are awarded each fall at Bemidji State's annual Homecoming Honors Gala: Outstanding Alumni, Young Alumni, Professional Education Hall of Fame and Alumni Service Awards. The 2019 gala will be held on Oct. 4 at Bemidji's Sanford Center.
Nomination forms are available at bsualumni.org.
---
Make sure the BSU Alumni Office has your latest contact information
Alumni who have changed jobs or their names and those who have multiple or seasonal addresses are asked to update their contact information by visiting bsualumni.org or calling (218) 755-3989 so you can stay up-to-date on news and events