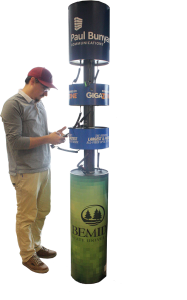 BSU students now have a convenient place to charge their smart phones, tablets and other mobile devices thanks to a portable charging station recently installed by Bemidji-based Paul Bunyan Communications.
The charging station in the upper Hobson Memorial Union is compatible with all major mobile devices and can power 12 devices at a time. It charges smart phone batteries up to 30 percent faster than plugging them into the wall, while using 25 percent less energy.
The sponsorship also unlocked funds from the Minnesota State leveraged equipment fund for the station's purchase, which will not only keep students' devices fully charged, but offer additional learning opportunities as well.
"By using a Kill-A-Watt electricity monitor, we hope to teach students about the electrical draw of personal electronic devices," said Jordan Lutz, BSU sustainability project manager.
In addition to their long-time support for Beaver athletics and other university programs, Paul Bunyan Communications has endowed seven scholarships for BSU students.