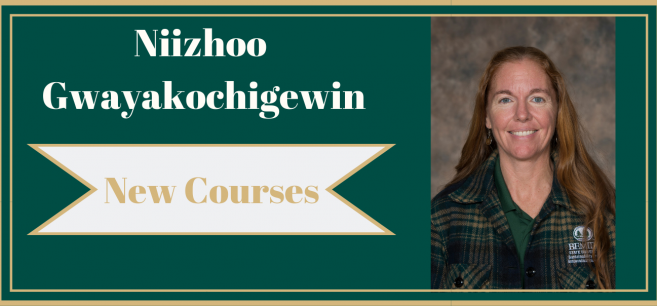 During the spring 2019 semester at Bemidji State University, two new courses have been added to the Niizhoo-gwayakochigewin program, a unique academic program that brings indigenous perspectives into environmental sustainability initiatives.
Niizhoo-gwayakochigewin draws from the university's Sustainability Office, Department of Languages and Indigenous Studies, Department of Environmental Studies and American Indian Resource Center to create a single co-curricular program.
The two new courses offered this spring are Sustainable Communities: A Local Indigenous Perspective and Indigenous Environmental Knowledge: A Global Perspective. The development of these classes stemmed from a desire for students to see and create alternative solutions to modern problems.
"To me, it's not about thinking in a new way," Erika Bailey-Johnson, director of the Niizhoo-gwayakochigewin collaborative and BSU's director of sustainability, said. "It's about thinking in a way that people have been thinking for thousands of years. It's about remembering that way and returning to it."
Sustainable Communities examines human societies across the globe as they develop communities where they live, work and play. The course introduces students to the basic concept of sustainable communities and explores the role of indigenous knowledge and tradition in maintaining them.
Indigenous Environmental Knowledge focuses on a global perspective of indigenous environmental knowledge and how this knowledge has affected the relationship of the indigenous people with the natural world and its resources. Throughout history, indigenous people have developed their own body of environmental knowledge that they have passed on, generation to generation. In this course, students will also investigate present-day political, economic, social and technological issues related to incorporating indigenous environmental knowledge into sustainability efforts.
"When you look at sustainability from an indigenous perspective, it is different from other perspectives," Cornelia Santos, lead faculty member for Niizhoo-gwayakochigewin, said. "From an indigenous perspective, you always think about the seventh generation principle. Whatever we do today, how does it affect the seventh generation from now. These classes show us that we are all connected to the Earth in a really deep way."
Additional classes in the Niizhoo-gwayakochigewin program include Food Sovereignty: Health and Indigenous Environments, Environment, Wellness and the Sacred Connection to Place and Sustainable Communities: A Global Indigenous Perspective.
Contact
Links

Bemidji State University, located amid the lakes and forests of northern Minnesota, occupies a wooded campus along the shore of Lake Bemidji. Enrolling more than 5,100 students, Bemidji State offers more than 80 undergraduate majors and eight graduate degrees encompassing arts, sciences and select professional programs. BSU is a member of the Minnesota State system of colleges and universities and has a faculty and staff of more than 550. The university's Shared Fundamental Values include environmental stewardship, civic engagement and international and multicultural understanding. For more, visit bemidjistate.edu or find us at BemidjiState on most of your favorite social media networks.
---
2019-B-000