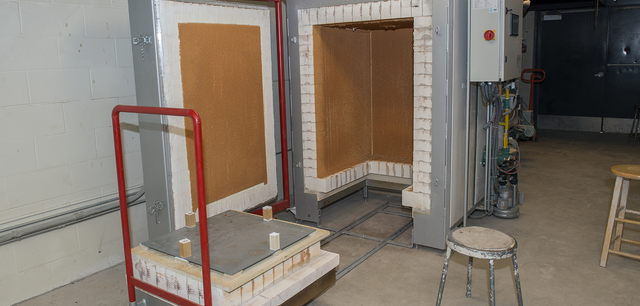 Bemidji State University's School of Technology, Art and Design (TAD) recently purchased a new Blaauw Kiln for the ceramics studio that has replaced the industry standard Bailey kiln. This Blaauw kiln will be used for 90 percent of all firing for ceramics classes at Bemidji State.
The Blaauw Kiln is a significant addition to the department as it allows for more efficiency in student's work. It features a computer monitor which enables students and staff to easily track the firing progress and temperature to eliminate guesswork. The monitor can also be used to make changes to any kiln functions in real time.
"This kiln is amazing and is changing my day-to-day life," Steve Sundahl, an associate professor in the TAD School, said. "Now I don't have to come in at 5:00 a.m. to start the kiln for the day. It's all computerized."
Compared to the current Bailey kiln, the Blaauw kiln has many user-friendly updates that add to the speed and safety of the firing process. It is 10 cubic feet larger than the old kiln, which allows for a greater quantity of items to be fired at the same time. Although it is larger, it only uses a third of the energy to operate, making it much more environmentally friendly. The Bailey kiln could take up to three days to fire a single piece, where the Blaauw kiln only takes one day. It also features a loading cart allowing work to be stacked outside of the kiln and rolled inside without risk of damaging any items.
In addition to protecting the works of art, the kiln has safety features to protect the user as well. The kiln has a heat-resistant outer covering that remains cool, even while it is running. Students and staff can touch the outside of the kiln without the added risk of a burn.
Contact
Links

Bemidji State University, located amid the lakes and forests of northern Minnesota, occupies a wooded campus along the shore of Lake Bemidji. Enrolling more than 5,100 students, Bemidji State offers more than 80 undergraduate majors and eight graduate degrees encompassing arts, sciences and select professional programs. BSU is a member of the Minnesota State system of colleges and universities and has a faculty and staff of more than 550. The university's Shared Fundamental Values include environmental stewardship, civic engagement and international and multicultural understanding. For more, visit bemidjistate.edu or find us at BemidjiState on most of your favorite social media networks.
---
2019-B-093