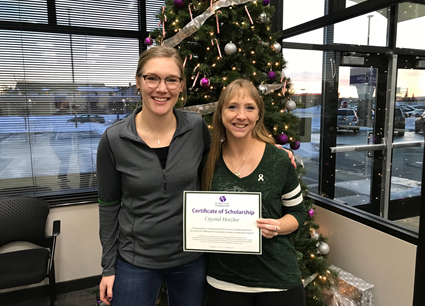 The Affinity Plus Foundation announced the winners of the 2018-2019 Campus Scholarship including Crystal Hotzler, a student attending Bemidji State University. Hotzler is a junior from Bemidji, Minn. majoring in environmental studies with an ecosystem emphasis.
STUDENTS SHARE PERSPECTIVES
All of the scholarship recipients shared a strong desire to keep debt at a manageable level, develop good savings habits and prepare for the future
On being a good role model, leader and student Hotzler said, "Between classes, while my children are in school, I stay on campus and set up study groups for the classes that I am enrolled in. All are welcome to attend. I feel that if we as students can help each other outside of class, we have a better chance of succeeding in the classroom."
ABOUT AFFINITY PLUS
Affinity Plus Federal Credit Union is a not-for-profit, financial cooperative that puts people first above profits. Members of Affinity Plus receive maximum value through competitive rates, minimal fees, and unique, member-centric products and programs. Established in 1930, Affinity Plus has 28 branches located throughout Minnesota and is owned by more than 195,000 members. Affinity Plus has over $2 billion in assets. Additional information is available at affinityplus.org.
The Affinity Plus Foundation has awarded 10 annual Campus Scholarships to students at six Minnesota state universities and students at four state community and technical colleges. The Foundation's Campus Scholarship provides support to Affinity Plus members in the campus communities that the credit union serves across Minnesota.
Those universities include:
• Bemidji State University;
• Minnesota State University – Mankato;
• Minnesota State University – Moorhead;
• St. Cloud State University;
• University of Minnesota – Twin Cities; and
• Winona State University.
ABOUT THE AFFINITY PLUS FOUNDATION
The Affinity Plus Foundation is a 501(c)(3) serving Minnesota communities. Established in 2000 by Affinity Plus Federal Credit Union, the Foundation's mission is to engage, educate and empower individuals and communities. Additional information is available at www.affinityplusfoundation.org.

Bemidji State University, located amid the lakes and forests of northern Minnesota, occupies a wooded campus alongthe shore of Lake Bemidji. Enrolling more than 5,100 students, Bemidji State offers more than 80 undergraduate majors and eight graduate degrees encompassing arts, sciences and select professional programs. BSU is a member of the Minnesota State system of colleges and universities and has a faculty and staff of more than 550. The university's Shared Fundamental Values include environmental stewardship, civic engagement and international and multicultural understanding.
---
2019-B-096